Pictet Sees Yuan Gain After Biggest Drop Since '08: China Credit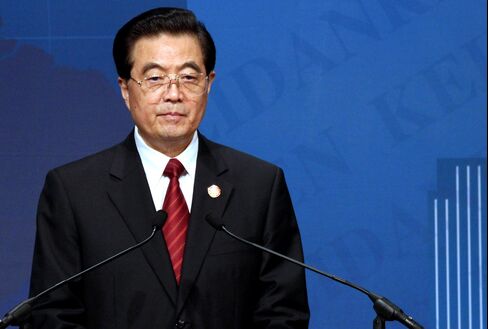 Jan. 12 (Bloomberg) -- Pictet & Cie and Clariden Leu AG, two private Swiss banks, are speculating China will let the yuan strengthen as President Hu Jintao visits the U.S. next week.
The currency gained 0.44 percent in two days to 6.6086 per dollar after sliding 0.58 percent last week, its biggest drop since December 2008. Pressure is building for further appreciation as two-year swaps that exchange the savings rate for a fixed payment climbed 80 basis points, or 0.8 percentage point, to 3.28 percent since the central bank raised the one-year deposit rate on Oct. 19, signaling the government needs to raise rates further to curb inflation.
Clariden Leu bought options in December, while Pictet Asset Management increased its bet on yuan appreciation last week before the Jan. 19 meeting in Washington of Hu and President Barack Obama. Lawmakers in the world's largest economy are considering legislation to penalize China for holding down the yuan and worsening a trade imbalance.
"I am bullish on the yuan," said Thomas Rutz, the head of emerging markets and currency in Zurich at Clariden Leu, which manages about $1.3 billion of developing-nation assets. "We will live the next 10 to 20 years with continued appreciation as China opens its markets to the outside world."
Rutz says options are "now cheap" and predicts the yuan will reach 6 per dollar this year.
The premium charged for the right to buy yuan in three months over contracts to sell, known as the 25-delta risk reversal rate, is down to 0.2 percentage point from a record high of 2.5 points on March 12. The yuan, which has appreciated 3.1 percent since a two-year peg was scrapped in June, fell last week as data showing a recovery in the U.S. economy and a deepening debt crisis in Europe fueled a rally in the greenback.
Forward Bets
Non-deliverable forwards show traders are betting on a 2.6 percent gain in the yuan in the coming 12 months, less than the 4.7 percent median forecast in a Bloomberg survey of 21 strategists. The outlook compares with a 0.6 percent drop predicted for Brazil's real by year-end, a 0.3 percent gain for Russia's ruble and a 3.6 percent advance for India's rupee.
"With the visit of Hu to the U.S., some form of consensus may be reached on the global rebalancing issue," said Wee-Ming Ting, the head of Asian fixed income in Singapore at Pictet Asset, part of Switzerland's largest privately held bank for the wealthy that oversees $17 billion of emerging-market debt. "This should be positive for the yuan. However, the pace of appreciation would be dependent on Chinese policy makers' decision and maybe a small part on the euro."
The yuan rose 7.3 percent versus the euro in the past three months to 8.5838 and climbed 1.5 percent in that period against a basket of currencies, according to an index compiled by Westpac Banking Corp. It has declined 2.3 percent against the basket since the dollar peg ended on June 21.
'Room to Appreciate'
"China has managed the currency in such a way that it has depreciated versus the basket, which gives it room to appreciate," said Dariusz Kowalczyk, an economist at Credit Agricole CIB in Hong Kong. He predicts the yuan will rise 4.9 percent to 6.3 per dollar by Dec. 31, even as the greenback rallies to $1.25 per euro.
Three-month implied volatility on the yuan, a measure of expected exchange-rate swings used to price options, fell to 3.55 percent, after reaching 5.3 percent on Oct. 8, the highest since February 2009.
China posted a $13.1 billion trade surplus for December, the smallest in eight months, according to customs data published on Jan. 10. Exports rose 17.9 percent, while imports climbed 25.6 percent. The country had a surplus of $14 billion with the U.S. and $12 billion with the European Union.
Weak Euro
"Europe is still China's largest trading partner so it is difficult for China to let the yuan appreciate in a weak euro environment," said Philip Wee, a Singapore-based economist at DBS Group Holdings Ltd. Even so, he predicts a 3.9 percent gain to 6.37 by year-end.
China will increase currency flexibility this year to cut the trade surplus and reduce inflationary pressure, central bank Deputy Governor Yi Gang wrote in a commentary published in the official China Forex magazine yesterday. In November, consumer prices rose 5.1 percent from a year earlier, the most in 28 months, government data show. Foreign-exchange reserves climbed by a record $199 billion to $2.85 trillion last quarter, central bank data showed yesterday.
"The yuan does tend to strengthen ahead of major international events and we think the next U.S.-China meeting is no different," said Ashley Davies, Singapore-based chief economist for Asia at Commerzbank AG, Germany's second-biggest bank. "The broader theme in China is still rising inflation pressure."
Inflation Battle
Davies forecasts the yuan will gain to 6.32 per dollar and expects "more momentum" in 2012 as the central bank tries to curb price pressure. Governor Zhou Xiaochuan raised banks' reserve-requirement ratio six times last year and boosted deposit rates twice.
The reserves data indicate a "huge surge" in hot money inflows that may complicate efforts to control the supply of cash, according to Kowalczyk. The seven-day repurchase rate, which measures interbank funding availability, averaged 2.75 percent in the fourth quarter, the highest level since the third quarter of 2008. The rate plunged to 2.49 percent from 6.34 percent on Dec. 31, as a year-end financing crunch eased.
The extra yield investors demand to hold the debt rather than similar maturity U.S. Treasuries has dropped to 53 basis points from 101 on Dec. 1.
European Debt
The one-year interest-rate swap, the fixed cost needed to receive the floating seven-day repo rate, dropped 2 basis points to 3.17 percent, according to data compiled by Bloomberg. It has climbed from last year's low of 1.97 percent on Aug. 12.
The cost of insuring the government's dollar debt for five years fell 3 basis points yesterday to 77, up from a 2 1/2-year low of 52 on Oct. 13, according to CMA prices in London. Credit-default swaps pay the buyer face value in exchange for the underlying securities or the cash equivalent if the government fails to adhere to debt agreements.
Wee at DBS says that China will try to slow euro declines with "supportive rhetoric." Vice Premier Li Keqiang pledged on Jan. 3 more purchases of Spanish debt in an in El Pais newspaper editorial before visiting Madrid.
"China doesn't want the euro to be too weak because Europe is a very important market," said Kowalczyk. "They are happy to help Europe and to flex their muscles by suggesting they can use their reserves by buying euro-denominated debt."
To contact Bloomberg News staff for this story: David Yong in Singapore at dyong@bloomberg.net;
To contact the editor responsible for this story: Sandy Hendry at shendry@bloomberg.net.