Spanish Banks' Financing Costs Spur Doubt on Profit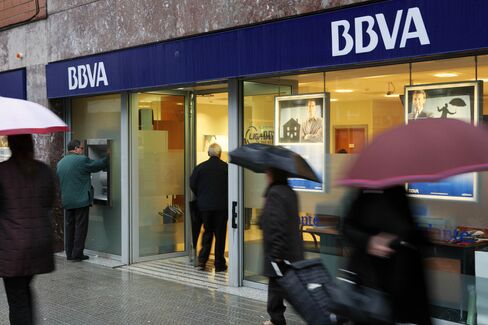 Jan. 12 (Bloomberg) -- Spanish banks have more than 30 billion euros ($39 billion) in debt coming due in the next four months. That's spurring investor doubt on their future profitability as higher financing costs eat into margins.
Concern that the country won't be able to reduce the euro region's third-highest budget deficit and avoid a European Union bailout has driven up financing expenses for banks. As Banco Espanol de Credito SA kicks off fourth-quarter Spanish bank earnings reporting tomorrow, investors will look for signs that lenders can sustain profit as costs climb.
"I'm not expecting financing conditions will ease for Spanish banks any time soon and that will just mean more pressure on revenue and margins," said Peter Braendle, who helps manage about $62 billion, including shares of Banesto's parent Banco Santander SA, at Swisscanto Asset Management in Zurich. "It looks like an already tough environment will just get tougher."
Spanish lenders have boosted deposit-taking from customers and reined in lending in a bid to blunt their need for wholesale financing. This year the country's banks have a total of about 85 billion euros of debt that's coming due for refinancing, data compiled by Bloomberg show.
"What are the implications of paying this much for financing for several months or years?" said Zoso Davies, a credit strategist at Barclays Capital in London. "The question is how long can they stand the pain?"
Spread Difference
Banco Bilbao Vizcaya Argentaria SA, Spain's second-biggest bank, was the first Spanish lender this year to tap wholesale debt markets when it sold 1.5 billion euros of three-year covered bonds at a spread of 225 basis points over swaps. That compares with a 30-basis-point spread on the bank's sale of similar five-year notes in September 2009.
"The spreads they were forced to pay are stunningly high by comparison to historic levels," said Georg Grodzki, the London-based head of credit research at Legal & General Investment Management, which oversees $480 billion of assets. "One has to wonder about the impact of these funding costs on their profitability."
Banesto may report fourth-quarter profit of 9 million euros, little changed from a year earlier and down from 68.9 million euros in the third quarter, according to the median estimate of five analysts surveyed by Bloomberg. Net interest income may have dropped 11 percent, according to estimates from JPMorgan Chase & Co. The bank is scheduled to publish earnings tomorrow before the market opens in Madrid.
Debts, Deficits
Spanish banking shares jumped today on speculation European officials are stepping up efforts to solve the debt crisis and after Portugal's borrowing costs fell at a sale of 10-year bonds. Germany will do "whatever is necessary" so that the euro remains stable, Chancellor Angela Merkel told reporters today in Berlin.
Banesto climbed 7.1 percent to 6.14 euros, paring declines this year to 1 percent after losses of 28 percent in 2010. The company has 2 billion euros in debt coming due next month, according to Bloomberg data.
Santander, Spain's biggest lender, rose 9.6 percent to 8.24 euros, while BBVA advanced 9.9 percent to 7.77 euros. Before today's gains, five of the 10 worst-performing stocks in the 53-company Bloomberg Europe Banks and Financial Services Index this year were Spanish banks, including BBVA, Banesto and Banco Popular Espanol SA.
Spanish lenders are already contending with losses on loans to property developers and real-estate assets taken on their books during the property crash. Moody's estimated on Dec. 13 that banks had recognized only half of the estimated 176 billion euros of losses they will have to absorb on their loans.
Less Lending
The country's lenders have been taking precautions against the impact of higher funding costs or periods when tapping debt markets becomes difficult or impossible, said Antonio Ramirez, an analyst at Keefe, Bruyette & Woods Ltd. in London.
Lending to households is now shrinking, dropping 0.8 percent in November, the biggest decline since records began in 1995, according to Bank of Spain data.
Investors also are paying close attention to the use of borrowings from the European Central Bank as they assess the funding needs of banks at a time when debt markets have closed for many lenders.
Spanish banks cut their ECB borrowings to 61.1 billion euros in November from 67.9 billion euros in the prior month, and from as much as 130.2 billion euros in July, the Bank of Spain said last month.
Bad Loans
Lenders "have been building up the necessary buffers, holding extra liquidity and ECB eligible assets and started deleveraging to limit the incremental financing burden," Ramirez said.
Banco Popular, Spain's third-biggest commercial lender, is among Spanish banks that face an immediate debt-maturity hurdle. All of the Madrid-based company's more than 2.8 billion euros of debt maturing this year is due before the end of April, a company spokesman said.
The bank has already been taking steps to manage its funding position by extending the average maturity of wholesale debt to 35.2 months from 30.7 months a year ago and bringing down the total amount to 26.8 billion euros from 31.5 billion euros, according to its third-quarter earnings presentation.
Santander has at least 15 billion euros of debt coming due in the first four months of the year out of a total this year of more than 27 billion euros. The bank captured 123 billion euros with deposits and debt sales in the first nine months of last year, compared with the 57 billion euros in debt due through 2012, the company said in a presentation to investors in November.
Portugal Concern
Still, Spanish banks' higher cost of lending reflects concern about the country's economy and the potential of more bad mortgage loans, said Legal & General's Grodzki.
"Beneath the surface the situation could be much uglier than what reported figures suggest," he said. "This is a big unknown which is weighing on investors' sentiment towards Spanish banks."
Rising speculation that Portugal may need a bailout from the EU is also on weighing on financing costs for Spanish banks. Lenders in Spain had $78 billion in foreign claims relating to the neighboring country in June last year, according to the Bank for International Settlements.
Spanish lenders have about 30 percent of their medium- and long-term debt maturing by December 2012, according to the Bank of Spain's October financial stability report. It has told savings banks to publish more information on their real-estate assets this month, Prime Minister Jose Luis Rodriguez Zapatero said in a speech yesterday.
A prolonged period of high funding costs will fuel concern that profit growth will slow as lenders trim lending, said Barclays Capital's Davies.
While it's understandable that investors will focus on the short-term debt redemptions, "solvency is really the underlying issue" in the long term, he said.
To contact the reporter responsible for this story: Charles Penty at cpenty@bloomberg.net
To contact the editor responsible for this story: Frank Connelly at fconnelly@bloomberg.net