McCartney, Banker Divorces Push Britain to Review Pre-Nup Law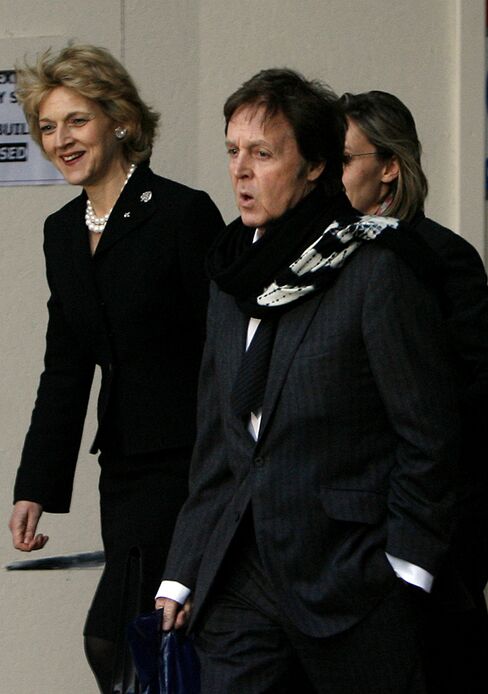 The U.K. is looking at making U.S.- style pre-nuptial agreements legally binding after high-profile divorce cases involving the ex-Beatle, Paul McCartney, and a former JPMorgan Chase & Co. investment banker.
The independent Law Commission began a public consultation today into changing the law on pre-nuptial, post-nuptial and separation agreements. An Oct. 20 ruling by the Supreme Court in London found the divorce settlement to be made by a German heiress, Katrin Radmacher, to her banker husband could be reduced because of a "pre-nup."
The Supreme Court's decision went further than ever before in recognizing the importance of pre-nups. Under current legislation, it's up to the courts to decide how divorcees' property should be shared. Ministers will consider if the law needs to be rewritten once the commission has reported.
"This is an issue that needs to be handled with care." the commissioner leading the consultation, Elizabeth Cooke, told reporters in London yesterday. She said the review will examine "how a new approach might balance the desire of some couples to plot their own future with more certainty against the need for safeguards against exploitation and the creation of hardship."
Recent high-profile divorce cases include the 2008 divorce of McCartney and Heather Mills. The couple didn't sign a pre-nup and she was awarded 24.3 million pounds ($37.7 million) after a four-year marriage and the birth of a daughter. English law has "come to be perceived as more generous than the law elsewhere," the Law Commission said.
100,000 Divorces
Pre-nups in England and Wales have gained popularity during a decade-long trend of judges awarding large settlements to departing spouses, lawyers say. The contracts are intended to avoid such payouts in divorce cases, and U.K. judges are giving them greater weight. Every year more than 100,000 marriages end in divorce in England and Wales, according to the Law Commission.
"The government will consider the recommendations of the Law Commission when its report on pre-nuptial and post-nuptial agreement is published," a spokesman for the Ministry of Justice said in an e-mailed statement. The consultation period runs until April. Any change in the law would need the approval of Parliament.
The Law Commission said it doubts a change to the law making pre-nups binding would have "dramatic effects" on the institution of marriage.
Supreme Court Case
The Supreme Court ruling last year involved the former JPMorgan banker, French-born Nicolas Granatino, who was seeking a bigger divorce payout from Radmacher. He claimed their pre-nup shouldn't be enforced because Radmacher withheld the full extent of her wealth and he didn't have proper legal advice when he signed it.
The first U.K. judge who ruled on their divorce case didn't defer to the pre-nup and awarded Granatino about 6 million pounds. The Court of Appeal overturned that settlement, giving greater weight to the contract. The Supreme Court judges held that pre-nups are enforceable when entered into freely by both parties.
Caroline Wright, a divorce lawyer at Boodle Hatfield in London, said pre-nups tend to be taken out by clients wishing to protect inheritance or upon entering into a second marriage. A basic pre-nup would cost around 5,000 pounds, she said.
"Pre the Radmacher judgment we did do a lot of pre-nup work as the story had been in the news for some time," Wright said in a telephone interview. "But after the judgment we have seen a lot more inquiries -- and now people are much more certain they want one."