Kissel Pleads Not Guilty to Banker Husband's Murder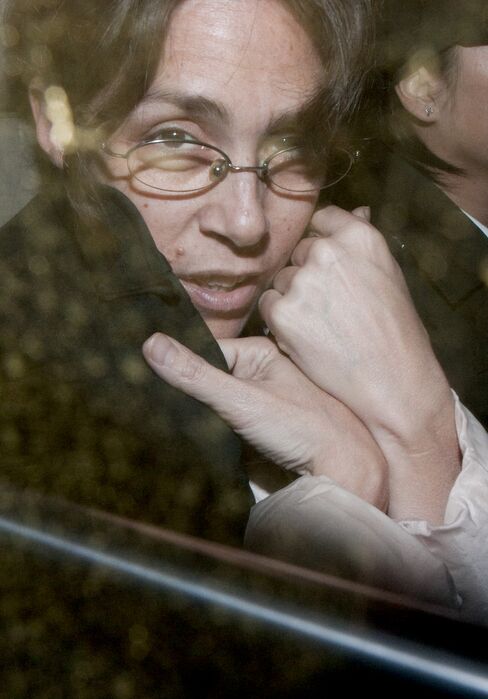 Nancy Kissel pleaded not guilty to the murder of her Merrill Lynch & Co. banker husband as her retrial for the 2003 killing began in Hong Kong today, with her lawyer saying she should face the lesser charge of manslaughter.
Kissel, 46, trembled in the dock and struggled to respond as the charge was read to her in a Hong Kong court. "I don't understand," she said, before entering her plea.
Prosecution lawyer David Perry didn't accept her guilty plea to the lesser crime, which Kissel's lawyer Edward Fitzgerald said was justified on the grounds of provocation and diminished responsibility.
Prosecutors indicted the Michigan-born mother of three for murder again in March after Hong Kong's Court of Final Appeal ruled that improper questioning and hearsay evidence tainted her 2005 conviction for the murder of Robert Kissel, then head of Merrill's distressed debt business in Asia. Nancy, who was serving a life sentence, would have faced a term of eight to 12 years for manslaughter, her lawyers have said.
Judge Andrew Macrae ordered the jury of five men and four women selected after the plea to ignore reports they may have seen of the previous trial.
"You must come with a fresh and open mind," said the judge, who in November rejected an application by Kissel to halt all criminal proceedings against her.
Two-Month Trial
Macrae had banned press reporting of details of that hearing until the conclusion of the retrial, which is scheduled to last 50 days.
Perry said the prosecution will show Robert Kissel drank a milkshake laced with four sedatives prescribed to Nancy and that she had smashed his skull into his brain with a heavy lead ornament while he lay unconscious in their bedroom. He will continue presenting the prosecution's case tomorrow.
Police said Robert's body was found wrapped in a carpet and plastic sheets in a storeroom near the Kissels' apartment about four days after he died from head injuries. Nancy made a police report the day before her husband's body was discovered, saying that he had assaulted her.
The Kissels moved to Hong Kong from New York in 1998 with Goldman Sachs Group Inc., where Robert then worked as co-head of the bank's Asian special situations group. Merrill hired him in 2000 for an annual salary of $175,000 and he earned an additional $5.25 million in commissions and bonuses before his death.
Divorce Lawyer
A witness list obtained by Bloomberg shows the prosecution plans to call new or existing testimony from 90 witnesses, including Hong Kong divorce lawyer Sharon Ser, and Robert's former Merrill Lynch colleagues David Noh and Antony Hung, who ran Merrill's Asia debt business between 2000 and 2007.
Robert Kissel's sister, Jane Kissel Clayton, with whom his three children reside, is also a prosecution witness.
"It's not easy," said Robert's father, William, after listening to the prosecutor's description of his son's death. The elder Kissel arrived from Seattle yesterday.
The case is HCCC55/2010 in the Hong Kong Court of First Instance.
Before it's here, it's on the Bloomberg Terminal.
LEARN MORE