Italy's Top Court Will Rule on Berlusconi Immunity Law Jan. 13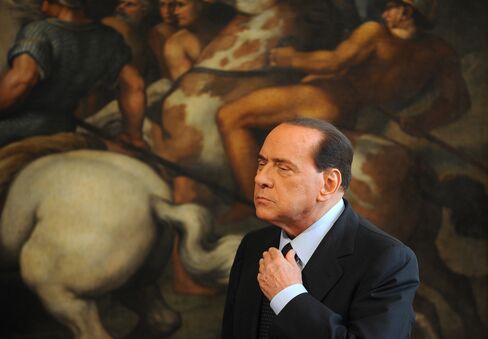 Italy's highest court will rule on Jan. 13 on whether a law effectively granting Prime Minister Silvio Berlusconi immunity from criminal prosecution while in office is constitutional.
The Constitutional Court began a hearing on the law in Rome today. The date for the ruling was announced by the court's president, Ugo De Siervo, according to a court spokeswoman who declined to be identified in line with official policy.
A ruling against Berlusconi may revive two pending corruption trials, further weakening the premier weeks after he survived a vote of no-confidence by a three-vote margin. Berlusconi has denied any wrongdoing and repeatedly said that Italy's judges are out to destroy him politically.
Berlusconi called himself the "most persecuted man in all of history in the entire world" in October 2009, citing 106 investigations and trials against him, 2,500 court hearings and more than 200 million euros ($260 million) in consultants' and legal fees.
Should the court rule against him, Berlusconi said in a Dec. 22 television interview that he will "shame the public prosecutors and continue to govern. This time I will take part in person and tell Italians what it is all about and who the magistrates concerned are. I have absolutely nothing to fear on the legal front."
Too Busy
The law, known in Italian as legitimate impediment, allows the prime minister or Cabinet members to ask that trial hearings be postponed on grounds that they're too engaged with official duties to attend.
The hearings can be postponed three times for periods of up to six months each. It means that the two trials Berlusconi was facing when parliament passed the law in March 2010 could be suspended until October.
The decision on the law was originally set for Dec. 14. The court's president postponed the hearing to avoid coinciding with the confidence votes that day that nearly toppled Berlusconi's government, which still has more than two years left in its term.
The law is the third attempt by a Berlusconi government to protect the premier from corruption charges. In April, Milan prosecutor Fabio De Pasquale, who is leading one of Berlusconi's pending criminal cases, challenged the constitutionality of the measure that allows Berlusconi and other top government members to have trials suspended while they carry out their duties.
Previous Rulings
In October 2009, the Court struck down a broader immunity law, sponsored by Justice Minister Angelino Alfano, that shielded Italy's top four officials, including the premier, from prosecution while in office. In annulling that measure the 15-member court cited the article in Italy's constitution saying that all citizens must be treated equally under the law. That was the same reason used in overruling a similar 2004 measure passed by Berlusconi's previous government.
The biggest legal threat to Berlusconi comes from a Milan court that has accused Berlusconi of allegedly paying $600,000 to U.K. lawyer David Mills to lie under oath on the premier's behalf. Mills, a co-defendant in that case, was initially convicted.
Mills, ex-husband of former U.K. Olympics Minister Tessa Jowell, was sentenced in February 2009 to 4 1/2 years in jail for accepting a bribe from Berlusconi. The criminal charges against Mills were thrown out in February of last year when a higher court ruled that the statute of limitations had expired. Civil charges against Mills were upheld along with a 250,000-euro damage payment.
Berlusconi is also charged in another case with tax fraud in purchasing film rights for his television company, Mediaset SpA. The premier denies any wrongdoing in both cases.
Berlusconi has been acquitted in eight corruption trials since entering politics 15 years ago, according to public records and the 2001 book "Odore dei Soldi" by Elio Veltri and Marco Travaglio. He has won two elections while facing criminal charges.
Before it's here, it's on the Bloomberg Terminal.
LEARN MORE