Google's Android Likely to Lose as Verizon Gets IPhone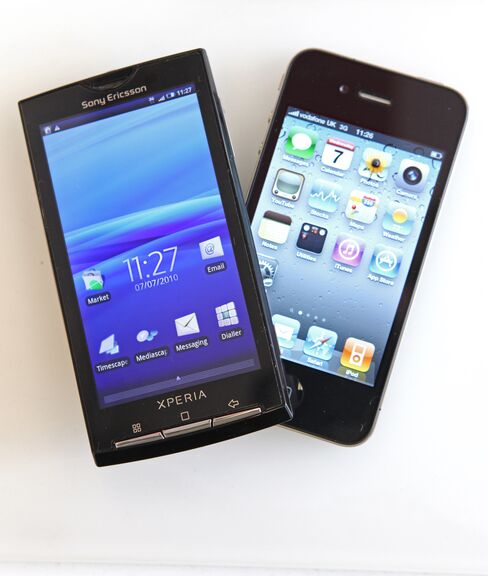 Google Inc. may lose business as Verizon Wireless starts selling Apple Inc.'s iPhone, giving the carrier's customers a new alternative to smartphones running the Android operating system.
Verizon said today it will offer Apple's iPhone 4 as of Feb. 10, and begin taking orders a week earlier. The Verizon iPhone may cannibalize about 2 million Android shipments a year, said Dan Hays, partner at consulting firm PRTM. Gartner Inc. said 20.5 million Android phones were sold in the third quarter.
"A lot of people who bought Android phones were buying it in lieu of an iPhone because they couldn't get one on the Verizon network" said Charlie Wolf, a Needham & Co. analyst in New York.
At AT&T Inc. -- until now the exclusive U.S. iPhone carrier
First-Quarter Sales
Android has become a top-seller in the U.S., according to ComScore Inc., accounting for 26 percent of the smartphone market in November, compared with 25 percent for the iPhone. BlackBerry maker Research In Motion Ltd. was first with more than 33 percent.
Tero Kuittinen, an analyst with MKM Partners LP, said sales of Android phones at Verizon in the first quarter may be cut in half because of the iPhone's introduction. Still, he doesn't expect the impact to last because the carrier will likely begin promoting its faster long-term evolution network in the second quarter.
Several Android-based LTE-compatible phones are set for release in the first half. An iPhone on the LTE network may not be available until later, said analysts including Kuittinen.
For now, "most of the LTE marketing spend will go to Android," Kuittinen said.
Trading Up
Apple may do a better job than Google in helping get more Verizon users to switch to a smartphone for the first time, said Carl Howe, an analyst at the Yankee Group, a consulting firm in Boston. About 38 percent of AT&T customers use a smartphone, compared with about 30 percent of Verizon's, he said. IPhone users' bills are about $120 a month, compared with about $40 to $80 for users of a regular feature phone, according to Howe.
"If they can get people who are currently on feature phones to upgrade, that would be huge because smartphone users pay a lot more," Howe said.
Google representatives didn't respond to requests for comment.
While Google generates revenue from ads on phones running various operating systems, including Apple's iOS, it benefits more from widening use of Android. That's because it keeps part of the sales of downloadable apps for the devices and the operating system helps Google bolster ties to device makers and service providers that may be more likely to use its search engine and other revenue-generating services.
AT&T's Response
Google will benefit if AT&T starts to more heavily promote Android devices now that it's losing its exclusivity with the iPhone, Kuittinen said. This quarter, Motorola will roll out through AT&T its Android-based smartphone that sports a so-called dual-core processor, capable of handling more tasks simultaneously. The new handset is likely to have a stepped-up advertising campaign, he said.
"Now that AT&T has an incentive to promote Android more than it's done until now, Android there will grow," Kuittinen said. "It's going to compensate for much of the decline at Verizon."
AT&T has been cutting prices for the iPhone and upgrading its network to keep customers from switching to Verizon. The company reduced the price of the iPhone 3GS, a generation behind the current version, to $49 last week. The company suffered from customer complaints about dropped calls and slow speeds as traffic from the device overwhelmed parts of its network.
Market Share
Verizon said today that the iPhone 4 will sell for $199.99 for the 16-gigabyte model and $299.99 for the 32-gigabyte version, both with a two-year wireless-service contract.
Even if iPhone software gains ground in the U.S., it may lose share globally as consumers abroad snap up Android-based phones, said Will Stofega, program director at research firm IDC in Framingham, Massachusetts.
Android will capture 32 percent of global smartphone shipments in 2014, up from 20 percent last year, according to Framingham, Massachusetts-based IDC. The share for Apple's iOS operating system will drop to 12.5 percent from 15.3 percent.
Google gained $1.80 to $616.01 at 4 p.m. New York time in Nasdaq Stock Market trading. Verizon Communications Inc., which co-owns Verizon Wireless with Vodafone Group Plc, fell 56 cents to $35.36 in composite trading on the New York Stock Exchange.