Yellen Speech May Offer 'Proxy' for Planned Unwinding of Fed QE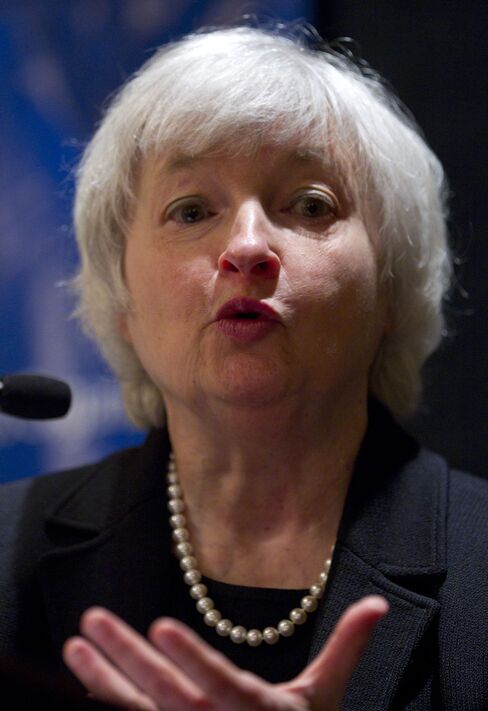 Federal Reserve Vice Chairman Janet Yellen presented a possible timeline of about seven years before the Fed's balance sheet is restored to normal levels, while saying the central bank's asset purchases will end up creating 3 million jobs by 2012.
Yellen, speaking in Denver on Jan. 8, referred to a model created by Fed economists that assumes the central bank will complete its second round of large-scale Treasuries purchases within a year. The Fed's balance sheet would stay "elevated" for two years before returning to a normal size over five years, she said, alluding to the economists' research.
The timetable is "a reasonable proxy for what they might do," said Allen Sinai, president and chief executive officer of Decision Economics Inc. in New York, who appeared on the same panel as Yellen.
"But I wouldn't take that as a forecast of what Governor Yellen is thinking about in terms of her own view," he said. "My guess would be, given what she presented and how long it will take to get unemployment down to a somewhat less than 6 percent level, that she would be wanting to do more" quantitative easing, he said.
Yellen, 64, gave the most detailed accounting yet of the benefits the Fed sees from its stimulus, adding her voice to a defense of the policy by Chairman Ben S. Bernanke and other officials. Republican lawmakers and officials in China, Germany and Brazil have criticized the purchases, saying they threaten to weaken the dollar and stoke asset-price bubbles.
Dismissed Concerns
The Fed vice chairman dismissed concerns that inflation will flare. Weak labor demand will be helpful in "mitigating the risk" and the Fed can "tighten policy when needed" by increasing the interest rate it pays on excess bank reserves, the vice chairman said at the Allied Social Science Associations' annual meeting.
"Is the program actually proving effective?" Yellen said, referring to the Fed's two rounds of asset purchases totaling $2.3 trillion. "My short answer is yes," she said.
The Fed's moves won't hinder growth overseas, are having "only moderate effects on the foreign exchange value of the dollar," and do not appear to be triggering "significant excesses or imbalances in the United States," she said.
The central bank bought $1.7 trillion of mortgage debt and Treasuries through March 2010 as it sought to pull the U.S. out of the worst recession since the 1930s. On Nov. 3, the Federal Open Market Committee decided to buy $600 billion of Treasuries through June in a policy known as QE2 for a second round of quantitative easing.
'Window' Into Thinking
The timeline Yellen gave is "a window into their thinking," said Douglas Holtz-Eakin, a former Congressional Budget Office director who was chief economic adviser to Republican Senator John McCain during the 2008 presidential campaign.
"Since only they know their intentions, I applaud her for giving a scenario," said Holtz-Eakin, now president of American Action Forum, a policy research group in Washington. He was one of the signatories of a Nov. 15 letter from a group of former Republican government officials and economists urging the Fed to stop the second round of easing.
In the research paper cited by Yellen, San Francisco Fed research director John Williams and three other economists from the Fed board in Washington relied on the central bank's main economic forecast model, known as FRB/US.
The simulation assumes the Fed will increase its total securities holdings by $600 billion through June of 2011, consistent with the central bank's current plans, and would maintain an expanded balance sheet "through the middle of 2012."
Unwind Assets
Under the simulation, the Fed "renormalizes the size and composition of its security holdings within five years." In order to achieve that path, the paper said, the Fed would unwind assets at a pace of about $80 billion per quarter through the middle of 2017.
The researchers conclude that private employment is currently 1.8 million higher than it would have been without the policy and will get an added boost of 1.2 million by 2012.
In addition, "inflation is currently a percentage point higher than would have been the case," the vice chairman said. "In the absence of such purchases, the economy would now be close to deflation."
The economy has lost 8.4 million jobs during the recession that began in December 2007, the biggest employment slump in the post-World War II era.
A Labor Department report last week showed that employers added 103,000 jobs in December, fewer than the median projection for a gain of 150,000 in a Bloomberg News survey of economists. The unemployment rate fell to 9.4 percent from 9.8 percent, in part because discouraged workers stopped looking for jobs.
Preferred Rate
At the same time, inflation is below the Fed's preferred rate, which Yellen said was "2 percent or a bit less than that." An inflation gauge tied to consumer spending excluding food and energy rose 0.8 percent from a year earlier in November.
Minutes of the Fed's most recent meeting in December showed that some officials have a high threshold for scaling back their plans for debt purchases, even with an improving economic outlook.
Recent reports point to a strengthening recovery that has prompted companies such as Memphis, Tennessee-based FedEx Corp. to raise profit forecasts. The Institute for Supply Management's non-factory index, which covers about 90 percent of the economy, rose in December to the highest level since May 2006.
Above 9 Percent
Unemployment holding above 9 percent is one reason why President Barack Obama last month signed an $858 billion bill extending all Bush-era tax cuts for two years. The bill also continues expanded unemployment insurance benefits through 2011 and cuts payroll taxes by 2 percentage points.
Since the $600 billion in purchases were approved, the Standard and Poor's 500 Index has risen more than 6 percent, and the dollar has strengthened by 5.9 percent against the currencies of six major trading partners.
At the same time, the yield on the 10-year Treasury note has risen to 3.32 percent from 2.57 percent. Yellen attributed the increase to an improved economic outlook and the extension of tax cuts, which she said will raise the amount of federal debt and boost the recovery.
Before it's here, it's on the Bloomberg Terminal.
LEARN MORE