Virgin Atlantic Withholds Heathrow Fee in Snowfall Row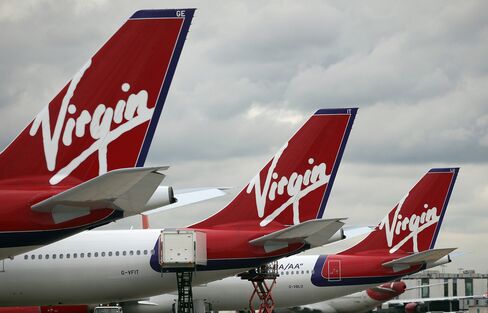 Virgin Atlantic Airways Ltd., the second-largest long-haul carrier at London's Heathrow airport, said it will halt payments to the hub's owner BAA Ltd. until an inquiry into disruption caused by wintery weather is completed.
Virgin says it's paying out millions of pounds in refunds after snowfalls on Dec. 18 prompted Europe's busiest airport to scrap flights for four days in the run up to Christmas, and aims to encourage BAA to expedite an internal probe into the closure.
"We have written to BAA this weekend to advise them that we are withholding our fees," Virgin said in a statement last night. "We are keen that BAA also feels a strong sense of accountability to the consumer and that minds are focused on delivering a fully independent and robust inquiry."
While BAA will work with airlines during the probe led by non-executive director David Begg, Heathrow's conditions of use do not provide any basis for Virgin Atlantic to withhold landing and parking payments, the company said last night in an e-mail.
Virgin Atlantic, controlled by billionaire businessman Richard Branson, estimates the disruption cost it 10 million pounds ($16 million), spokesman Greg Dawson said. The carrier will withhold fees for the January-March quarter, he said.
BA Impact
British Airways Plc, the biggest operator at Heathrow, said last week that the coldest December in a century wiped almost 50 million pounds from earnings in the fiscal third-quarter ended Dec. 31. Its passenger traffic fell 8.3 percent for the month.
BAA, a unit of Spanish construction group Ferrovial SA, will publish its December passenger numbers on Jan. 12, together with an estimate for the cost of the shutdowns, according to spokesman Andy Teacher.
The report on the disruption will probably highlight a shortage of manpower, de-icing liquid and snow-clearing gear, requiring BAA to compensate airlines, said Howard Wheeldon, senior strategist at BGC Partners in London.
"If BAA is to survive as being responsible for Heathrow its management will need a new kind of mentality knocked into it
Fine Risk
Still, Virgin, based in Crawley, near London, risks a "hefty fine" or having aircraft impounded by the U.K. Civil Aviation Authority if it unilaterally withholds fees, he said.
British Airways will continue to work with BAA to ensure the best possible customer service, spokesman Euan Fordyce said while declining to comment on the withholding of fees and other avenues for protest, including legal action.
BMI, Heathrow's second-biggest carrier by takeoff and landing slots, has assessed the costs of the snow closures and will now "enter into discussions about compensation" with BAA, the company said today in an e-mailed statement.
Deutsche Lufthansa AG, which owns BMI, hasn't considered halting payments, spokesman Peter Schneckenleitner said, adding that the Cologne, Germany-based company isn't yet able to quantify the cost of weather-related cancellations and delays.
Air France-KLM Group, Europe's largest airline ahead of Lufthansa and BA, said today that disruption from December's snowfalls in northern Europe and North America cost it about 70 million euros ($90 million) in lose revenue.
Before it's here, it's on the Bloomberg Terminal.
LEARN MORE