Authorities Study Arizona Suspect's Writings, Actions for Clues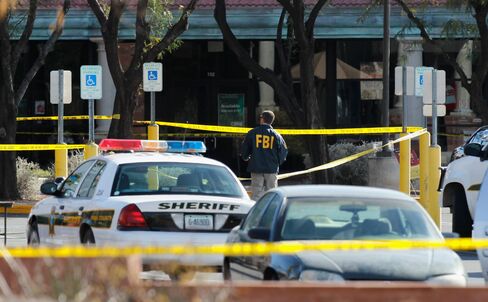 Jan. 11 (Bloomberg) -- Jared Lee Loughner, charged in the Arizona shooting spree that severely wounded U.S. Representative Gabrielle Giffords on Jan. 8, left a trail of writings and activities that authorities are analyzing for clues.
In a safe at Loughner's home in Tucson, authorities found an envelope with writing that said "I planned ahead," "my assassination," Giffords's name and what appears to be Loughner's signature, according to a U.S. District Court criminal complaint filed Jan. 9.
There was also an Aug. 20, 2007, letter from Giffords on congressional stationery addressed to Loughner's home that expressed appreciation for his attendance at a "Congress on your Corner" event, according to the complaint.
Investigators are still considering possible motives, including politics or a personal issue with Giffords, Captain Chris Nanos of the Pima County Sheriff's Department said yesterday.
"We have a number of different angles we are looking at," he said.
"Every aspect of this individual's life" is being examined, Pima County Sheriff Clarence Dupnik said Jan. 9.
Court Appearance
Loughner, 22, yesterday appeared in U.S. District Court in Phoenix to face federal charges in the attack outside a grocery store where Giffords, 40, an Arizona Democrat, was greeting constituents. The charges included the attempted assassination of a member of Congress; the murder of U.S. District Judge John Roll, 63, and Gabriel Zimmerman, 30, a member of Giffords's staff; and the attempted murder of two others on her staff. He entered no plea and was returned to custody.
Altogether, six people were killed and at least 18 were injured, according to the Pima County Sheriff's Department. Additional charges, including in state court, are pending, authorities said.
Much of the parking lot where the shootings occurred remained cordoned off by yellow crime scene tape as FBI evidence technicians took pictures and measurements. Investigators expect to keep collecting evidence for one or two more days, Nanos said.
FBI agents returned yesterday to the Loughner home, where all the window blinds were shut and the small garage windows were taped over. A wooden blockade erected in front of the porch prevented people from approaching the front door. Two cars were in the driveway. A sheriff's patrol car was making regular rounds on the street.
Social-Network Postings
Musings on social-networking sites under Loughner's name included statements suggesting that he planned to "prove" something.
"Most people just don't seem to understand me, but I'm gonna prove to you all how wrong you are," read a posting on a Facebook page under his name.
"In the course of the investigation we'll be looking at every one of those postings, any activity he had on the Internet," Robert Mueller, director of the Federal Bureau of Investigation, said at a news conference Jan. 9. Mueller said he hasn't precluded bringing domestic terrorism charges against Loughner.
Loughner in recent months posted on the Internet a photograph of a U.S. history textbook with a handgun placed on it, the New York Times reported Jan. 9. He had prepared Internet videos with rambling statements on the gold standard and mind control, according to the newspaper.
College Suspension
In September 2010, Loughner was suspended from Pima Community College after "five contacts" with campus police "for classroom and library disruptions," and after police discovered a YouTube video claiming that the Tucson-based college is unconstitutional, the college said in a Jan. 8 statement.
Loughner withdrew from the college in October, according to the statement, and officials told him that in order to re-enroll, he would need "a mental health clearance indicating, in the opinion of a mental health professional, his presence at the college does not present a danger to himself or others."
In 2007, a misdemeanor charge involving possession of drug paraphernalia was dismissed after Loughner completed a diversion program that offers counseling and other alternative measures for first-time offenders, according to Pima County court records.
In 2008, Loughner told police he used a marker to write two symbols that meant "Christian" on a street sign in the town of Marana, near Tucson, according to a police report. The town prosecutor moved to drop a charge of writing graffiti after Loughner completed a diversion program, court records show.
Army Rejection
That same year, he attempted to enlist in the Army and was rejected, said Douglas Smith, a spokesman for Army Recruiting Command at Fort Knox, Kentucky.
Michelle Martinez, 22, who lives across the street from the Tucson home where Loughner lives with his parents, said that about 1:45 a.m. on the day of the shooting, she saw him walking in the neighborhood. He was wearing dark clothes and a hooded sweatshirt, she said in an interview.
"I said, 'Hey, what's up,'" said Martinez, who had just arrived at her home. Loughner responded by saying hello, then kept walking, she said.
"I thought it was weird -- why is someone walking around the neighborhood in a hoodie" at that hour, Martinez said.
The two of them took some high school classes together in 2005, and talked when they walked to the neighborhood bus stop, she said. In school, Loughner was a "conspiracy theorist," she said. He said in class that he thought the U.S. government was responsible for the Sept. 11 terrorist attacks, she said.
'An Invisible Person'
Loughner was "like an invisible person" and "always to himself," she said. "In class he was always doodling or something."
Others in the neighborhood said Loughner rarely responded to greetings.
"I tried to talk to him," said Jason Johnson, 32. "I'd say hello. He'd put his head down and walk away or pretend he didn't hear me."
Stephen Woods, 46, said he had lived next door to the Loughner family for seven years. He said that Randy Loughner, Jared's father, repeatedly complained about trash that went uncollected from Woods' house.
"He said, 'Get your stinking trash out of here,'" Woods said. "He yelled, 'It stinks! Get it out!'"
Aaron Martinez, 18, Michelle's brother, said that after the Jan. 8 shooting, he saw Loughner's father in his driveway, crying. "He was outside crying, and a neighbor was consoling him," Martinez said.
Giffords, who was re-elected to a third term in November, remained in critical condition yesterday at the University of Arizona's University Medical Center in Tucson with a gunshot wound to her head.
To contact the reporters on this story: Justin Blum in Tucson at jblum4@bloomberg.net; Drew Armstrong in Tucson at darmstrong17@bloomberg.net.
To contact the editor responsible for this story: Mark Silva at msilva34@bloomberg.net