IPhone May Cost Verizon $5 Billion in First Year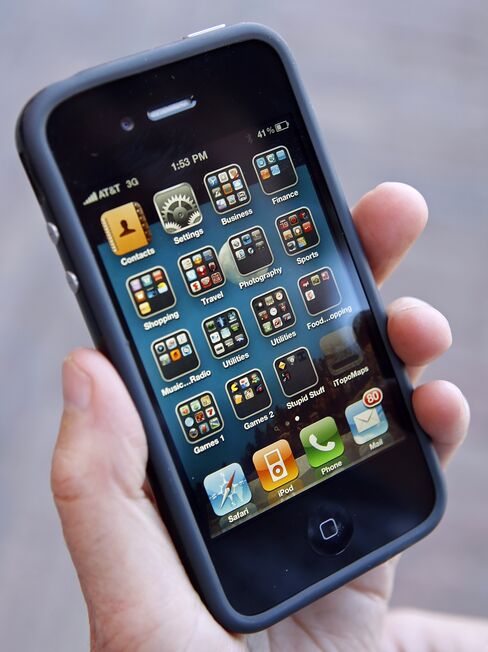 Verizon Wireless, set to get Apple Inc.'s iPhone this month after four years of waiting, may spend $3 billion to $5 billion to subsidize customer purchases of the device this year, cutting into profits, analysts say.
Verizon, the largest U.S. wireless carrier, will announce that it's getting the device at an event in New York today and plans to put it on sale later in the month, a person familiar with the company's plans said this week. The person could not be identified because the plans aren't yet public.
While the smartphone will help Verizon add more subscribers this year than rival AT&T Inc., currently the exclusive U.S. carrier for the iPhone, it will also crimp profits, said John Hodulik, an analyst at UBS AG. Hodulik said Verizon may sell 13 million of the devices with an estimated $400 subsidy this year, which would add up to a total of $5.2 billion.
"You basically write customers a $400 check," said New York-based Hodulik, who rates parent Verizon Communications Inc.'s shares "neutral" and doesn't own them. "We expect margins to be down pretty meaningfully in the first quarter and second quarter."
James Ratcliffe, an analyst at Barclays Plc in New York, estimates Basking Ridge, New Jersey-based Verizon will sell at least 9 million iPhones this year with a subsidy of about $350. That would add up to $3.2 billion this year.
Marquett Smith, a Verizon Wireless spokesman, declined to comment on any potential subsidies.
Data Plans
Wireless operators pay companies such as Apple one price for a phone and then sell them to consumers for less to encourage people to sign up for two-year service contracts. The iPhone subsidy, at $400, is higher than the $200 to $300 that carriers pay for most smartphones, said Tina Teng, senior analyst for wireless communications at researcher iSuppli Corp.
The iPhone 4 with 16 gigabytes of storage costs $199 with a two-year contract at AT&T. The company bears most of the cost of the device and makes its money back from customers who pay for wireless data plans to access the Web and download games and applications.
Revenue from data plans is one of the last areas of growth for wireless companies, which are coping with declining monthly bills for voice revenue and an increasingly saturated U.S. wireless market. There are enough mobile devices in circulation to cover 93 percent of the population, according to the CTIA wireless industry association.
Bills for data plans rose 20 percent for contract customers at AT&T in the third quarter and 19 percent at Verizon while monthly revenue per user rose about 2 percent at both companies.
Earnings Drop
Verizon Communications, which co-owns the wireless business with Vodafone Group Plc, fell 56 cents to $35.36 in New York Stock Exchange composite trading at 4 p.m. The shares have declined 1.2 percent this year. AT&T fell 43 cents to $27.91, while Cupertino, California-based Apple fell 82 cents to $341.64 in Nasdaq Stock Market trading.
Earnings per share at Verizon Communications will drop to $2.20 in 2011 from an estimated $2.26 last year, Hodulik said in a note to investors. Meanwhile AT&T, which will add fewer new subscribers next year, will see earnings per share grow to $2.55 from Hodulik's estimate of $2.28 for last year. Verizon and AT&T will report fourth-quarter earnings later this month.
The lower profit will help Verizon add 2.1 million net new subscribers in 2011, he said. That compares to an estimated 650,000 at AT&T and would mark the first time that Verizon's subscriber growth will outpace its largest rival since 2008.
Subsidy Trends
AT&T will sell about six million iPhones this year, down from an estimated 15 million last year, said Ratcliffe. The company's subsidy will also drop to $350 per phone from $400 because of the end of its exclusive deal. As a result, AT&T's total subsidy for the Apple device will drop to about $2.1 billion this year, from $6 billion, he estimates.
It takes AT&T about six months to make back the cost of the iPhone from customers' data plans, iSuppli's Teng said. She expects Verizon to have to pay the same price for the flagship Apple phone, which commands a quarter of the market for U.S. smartphone owners over the age of 13, according to data from ComScore Inc.
The average subsidy is likely to fall as more advanced smartphones hit the market, Teng said in an interview. Smartphone makers will likely cut prices for their devices, encouraging carriers to do the same.
Before it's here, it's on the Bloomberg Terminal.
LEARN MORE