IBM, Samsung Lead 31% Record Jump in New U.S. Patents in 2010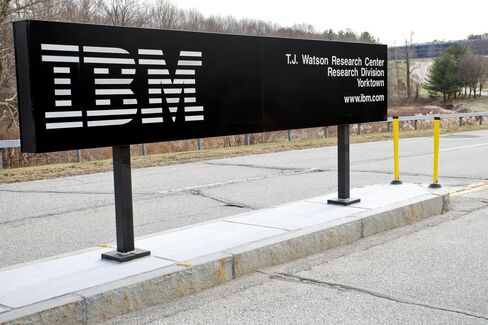 International Business Machines Corp., Samsung Electronics Co. and Microsoft Corp. led the winners of U.S. patents in 2010 during a 31 percent record jump in grants of a main safeguard of intellectual property.
IBM, the world's biggest computer-services provider, became the first company to get more than 5,000 patents in a single year, according to data from researcher IFI Claims Patent Services. Samsung trailed IBM's 5,896 patents with 4,551, while Microsoft received 3,094, IFI said in a statement today.
The U.S. Patent and Trademark Office improved turnaround times by processing applications more efficiently, contributing to "the most significant annual increase on record," IFI said. The gain also shows the effects of the worst recession since the Great Depression failed to deter companies from continuing to innovate, said Charles King, principal analyst at Pund-IT, a Hayward, California-based information technology researcher.
"Significant temporary blips in the economy can't be something that derails dedication to technical excellence and the next new thing," King said in a telephone interview.
The top 10 companies on IFI's list -- all technology related -- each saw an increase from the year earlier. In all, the U.S. issued a record 219,614 utility patents in the calendar year, according to the Wilmington, Delaware-based researcher.
Earthquake, Traffic Patents
IBM, the largest owner of U.S. patents, received protection last year for an earthquake detection system, a way to predict traffic and a computer chip that combines electrical and optical devices on a single silicon wafer. IBM's number of new patents rose 20 percent in 2010, putting the Armonk, New York-based company at the top of IFI's list for the 18th straight year.
"Not all of our inventions get commercialized, but virtually all start with the research and intent to commercialize them," Manny Schecter, IBM's chief patent counsel, said in a telephone interview.
The company spends $6 billion a year on research and collects about $1 billion from its intellectual property, with patent licensing the most common part, Schecter said.
Camera company Canon Inc. and plasma-TV maker Panasonic Corp., both of Japan, rounded out the top five companies on the IFI list. Apple Inc., maker of the iPad and iPhone, broke into the top 50 for the first time, at No. 46, by almost doubling its number of new patents to 563, according to IFI. Samsung's number increased 26 percent, while Microsoft's rose 6.5 percent.
Micron Falls
Just one of the top 50 companies saw a decrease, computer-memory chipmaker Micron Technology Inc., IFI said.
IFI, a unit of Wolters Kluwer NV, conducts the survey each year to rank 2,000 companies as part of its database system.
"The tremendous increase in patent issues in 2010 suggests that so far the economy doesn't appear to have slowed patent flow significantly in the U.S.," Darlene Slaughter, general manager of IFI, said in the statement. "The bottom line: There is still a backlog of patents pending, but the number of grants continues to grow even after a period of economic downturn."
* The Top 10 U.S. Patent Winners of 2010: 1) IBM 5,896 2) Samsung 4,551 3) Microsoft 3,094 4) Canon 2,552 5) Panasonic 2,482 6) Toshiba Corp. 2,246 7) Sony Corp. 2,150 8) Intel Corp. 1,653 9) LG Electronics Inc. 1,490 10) Hewlett-Packard Co. 1,480 *
Before it's here, it's on the Bloomberg Terminal.
LEARN MORE