Flood Deaths May Rise Dramatically as Brisbane Braces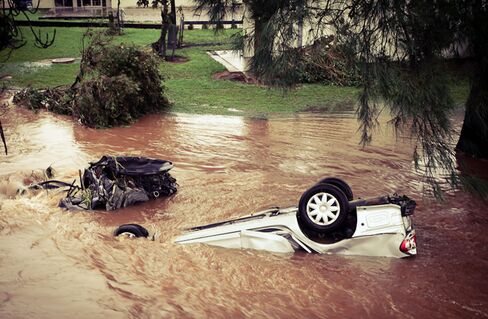 The death toll from the latest downpour to hit the Australian state of Queensland is set to climb as rising waters rush toward the coastal city of Brisbane, where evacuations are underway.
Four children were killed as a wall of brown water cascaded through the town of Toowoomba without warning yesterday, slamming cars against bridges. With about 72 people still missing, the number of dead may rise "dramatically" from eight, Queensland Premier Anna Bligh said at a news conference today.
"We hold very grave concerns for a number of these people," Bligh said. "We are anxiously worrying that we will see this toll rise."
Queensland has been inundated for more than two weeks after downpours lashed Australia's northeast. The focus has turned to Brisbane after the Bureau of Meteorology issued flood warnings for the Brisbane River, above and below a dam designed to protect the city from inundation.
The latest floods were triggered after heavy rains fell on already sodden ground, and Bligh said some residents may still be stranded on rooftops as rivers rush towards the coast. The downpours, which have hit the state's farming and coal industries, may have affected as many as 200,000 people, authorities say.
Some roads and bridges in Brisbane, the state's capital and home to about 1.05 million people, are already submerged, according to Queensland police, which ordered the immediate evacuation of some northerly suburbs. At least 32 areas of the city are at risk, Brisbane City Council said on its website.
International Offers
West of the city, closer to yesterday's flash floods, about 300 people were airlifted to safety, police said.
Prime Minister Julia Gillard today offered defense force resources to Premier Bligh for the rescue operation. The U.S., China, Japan, Singapore and New Zealand are among nations that have offered help, she said.
"There are still more dark days ahead," Gillard said at a press conference in Canberra. "We do need to brace ourselves for the likelihood of further bad news."
Water levels may surpass those of the 1974 floods in Brisbane, police said. That disaster, triggered by near-record rainfall and a tropical cyclone, killed 16 people and inundated a third of the city's metropolitan area, according to the website of the Attorney General's department. Following that deluge, the state built the Wivenhoe Dam to protect the capital.
Shares Fall
Rivers in Brisbane will probably peak tomorrow or the next day, Bligh said. Without the Wivenhoe Dam, which is holding out, there would be a ''very significant'' flood in the city, she said.
"There's no need to panic in Brisbane," the premier said. "This is a changing situation but one that is being managed."
The most recent floods, the state's worst in 50 years, have affected about a million square kilometers, an area the size of France and Germany. Repairing the damage may cost more than A$5 billion ($4.94 billion), the state government has said.
In Sydney, shares of Suncorp Group Ltd. and Insurance Australia Group Ltd. fell as investors bet floods in Brisbane will trigger a spike in claims. The Australian dollar fell to a three-week low as concern mounted that economic growth will slow.
Near Toowoomba, a landslide cut part of the rail network that carries freight and passengers and serves Peabody Energy Corp. and New Hope Corp. coal mines. Australian thermal coal prices rose as the waters curbed output.
Daunting Scale
Television footage from Toowoomba showed people trapped in vehicles while others hung to lamp posts and trees as rescue services struggled to reach them. Emergency-services officers staged 43 rooftop rescues overnight before bad weather grounded helicopters, Bligh said.
"The sheer scale of this operation is daunting," Queensland Deputy Commissioner Ian Stewart said at a press conference.
Police Commissioner Bob Atkinson yesterday described the flood that hit Toowoomba as an "inland instant tsunami." The torrent swept cars down streets in the town of 90,000 people, which is about 127 kilometers (79 miles) west of Brisbane.
Rescue efforts have been hampered as fog grounded helicopters, leaving residents stranded on rooftops overnight. The downpour is forecast to continue today.
The Lockyer Creek in the southeast of the state was at a record level of 18.92 meters at Gatton last night before the recording station failed, the Bureau of Meteorology said on its website. The previous record was 16.33 meters in February 1893.
Before it's here, it's on the Bloomberg Terminal.
LEARN MORE