Murdered Judge Sought to Talk With Giffords About Court Caseload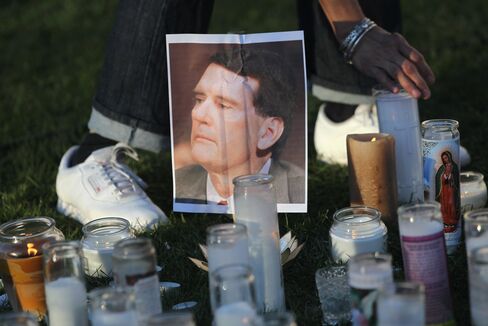 John McCarthy Roll, who rose from bailiff to become chief judge of Arizona's federal courts, was killed in Tucson because he dropped by a political event to thank U.S. Representative Gabrielle Giffords for her help with a shortage of jurists in their state.
He was in "the wrong place at the wrong time," Pima County Sheriff Clarence Dupnik said in explaining why Roll, 63, had come to a constituent meeting at a supermarket to say hello to Giffords, who was wounded by the same person accused of killing Roll on Jan. 8.
After attending mass at the nearby downtown cathedral, where he frequently attended services daily, Roll would have gone home to "do the floors" as he did every Saturday, Dupnik said at a press conference that day.
"I have never met a more sincere, fair-minded, brilliant federal judge or any judge for that matter in my whole life," Dupnik said.
Stephen Paul Barnard, a Tucson defense attorney who has known Roll since the 1970s when they were both city prosecutors, said the judge's death is "insurmountable, senseless and tragic."
"At least to me and other people who knew him as a person, he was the symbol of what a human being strives to be and he was taken away overnight," Barnard said in a phone interview.
Barnard, a Democrat, said Roll, who he described as a conservative Republican, enjoyed lively discussions about politics "but always with humor, never anger."
The alleged shooter, Jared Loughner, 22, is in federal custody. He was charged with killing Roll and Gabriel Zimmerman, a member of Giffords' staff and a federal employee, according to a criminal complaint filed yesterday. He is also charged with attempting to kill Giffords and two other members of her staff who are also federal employees, prosecutors said.
Six Killed
Six people, including a 9-year-old girl, were killed during the shooting outside a Safeway grocery store. At least 19 people were shot before a woman grabbed an ammunition magazine from Loughner as he was trying to reload a 9mm Glock pistol, and then two men stopped Loughner after he reloaded with a third magazine, according to a court filing.
Dupnik said yesterday at a press conference that the woman had been wounded in the shooting. The Sheriff's Office later said the woman hadn't been wounded.
Giffords, a Democrat beginning her third two-year term in the U.S. House, survived a single gunshot to the head and underwent surgery at University Medical Center in Tucson, Dr. Peter Rhee said at a press conference. Giffords was responding to commands, and neurosurgeons were optimistic for her recovery, Rhee said.
Bailiff, Law School
Roll started as bailiff at Pima County Superior Court in 1972, the year he finished law school at the University of Arizona, according to his profile on the website of the Federal Judicial Center.
He was nominated to the U.S. District Court in Arizona by President George H.W. Bush in 1991. He had been an Arizona state judge since 1987. Before that, he worked as a county prosecutor and a federal prosecutor in Tucson.
According to a Federal Bureau of Investigation statement filed with the criminal complaint, Roll had come to the meeting to talk to Giffords and her staff about the help she had provided trying to deal with growing volume cases in federal courts in Arizona. Roll was talking with one of Giffords' aides before the shooting, according to the FBI statement.
'Terrible Loss'
"We in the judiciary have suffered the terrible loss of one of our own," Chief Justice John G. Roberts Jr. said in a statement. "Judge John Roll was a wise jurist who selflessly served Arizona and the nation with great distinction."
Roll became chief judge of the Arizona federal court in 2006 and sought to bring in additional judges and resources to help manage a growing workload, predominantly cases involving drug smuggling and illegal immigration, according to a statement from the U.S. Court of Appeals in San Francisco, whose district includes Arizona.
The court was facing a "tsunami" of felony cases far beyond the capacity of the four district judges in Tucson, Roll said in a Nov. 24 letter to Alex Kozinski, the chief judge of the appeals court. In the letter, Roll sought an emergency declaration to delay bringing felons to trial beyond the current 70-day timeframe.
Roll and his wife were given a security detail in 2009 after he received death threats following a ruling that allowed a $32-million civil rights lawsuit brought by illegal immigrants against an Arizona rancher to go forward, the Arizona Republic reported at the time.
"It was unnerving and invasive," Roll was quoted as saying. "By its nature it has to be."
In 1994, Roll ruled that a provision of the so-called Brady Law that required federal background checks for firearm buyers was unconstitutional. The judge agreed with an Arizona sheriff that the federal government can't require local law enforcement to conduct background checks.
Roll is survived by his wife, Maureen, and three children and five grandchildren.