Yellen Says Asset-Buying Adds 3 Million Private Jobs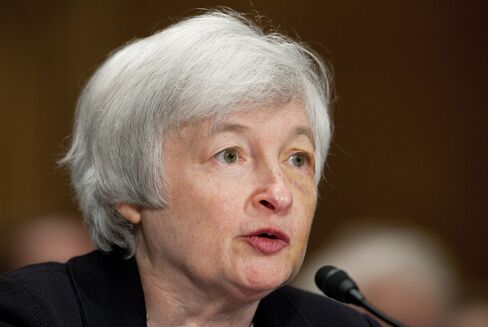 The Federal Reserve's two rounds of asset purchases totaling $2.3 trillion will have helped boost private payrolls by about 3 million jobs through 2012, said Fed Vice Chairman Janet Yellen.
Policy makers' November decision to start a second round of purchases of $600 billion in Treasuries "is intended to support economic recovery from an exceptionally deep recession," the 64-year-old central banker said in a speech today in Denver. "I believe it will be effective in fostering maximum employment and price stability."
Yellen gave the most detailed accounting yet of the benefits the central bank sees from its stimulus, adding her voice to a defense of the policy by Chairman Ben S. Bernanke and other officials. Republican lawmakers and officials in China, Germany and Brazil have criticized the purchases, saying they threaten to weaken the dollar and stoke asset-price bubbles.
Yellen, appearing at the Allied Social Science Associations annual meeting, dismissed concerns that the purchases will ignite inflation, saying weak labor demand will be helpful in "mitigating the risk" and the Fed can "tighten policy when needed" by increasing the interest rate it pays on excess bank reserves.
She added that the Fed's moves won't hinder growth overseas, are having "only moderate effects on the foreign exchange value of the dollar," and do not appear to be triggering "significant excesses or imbalances in the United States."
Four Economists
The central bank bought $1.7 trillion of mortgage debt and Treasuries through March 2010 as it sought to pull the U.S. out of a recession. On Nov. 3, the Federal Open Market Committee decided to buy $600 billion of Treasuries through June in a policy known as QE2 for a second round of quantitative easing.
In her assessment of the economic impact of the purchases, Yellen cited a paper by four Fed economists that relied on the central bank's main economic forecast model, known as FRB/US.
The simulation assumed the latest round of purchases is completed in a year, and that an elevated level of holdings is maintained for two years before being "unwound linearly over the following five years."
It concludes that private employment is currently 1.8 million higher than it would be without the purchases, and will get an additional boost of 1.2 million by 2012.
"Moreover, the simulations suggest that inflation is currently a percentage point higher than would have been the case if the FOMC had never initiated any securities purchases, implying that, in the absence of such purchases, the economy would now be close to deflation," Yellen said.
Jobs Lost
The economy has lost 8.4 million jobs during the recession that began in December 2007, the biggest employment slump in the post-World War II era.
A Labor Department report yesterday showed that employers added 103,000 jobs in December, fewer than the median projection for a gain of 150,000 in a Bloomberg News survey of economists. The unemployment rate fell to 9.4 percent from 9.8 percent, in part because discouraged workers stopped looking for jobs.
At the same time, inflation is below the long-run rate of 1.6 percent to 2 percent that Fed officials regard as consistent with price stability. An inflation gauge tied to consumer spending excluding food and energy rose 0.8 percent from a year earlier in November.
Minutes of the Fed's most recent meeting in December showed that some officials aren't willing to scale back their plans to purchase $600 billion in Treasuries through June, even with an improving economic outlook.
Profit Forecasts
Recent reports point to a strengthening recovery that has prompted companies such as Memphis, Tennessee-based FedEx Corp. to raise profit forecasts. The Institute for Supply Management's non-factory index, which covers about 90 percent of the economy, rose in December to the highest level since May 2006.
Unemployment holding above 9 percent is one reason why President Barack Obama last month signed an $858 billion bill extending all Bush-era tax cuts for two years. The bill also continues expanded unemployment insurance benefits through 2011 and cuts payrolls taxes by 2 percentage points.
Republican leaders have criticized the second round of stimulus. In a Nov. 17 letter, House Speaker John Boehner of Ohio, then the minority leader, and three other Republicans voiced "deep concerns" to Bernanke about a policy that they said may undermine the dollar and create asset price bubbles.
Since the $600 billion in purchases were approved Nov. 3, the Standard and Poor's 500 Index has risen more than 6 percent, and the dollar has strengthened by 5.9 percent against the currencies of six major trading partners.
Treasury Yields
At the same time, the yield on the 10-year Treasury note has risen to 3.32 percent from 2.57 percent. Yellen attributed the increase to an improved economic outlook and the extension of tax cuts, which she said will raise the amount of federal debt and boost the recovery.
The Federal Open Market Committee's December meeting marked the two-year anniversary of near-zero interest rates. Central bankers reiterated their plan to keep the target for overnight interbank loans "exceptionally low" for an "extended period."
Yellen sought to allay concerns that the Fed's asset purchases might stoke inflation.
"We recognize that the FOMC must withdraw monetary stimulus once the recovery has taken hold and the economy is improving at a healthy pace," she said. "The committee remains unwaveringly committed to price stability."
Before it's here, it's on the Bloomberg Terminal.
LEARN MORE