Hodgson Out as Liverpool Manager; Dalglish Takes Over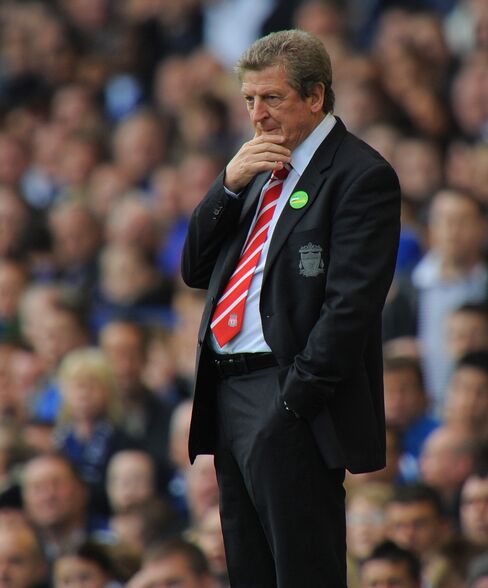 Liverpool manager Roy Hodgson left the club by "mutual consent" after just six months in charge of the 18-time English soccer champion.
Hodgson, who was hired July 1, had come under fire from fans, with Liverpool 12th in the Premier League standings, 19 points behind leader Manchester United. The Reds have won just 7 of 20 league matches this season.
"Both parties thought it in the best interests of the club that he stand down," John W. Henry, the club's owner, said today in a statement. Former manager Kenny Dalglish will take over for the rest of the season, starting with tomorrow's F.A. Cup match at Manchester United.
Hodgson, 63, replaced Rafael Benitez after Liverpool had its worst league finish in 11 years and failed to qualify for this season's Champions League.
The Reds found themselves in the three relegation places at the bottom of the standings following a loss to promoted Blackpool in early October. Three straight wins, including a 2-0 victory over Chelsea, lifted them into the top half of the table, but two defeats in the past three matches saw them fall back in the title chase.
The team's struggles drew the ire of supporters, who chanted at recent matches they wanted Hodgson out. With media commentators questioning Hodgson's future following a 3-1 loss at Blackburn three days ago, the club canceled his weekly press conference yesterday.
Hicks, Gillet
Hodgson, who led Fulham to the final of the Europa League last season, was hired while former owners Tom Hicks and George Gillet were trying to sell the club amid rising debt. A group led by Henry bought Liverpool in October and initially gave Hodgson a vote of confidence.
That changed last month when Henry said Liverpool's results were "unacceptable." The owners were also unhappy Hodgson criticized fans following a recent loss to Wolverhampton. He later apologized.
"No one who cares for this great club has been happy with the way this season has unfolded and we have examined options and considered at length what is best for us going forward," Liverpool Chairman Tom Werner said in the statement.
Dalglish, 59, managed Liverpool from 1985 to 1991, winning three league titles, including its most recent in 1990. A fans' favorite from his days as a player, he had put his name forward for the job when Benitez was fired but was overlooked by the previous ownership.
"Kenny was not just a legendary footballer, he was the third of our three most successful managers -- three giants," Henry said. "We are extraordinarily fortunate and grateful that he has decided to step in during the middle of this season."
Before it's here, it's on the Bloomberg Terminal.
LEARN MORE