UPS Cooperating With Antitrust Probe on Consultants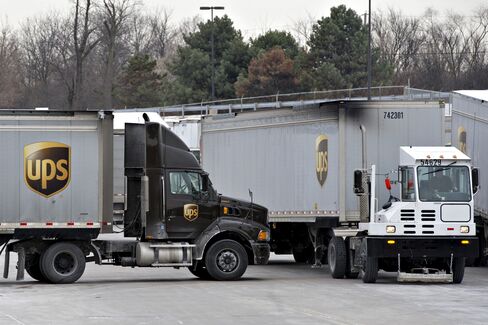 The United Parcel Service Inc. said it's cooperating with the U.S. Justice Department in an antitrust investigation of its policies on the use of shipping consultants.
"We are going to cooperate fully with their inquiry," UPS spokeswoman Susan Rosenberg said about the Justice Department investigation in a telephone interview today. Department spokeswoman Gina Talamona declined to comment on the inquiry.
The probe was disclosed in a lawsuit filed by Portland, Oregon-based AFMS LLC, a privately held shipping consultant, that alleges that UPS and Federal Express Corp. conspired to exclude third-party shipping consultants, Rosenberg said.
"We're aware that the plaintiff's attorney has asked the Justice Department to look into this issue," said Maury Lane, a Federal Express spokesman.
UPS and FedEx fell in New York trading after CNBC reported the existence of the Justice Department probe. After sliding as much as 2.1 percent, UPS was down 34 cents, or less than 1 percent, to $72.15 at 5:12 p.m. in New York Stock Exchange composite trading. FedEx reversed a drop of as much as 1.4 percent, rising 5 cents to $93.15.
Trial Attorney
A lawyer for AFMS, Maxwell Blecher, said that he had been advised by a trial attorney of the Antitrust Division of the Justice Department that the division had opened a formal investigation into the matter and "was familiar with the complaint we have filed."
"We never contacted the DOJ," Blecher said in a telephone interview. "We went directly to court and filed our own complaint."
Blecher's Dec. 13 disclosure of the investigation was made in a filing in federal court in Los Angeles as AFMS fought motions by UPS and FedEx to dismiss the case. In court papers filed Dec. 20, UPS and FedEx said the existence of a Justice Department investigation should have no bearing on the decision U.S. District Judge Margaret M. Morrow decision whether to throw out the civil case.
UPS's Rosenberg said it's "preposterous" to accuse UPS and Fedex of conspiring to monopolize the shipping business.
"We compete vigorously, not only with each other but with other shipping services," she said.
The civil case is AFMS LLC v. United Parcel Service Co., 10-cv-5830, U.S. District Court, Central District of California (Los Angeles).
Before it's here, it's on the Bloomberg Terminal.
LEARN MORE