Sprint Plans Low-Price Strategy as Rivals Move to '4G'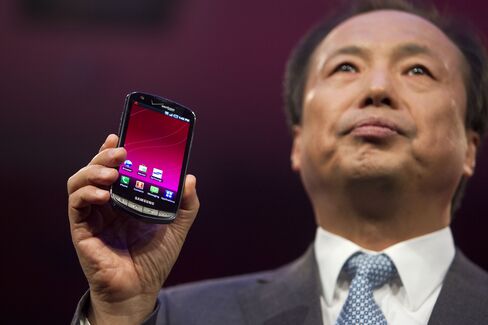 Sprint Nextel Corp., the third-largest U.S. mobile-phone carrier, began touting last year that it had the country's first nationwide, fourth-generation wireless network. Now it's fighting to retain its marketing edge.
Verizon Wireless and AT&T Inc., the largest and second-largest mobile phone carriers, both detailed their plans for fourth-generation, or 4G, offerings this week. At the Consumer Electronics Show in Las Vegas, Verizon unveiled 10 devices for its high-speed service, while AT&T introduced 20 products.
The carriers all mean slightly different things when they use the term. Still, Sprint is no longer the only carrier trumpeting its 4G technology, a moniker meant to suggest speed and innovation.
"Sprint is at a crossroads," said Craig Moffett, a New York-based analyst at Sanford C. Bernstein. "Their time-to-market advantage is now largely gone for 4G."
To compete, Sprint plans to emphasize its low-cost plans for unlimited wireless data use, a pitch that will grow more compelling as more people use mobile phones and tablets to surf the Web and watch video, said Teresa Kellett, director of 4G at Sprint. The company offers unlimited data service for $69.99 a month, while AT&T eliminated its unlimited plan and Verizon charges more.
"Our ability to offer unlimited 4G we think is the best way to get people to use it," said Kellett in an interview. "We want to get people in that mode of experiencing the Internet like they would at home or at the office."
'Wal-Mart' Approach
Sprint may succeed with the strategy, though it will need to balance the demands of customers with the expenses of running its wireless network, said Chris Larsen, a New York-based analyst at Piper Jaffray Cos.
"There's a very successful, low-cost leader out there called Wal-Mart; just because you compete on price, doesn't mean you're in a tough position," said Larsen, who rates Sprint shares "neutral" and doesn't own them. "However, you need to have a lower cost structure, and it's unclear to me, particularly looking at Sprint's financials today, that they have the cost structure."
Sprint rose 3 cents to $4.68 at 4 p.m. in New York Stock Exchange composite trading. The shares gained 16 percent last year.
Chief Executive Officer Dan Hesse helped turn around Sprint subscriber losses that were exceeding 1 million customers per quarter by focusing on new products, including what he calls "real" 4G and improving customer service.
"If you want to be a leader in 4G, you have to be a leader in devices," Hesse said at a meeting with media, analysts and customers yesterday in Las Vegas.
'Bunch of Nonsense'
The company will continue to focus on rolling out new devices for the network as a way of differentiating their service, he said. Sprint introduced the first 4G phone in the U.S., HTC Corp.'s Evo, in June and has unveiled 18 4G devices, including the BlackBerry PlayBook tablet computer from Research In Motion Ltd. it showed this week at the CES conference.
Still, after spending billions building out the faster network, competitors have closed the gap, moving to new high-speed networks and upgrading existing wireless services to give subscribers faster download speeds for the mobile Internet.
"All this 3G, 4G stuff is a bunch of nonsense for the average consumer," said Moffett. "All they really care about is faster speeds and they don't care what you call it."
AT&T and Verizon
AT&T is speeding up the introduction of 4G service using a technology called long-term evolution, or LTE, and plans to offer that service by midyear. In the meantime, the Dallas-based company is offering devices on an upgraded version of its existing technology and marketing them as 4G as well. The company will release 20 new devices for the network this year, including Android phones from Samsung Electronics Co., Motorola Mobility Holdings Inc. and HTC.
Though the upgraded technology won't provide data-transmission speeds as fast as LTE, it will be about four times speedier than older 3G technology, the company said.
"That's a very significant step up, and I think if you ask anybody what 4G means is it's a significant step up in speed," said Ralph de la Vega, CEO of AT&T's wireless unit.
Verizon has said its 4G service, which also uses LTE, is about ten-times faster than its 3G network. The company's 4G smartphones will be made by LG Electronics Inc., HTC, Samsung and Motorola Mobility. Samsung and Motorola are also making 4G tablets for Verizon.
"We're not only the largest in terms of the 4G, LTE network, we are committed to being the best," said Dan Mead, Verizon Wireless' CEO, at a press event in Las Vegas.
T-Mobile USA Inc., the fourth-largest carrier, also showed off what it called 4G devices at CES this week.
Clearwire Challenges
Sprint uses the network of Clearwire Corp. to offer its 4G service. Sprint folded wireless assets into Clearwire in 2008 in exchange for a majority stake in the company. Google Inc., Intel Corp., Time Warner Cable Inc., Bright House Networks and Comcast Corp. also helped fund the company's build-out in exchange for the right to sell its service.
Still, Clearwire has yet to turn a profit and warned investors that it might run out of cash this year before raising money through a bond offering. Sprint, which put in most of an additional $1.56 billion Clearwire raised last year, declined to participate in the offering.
Before it's here, it's on the Bloomberg Terminal.
LEARN MORE