Lagardere Said to Agree on Magazines Price With Hearst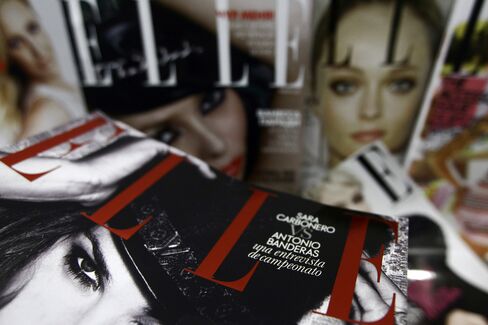 Lagardere SCA, France's biggest publisher, has reached an agreement in principle with Hearst Corp. on a price for its international magazines business, according to a person with direct knowledge of the situation.
The companies are still negotiating conditions for editorial control of the foreign editions of "Elle" magazine, said the person, who declined to specify the price or be identified because the talks are private. Lagardere announced the start of exclusive negotiations on a deal with the New York-based publisher of "Esquire" on New Year's Eve.
The French company, which also publishes "Paris Match" and Stephenie Meyer's "Twilight" novels, is aiming to focus on its book-publishing and domestic media businesses while also pushing into sports marketing. Chief Executive Officer Arnaud Lagardere is also selling the company's 20 percent stake in pay-TV unit Canal Plus, and may dispose of the 7.5 percent of European Aeronautic, Defence & Space Co., the parent of Airbus SAS.
Ramzi Khiroun, a spokesman for Lagardere in Paris, declined to comment.
The Lagardere Active magazines division accounted for 22 percent of the company's sales in 2009, or about 1.7 billion euros ($2.2 billion), including domestic titles. Arnaud Lagardere last year announced the creation of a new unit, Lagardere Unlimited, to handle sports rights and athlete representation, and bought Best, a U.S. sports agency with clients including basketball player Rafer Alston.
Arnaud is re-orienting Lagardere after successfully fighting off a challenge over strategy from American activist investor Guy Wyser-Pratte, who attempted to win a board seat in April and criticized the company's sports ambitions. The CEO has said he wants the Paris-based company to compete directly with companies such as IMG Worldwide Inc., the New York-based sports group controlled by Forstmann Little & Co.
Before it's here, it's on the Bloomberg Terminal.
LEARN MORE