States in U.S. Gambling With Lotteries as Sales Slide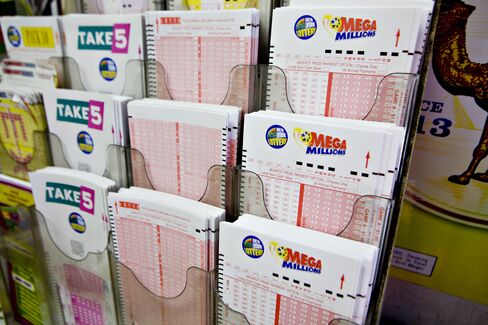 Even the lure of multimillion-dollar jackpots hasn't been a sure bet for cash-strapped U.S. states to keep lottery revenue on the rise.
Income from lottery-ticket sales in fiscal year 2009 fell to $52.3 billion, a 0.9 percent drop from the previous year, according to data released by the Census Bureau. It was the first decline since 1998 and cut profits by $511 million from a year earlier to $17.7 billion, leaving states with less cash to balance budgets and aid cities and towns.
Figures released this week, based on government finance data from 50 states, show that once-steady streams of cash for capitals from Sacramento to Boston were slowed by the worst recession since the 1930s. As U.S. unemployment hovered around 10 percent, people cut back playing state-sponsored games to strike it rich.
"When you have less money for everything, you're going to cut back everywhere," said Mark Cavanagh, the executive director of the Massachusetts state lottery. "You're not going to go out to eat as much, you're not going to see as many movies, and you're not going to play as much lottery."
In Massachusetts, profits from lottery tickets in 2009 dropped 5.7 percent from the previous year to $845 million, according to the census data that is based on sales after commissions. That loss rippled down to cities, which count on the funds to balance their books, Cavanagh said.
'Recession-Proof'
"There was a myth out there that lotteries are recession- proof," said Gordon Medenica, director of the New York state lottery, the largest in the U.S. "They're really similar to any other entertainment industry. When times are bad we feel it as well in our results."
Other states felt a similar squeeze -- and purchases in fiscal 2010 reflected that. In Michigan, where the unemployment rate averaged 13.8 percent compared with 9.8 percent for the U.S., lottery sales dropped to $2.36 billion from $2.38 billion in 2009, according to a state lottery spokeswoman.
"Certainly the economic situation would play a role" in the decline, said Andi Brancato, director of public relations for the Michigan lottery.
Employers in the U.S. added 103,000 workers to payrolls last month, fewer than the median forecast of 150,000 in a Bloomberg News survey, Labor Department figures showed today in Washington. The unemployment rate fell to 9.4 percent, partly reflecting a shrinking workforce.
Lottery sales in New York in fiscal 2009 cooled 0.3 percent from the previous year, to $6.82 billion, according to the census figures, which don't include commissions paid to vendors. New York lottery spokeswoman Carolyn Hapeman said total sales, with commissions, edged up to $7.66 billion in 2009 from $7.55 billion a year earlier.
Foreclosure-wracked Florida saw revenue drop 5.5 percent, from 2008, to $3.7 billion, the census data show. California, where cash shortages grew so severe in 2009 that the state was forced to issue IOUs to pay its bills, collections from ticket sales dipped 3.2 percent from 2008, to $2.7 billion.
Close Deficits
State officials have had to close deficits of $430 billion across the U.S. since 2009, according to the Center on Budget and Policy Priorities, a Washington-based group that tracks government finances. A separate census report Jan. 5 showed that total state revenue, which includes money in pensions and trust funds, tumbled 31 percent to $1.1 trillion in 2009, compared with the previous year.
Some states have sought to leverage more money using their lotteries. Arizona borrowed against its lottery to get cash up front in an attempt to offset a deficit that the Center on Budget and Policy Priorities said equaled 37 percent of its state budget. The state, which also sold off buildings in the Capitol complex, raised $425 million by issuing bonds that will be paid back with lottery proceeds.
California is taking a different approach. Former Governor Arnold Schwarzenegger, who left office this month, signed a law in April to give the lottery latitude to pay out more of its revenue in prizes, a bid to draw more in more consumers. In California, lottery money is used to finance schools, a perennial target of lawmakers' budget cuts.
"When you can pay out more, you can sell more tickets," said Alex Traverso, a spokesman for the California lottery.
Tax Collections
Throughout the U.S., state tax collections have started to rebound, census data show, rising during the first three quarters of 2010 as the economy gained momentum. Lottery administrators say ticket sales, in turn, are expected to rise. California now forecasts that lottery revenue will increase by $447 million, from fiscal 2010, to $3.5 billion in the budget year that ends in June.
New York lottery director Medenica said he expects income to exceed $3 billion during the budget year ending in March, in part because of the agreement with Genting Malaysia Bhd., a Kuala Lumpur-based company that will pay $380 million to develop an electronic slot machine parlor at the Aqueduct Racetrack in Queens.
That will help increase lottery income from $2.67 billion in the previous year and may add $300 million annually, Medenica said. At the same time, he said, "the recession had its impact, as it did on every industry."
Larger jackpots can produce higher ticket sales, a phenomenon that New York and other states have sought to foster by selling interstate Mega Millions and Powerball tickets. The Mega Millions jackpot for its Jan. 4 drawing reached $380 million, the second largest since interstate lottery games began in 1996, according to Mega Millions' website.
"That does tremendous things for our sales," Medenica said.
Before it's here, it's on the Bloomberg Terminal.
LEARN MORE