Hopper's Bullet-Shot Mao, 'Easy Rider' Script Set for Auction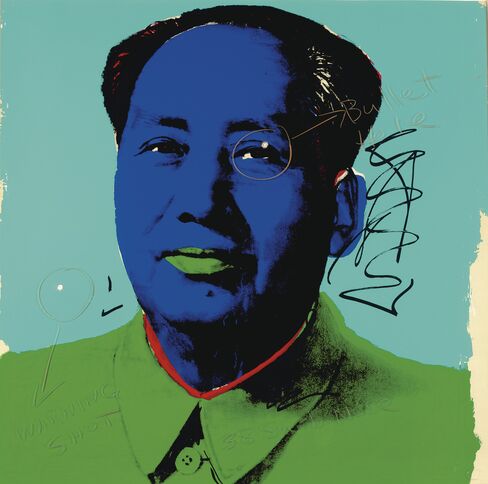 Among hundreds of Andy Warhol's Mao Zedong images, the one that belonged to the late actor Dennis Hopper had an unusual feature: two bullet holes piercing the surface.
The actor, who died last year at 74, shot the screenprint during a wild night in the early 1970s, mistaking the picture for the actual Chinese leader.
Warhol didn't mind. The two men agreed to call the damage "a collaboration," according to Christie's International, which is selling the work next week during its "Interiors" auction.
Estimated to fetch as much as $30,000, "Warhol's Mao: one plate" is among 241 artworks from Hopper's personal collection heading to the block on Jan. 11 in New York.
The group, which also includes pieces by Marcel Duchamp, Gerhard Richter and Annie Leibovitz, is estimated to bring between $898,800 and $1.3 million. The auction preview starts tomorrow.
Christie's already sold a smaller group of blue-chip works from the Hopper estate in November, 2010 for $12.8 million. The upcoming sale has more affordable art and memorabilia, ranging from a $200 movie poster to Warhol's limited-edition silkscreen of Marilyn Monroe with the high estimate of $60,000.
An "Easy Rider" script with Hopper's handwritten notes is estimated at $2,000 to $3,000.
Frank Gehry
Julian Schnabel's blue watercolor portrait of Hopper has been appraised for $1,000 to $1,500.
Actor Viggo Mortensen's collage starring his ex-wife and singer of Los Angeles punk rock band X, Exene Cervenka, has a top estimate of $5,000.
The collection also features furniture and decorative objects from Hopper's Frank Gehry-designed Venice Beach home.
The actor, who described himself as a "gallery bum," began collecting in the 1950s. His own photographs were shown at the Los Angeles Museum of Contemporary Art last summer.
(Katya Kazakina is a reporter for Muse, the arts and leisure section of Bloomberg News. The opinions expressed are her own.)
Before it's here, it's on the Bloomberg Terminal.
LEARN MORE