Goldman Image Makeover May Be Undermined by Facebook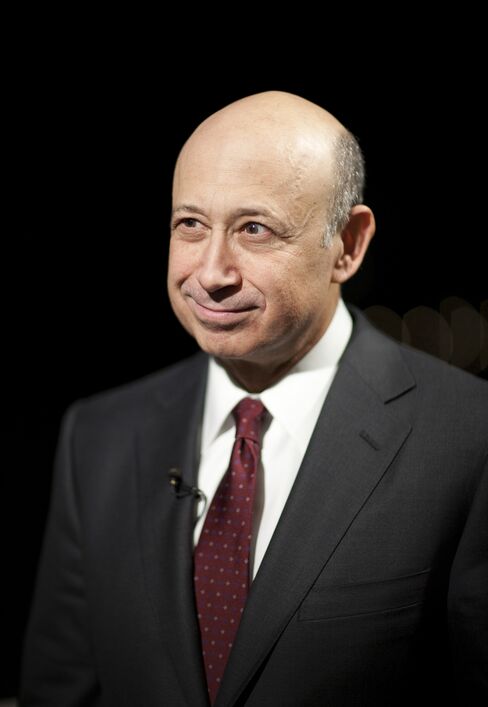 Just as Goldman Sachs Group Inc. prepares to unveil business standards aimed at improving its reputation after settling fraud charges last year, the Facebook Inc. stock sale to clients shines new light on the firm's potential conflicts of interest.
In pitching as much as $1.5 billion in stock in the closely held social-networking company to wealthy investors, Goldman Sachs disclosed that it might sell or hedge its own $375 million investment without warning clients. The company's disclosures didn't say one of its star fund managers, Richard A. Friedman, rejected the deal as inappropriate for his clients.
Chief Executive Officer Lloyd C. Blankfein, 56, created a business standards committee last May after the U.S. Securities and Exchange Commission sued Goldman Sachs for fraud. The SEC alleged that the firm misled investors in a 2007 mortgage-linked investment by failing to inform them of a hedge fund's plan to bet against the investment. The committee's report, which could be released as soon as next week, will address how the company can "reinforce the firm's client focus and improve upon the transparency of our activities," according to a May statement.
"The committee was undertaken in the hope and the commitment to do some things that were going to help restore and improve trust," said James Post, a professor at Boston University's School of Management who focuses on corporate governance and ethics. Instead, "people are going to look at it and say do those standards seem credible in light of the Facebook deal?"
Stephen Cohen, a spokesman for the New York-based firm, declined to comment.
SEC Inquiry
The SEC has asked Goldman Sachs for information about the offering, according to a person familiar with the matter who spoke on condition of anonymity. The firm disclosed the SEC's inquiry in a package sent to potential investors, said a person who has seen the document. SEC spokesman John Nester declined to comment. The New York Times reported the SEC inquiry yesterday.
Blankfein, in creating the business standards committee last year, said the firm recognized "a disconnect between how we view the firm and how the broader public perceives our roles and activities."
In the Facebook deal, Goldman Sachs is using a special purpose vehicle to bundle client investments into a single place, helping the Internet company skirt securities regulations that require any company with more than 499 investors to meet SEC reporting requirements. Comedian Jon Stewart, discussing the deal on "The Daily Show" yesterday, quipped "Oh Goldman, is there any regulation's intent you can't subvert?"
Firm's Interests
The documents provided to potential clients in the deal demonstrate that Goldman Sachs's interests don't always match those of its clients.
A four-page explanation of the Facebook deal provided to private wealth-management clients showed that, while investors would be subject to "significant restrictions" limiting their ability to sell stakes, the firm's own holding can be sold or hedged at any time without warning.
"It's contract terms like these that make GS my favorite stock," said Brad Hintz, an analyst at Sanford C. Bernstein & Co., referring to Goldman Sachs by its stock-market symbol.
The document disclosed that both Goldman Sachs and a Goldman Sachs hedge fund were investing in Facebook. The four-page pitch didn't say that Goldman Sachs's private equity fund, overseen by Friedman, had turned down the deal.
Memo for Clients
Some information about Goldman Sachs funds that rejected the deal was later included in a "private placement memo" provided yesterday only to clients who expressed interest in the deal, which required that orders be submitted by today, according to a person who has seen the document. On pages 26 and 87, the document said, according to the person:
"Certain investment vehicles managed by the merchant banking division of Goldman Sachs have declined the opportunity to invest in Facebook on terms similar to the fund's due to a number of factors."
Another mention on page 86 of the document gives reasons the fund passed on the deal, which include limited opportunity to conduct due diligence, the relative value of Facebook and the inability to obtain management rights or control over Facebook, according to the person who has seen the document.
Goldman Sachs, like most securities firms, treats some clients differently than others. While funds such as Friedman's Goldman Sachs Capital Partners serve as a fiduciary, requiring they make only the best possible investments for clients, the rest of the firm can sell investors anything deemed "suitable" -- a threshold easily overcome if the buyer is wealthy enough to be defined as a sophisticated investor.
'Industry Problem'
"It's certainly a Goldman Sachs problem, but it's also an industry problem," said Michael Farr, president and founder of Washington-based Farr, Miller & Washington LLC, which manages $725 million, including shares in Goldman Sachs. "Having an obligation to your shareholders as an investment bank to remain profitable means that you're going to be making money off of your clients, and so there is an inherent conflict."
In response to the SEC suit, Goldman Sachs argued that it was under no obligation to inform the investors about the fund's plan because they were "among the most sophisticated mortgage investors in the world" and capable of making their own decisions about the assets. In July, the firm settled the case with the SEC by paying $550 million and admitting a "mistake" in omitting the disclosure.
ACA Lawsuit
Yesterday ACA Financial Guaranty Corp., one of the investors that lost money in the Goldman Sachs Abacus deal at the heart of the SEC's suit, sued the firm in New York State Supreme Court in Manhattan for at least $120 million. The bond insurer accused Goldman Sachs of "egregious conduct" and said the firm deceived ACA into believing that the hedge fund, Paulson & Co., was investing alongside ACA when in fact it was planning to bet against the Abacus vehicle. Michael DuVally, a spokesman for Goldman Sachs, declined to comment about the suit.
Soon after the SEC filed its case, members of the U.S. Senate's Permanent Subcommittee on Investigations grilled Goldman Sachs executives, employees and former employees for more than 10 hours in a public hearing in which they questioned how the firm justified selling investments to clients it was betting against. Among the questions was whether Goldman Sachs's mortgage department felt it should put clients' best interests first. The responses tried to make it clear that the division didn't act as a fiduciary.
Clients' Objectives
"We should work with clients to help them achieve their objectives," Daniel L. Sparks, a former head of Goldman Sachs's mortgage division, told the Senate panel at the April 27 hearing. "That doesn't mean that we're always going to have the same view on a particular investment."
The hearing sparked a debate about whether brokers and derivatives traders should be required to act as fiduciaries for their clients. In the end, the Dodd-Frank Act didn't include a requirement to do so, instead calling on the SEC to study whether changes are necessary.
"As long as you have these different standards operating, the clients are going to bear the responsibility of asking their adviser which standard are you treating me under?" said Boston University's Post. "It undermines and erodes the trust that might otherwise exist between the client and the adviser."
That problem is unlikely to be solved by whatever Goldman Sachs's business standards committee report proposes, Post said.
Committee Report
Goldman Sachs said in May that it would release the committee's report publicly after the company's board meeting in mid-December. The committee's co-heads are E. Gerald Corrigan, the former Federal Reserve Bank of New York president who has worked for Goldman Sachs since 1994, and J. Michael Evans, the company's vice chairman and chairman of Goldman Sachs Asia.
The committee, comprised of 17 people who work for the firm, was already facing skepticism from investors and clients as a public relations maneuver.
"It's mostly PR, which I guess is relevant because they live in an increasingly regulated world, so they need to keep PR on their side," said Benjamin Wallace, an analyst at Grimes & Co. in Westborough, Massachusetts, which manages about $900 million. "I don't think it changes anyone's opinion of them."
Before it's here, it's on the Bloomberg Terminal.
LEARN MORE