German Exports Increased on Emerging Market Demand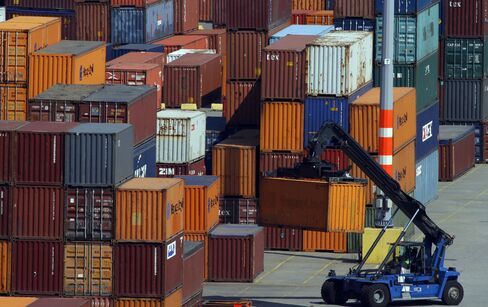 German exports increased in November as demand from emerging markets helped Europe's largest economy weather the region's sovereign debt crisis.
Exports, adjusted for working days and seasonal changes, rose 0.5 percent from October, when they dropped 1.3 percent, the Federal Statistics Office in Wiesbaden said today. Economists had forecast a gain of 1 percent, according to the median of eight estimates in a Bloomberg News survey. Imports increased 4.1 percent from October, when they rose 0.1 percent.
The Bundesbank says Germany's economy grew 3.6 percent last year, the most since reunification two decades ago, as booming foreign sales fueled domestic investment and hiring. With governments across the euro area cutting spending to rein in deficits, German companies are tapping demand for their goods in faster-growing regions such as Asia. Factory orders from outside Europe's currency bloc surged 14.8 percent in November, the Economy Ministry said yesterday.
"The German economy is doing brilliantly right now," said Jens Kramer, an economist at NordLB bank in Hanover, Germany. "The fact that we have a relatively good position in the emerging economies is decisive."
Sales to countries within the euro area rose 18 percent in the year, while shipments to countries outside the European Union gained 25 percent, the statistics office said.
Trade Surplus
The trade surplus narrowed to 12.9 billion euros ($16.8 billion) in November from 14.2 billion euros in the previous month, today's report showed. The surplus in the current account, a measure of all trade including services, was 12 billion euros, down from 12.1 billion euros in October.
Volkswagen AG's Audi unit said on Dec. 27 that it was embarking on the biggest investment program in its history, adding 1,200 new positions in 2011 and investing 11.6 billion euros by 2015. The luxury carmaker said on Dec. 14 that it planned to sell 1 million cars in China over the next three years.
Beiersdorf AG, which makes the Nivea range of cosmetics, said on Dec. 15 that investment in China was a "key priority" in 2011.
Still, Europe's debt crisis and slowing global growth may curtail German exports. The International Monetary Fund forecast on Oct. 6 that the global economy will grow 4.2 percent in 2011 after an estimated 4.8 percent expansion in 2010.
"We still expect German exports to slow down significantly in the months to come," said Sylvain Broyer, chief euro-region economist at Natixis in Frankfurt. He cited "the end of stimulus packages in China and in America, as well as poor internal demand from the euro zone."