Boeing 757 Inspections for Cracks to Be Ordered by FAA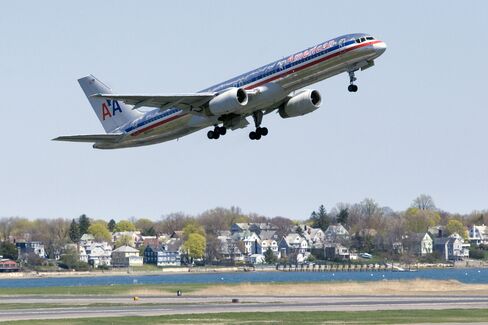 U.S. airlines must inspect 683 Boeing Co. 757 planes for cracks after a hole opened on an AMR Corp. American Airlines plane Oct. 26, the Federal Aviation Administration said in a directive to be published Jan. 10.
The 1-foot-by-2-foot hole in the 757-200 plane opened at 31,000 feet, causing loss of pressure and forcing an emergency landing in Miami, the FAA has said. A notice posted on a federal website today indicated when the directive will be published.
The inspections are also prompted by an almost 11-inch crack found Sept. 11 on a United Continental Holdings Inc. 757 plane flown by United Airlines, said Les Dorr, an FAA spokesman in Washington. The crack was discovered in an inspection after the flight crew reported hearing a whistling sound during a flight, Dorr said. No decompression of the aircraft resulted from the crack, he said.
Carriers must complete initial inspections within 30 days, or before 15,000 total flight cycles are accumulated, and then repeat the reviews at intervals ranging from every 30 takeoffs and landings, called a cycle, to 300 cycles, according to the FAA's directive. The inspections will cost the airline industry a total of $58,055, based on the $85 per-hour cost to inspect all the aircraft, the FAA estimated.
Airlines must repair any cracks found before operating further flights using the aircraft, the FAA said.
Boeing Recommendation
Boeing recommended the inspections to carriers on Nov. 22. The requirement covers 757-200, -200CB and -300 series airplanes, according to the FAA.
The FAA requirement of inspections recommended by Boeing "is appropriate as a means to help ensure that safety continues at the highest levels," Boeing said in an e-mailed statement.
The FAA order applies to 88 of American Airlines' 124 757s, said Andrea Huguely, a spokeswoman for the carrier. American began inspecting those planes in November, and all initial examinations will be completed by the end of today, she said.
The inspections are done overnight, and don't interfere with operations, Huguely said.
Besides American and United, operators of the 757s include Delta Air Lines Inc., US Airways Group Inc., FedEx Corp., United Parcel Service Inc. and Continental, which is also a unit of United Continental, based on data from Ascend Online Fleets.
Before it's here, it's on the Bloomberg Terminal.
LEARN MORE