Standard Life Picks Barclays, BP to Lift U.K. Stocks in 2011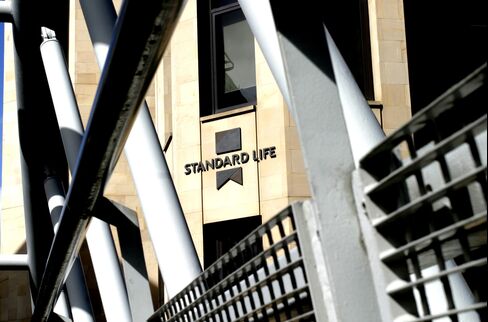 Jan. 6 (Bloomberg) -- Standard Life Plc, which correctly forecast the U.K.'s FTSE 100 Index's 13 percent rise in the last quarter of 2010, is betting on low-valued stocks such as Barclays Plc and BP Plc to push the index up 15 percent in 2011.
Britain's benchmark index of 100 leading companies will reach 6,900 points by the end of this year as firms raise dividends and profit from the economic recovery, David Cumming, Standard Life's head of U.K. equities, said yesterday. Edinburgh-based Standard Life manages 109.8 billion pounds ($170 billion) in U.K. assets and is the fourth-largest pension fund manager in the country.
Barclays, BP, Vedanta Resources Plc, Dixons Retail Plc and U.K. homebuilder Galliford Try Plc are Cumming's top five stock picks for this year because of their current valuations and their potential to benefit from a sustained global economic recovery. In August, when the FTSE 100 was at 5,325 points, Standard Life correctly forecast the Index would reach 6,000 points by the end of 2010. The benchmark closed up 0.5 percent at 6,043.86 points yesterday.
"We prefer economy-sensitive and cyclical stocks to defensives," Cumming said in a telephone interview. "At the moment, things are getting better. Although cyclical stocks have done well since March 2009, I'd rather have my money in those than utilities and classic defensives."
Cumming, 49, runs Standard Life's U.K. Equity Recovery Fund, which returned 18.9 percent in 2010, putting it in the top third of its peer group, according to data compiled by Bloomberg. The FTSE All-Share Index returned 11 percent in that period. The fund, which started in March 2009, had 48.4 million pounds of assets as of Nov. 30.
Bank Stocks
Barclays's share price relative to the value of its assets is 0.66, lower than any other U.K. bank except Royal Bank of Scotland Group Plc, which received the world's biggest bank bailout from the British government. Lloyds Banking Group Plc, which also received a bailout, has a price to book ratio of 0.98, according to data compiled by Bloomberg.
"The banks should rally a bit this year," said Cumming, who has been head of U.K. equities at the Scottish firm since 2000. "Barclays has been pretty weak this year." The U.K.'s third-biggest bank should benefit from rising levels of bond offerings across Europe, he said.
BP, which halted its dividend after the biggest oil spill in U.S. history last year, is also a favorite holding for Standard Life, according to Cumming. "BP still looks cheap as a recovery stock," he said. "The market has built in quite a lot of litigation costs, which I think is overdone."
BP, Vedanta
BP closed at 499.25 pence yesterday, 65 percent above its low of 302.9 pence on June 29. The firm still trades 24 percent below its share price before the explosion on the Deepwater Horizon rig in the Gulf of Mexico, which killed 11 people on April 21.
"Mining is still going to be a strong sector," said Cumming, who is playing rising commodity prices by betting on Vedanta, a stock he says is undervalued because of regulatory concerns with some of its mining operations in India. Dixons, a U.K. electrical retailer, is likely to offset a slow holiday trading season in its home market with its faster-growing business in Scandinavia, he said.
U.K. house prices fell in the second half of 2010, wiping out gains in the first six months of the year, leaving property values were little changed for the 12-month period, according to a Land Registry survey published Dec. 30. A stabilizing market this year should benefit house builders that bought land aggressively in the decline such as Galliford Try Plc, Cumming said.
"Europe is a lot better than people think," he said. "Scandinavia, Germany, France, which are huge economies, are picking up. That far outweighs what's going on in Greece and Ireland. A rising tide lifts all boats eventually."
To contact the reporter on this story: Kevin Crowley in London at kcrowley1@bloomberg.net
To contact the editor responsible for this story: Edward Evans at eevans3@bloomberg.net;