British Airways Picks Troubled Rolls Engine for A380s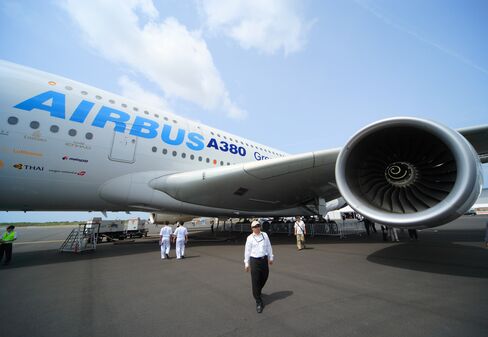 Jan. 6 (Bloomberg) -- British Airways Plc picked Rolls-Royce Group Plc's Trent 900 engine to power its Airbus SAS A380 aircraft, boosting sales prospects for a model that blew up on a Qantas Airways Ltd. superjumbo in November.
Europe's third-biggest airline agreed to buy the Trent 900s for 12 A380s to be delivered from 2013, Rolls-Royce said in a statement today. It will also equip 24 Boeing Co. 787s with Trent 1000s like the one that exploded on a test-bed in August.
"In the aftermath of the Qantas incident to have a customer sign up for Trent 900s is really rather reassuring," said Sandy Morris, an analyst at Royal Bank of Scotland with a "buy" on shares of London-based Rolls-Royce.
British Airways signed the A380 contract, first flagged in 2007, after Chief Executive Officer Willie Walsh affirmed his "absolute confidence" in the Trent 900, spokesman Euan Fordyce said. The deal took years to seal because of talks over through-life servicing, he said, declining to reveal if the carrier got a discount on the order's list price of $5 billion, including seven A380s and 18 787 Dreamliners it has options to buy.
Rolls-Royce, the world's largest engine maker after General Electric Co., is pleased that one of its biggest airline clients continues to "trust" in its products, CEO John Rose said.
Sydney-based Qantas resumed A380 flights on Nov. 27, more than three weeks after the blowout that forced an emergency landing in Singapore and grounded six planes. Australia's No. 1 airline has yet to reinstate superjumbo services to Los Angeles amid concern about the need to fly at full power on the route.
Oil Fire
The explosion, probably caused by an oil fire in one of the A380's four engines that led the intermediate pressure turbine disc to disintegrate, according to the European Aviation Safety Agency, will endanger sales of the model, which competes with the GP7200 made by GE and United Technologies Corp.'s Pratt & Whitney unit, Agency Partners analyst Nick Cunningham has said.
British Airways last spurned Rolls-Royce in 1991, when it placed a $1.4 billion order for GE's GE90 engine to power 15 Boeing 777 planes. The award came as "a big disappointment" for the U.K. manufacturer and caused "ructions" at the time, said Howard Wheeldon, senior strategist at BGC Partners in London.
The Qantas blowout was "reason enough for any airline to question whether there might just be a deeper and maybe longer term problem," Wheeldon said. "That BA has continued confidence in the Trent 900 and 1000 has to be positive."
The Trent 1000 powerplant that exploded in August closed a test-bed in Derby, England, for at least three weeks. Rolls-Royce hasn't said what went wrong.
Shares Gain
Rolls, which will publish full-year earnings on Feb. 10, had risen 0.8 percent to 659 pence as of the 4:30 p.m. close of trading in London, valuing it at 12.4 billion pounds ($19 billion). The stock advanced 29 percent last year.
British Airways advanced 4.4 percent to 300.2 pence today after the carrier said trends in the passenger market are positive, after heavy snowfalls in the U.K. wiped 50 million pounds ($78 million) from profit in the three months to Dec. 31.
The A380 program got a boost today after Asiana Airlines Inc. ordered six of the planes.
The South Korean carrier is the superjumbo's second new customer in three months, along with Skymark Airlines Inc. of Japan. Before that, Air Austral, based on the Indian Ocean island of Reunion, was the 525-seat model's only new customer since British Airways placed its order in 2007.
To contact the reporter on this story: Howard Mustoe in London at hmustoe@bloomberg.net; Steve Rothwell in London at srothwell@bloomberg.net
To contact the editors responsible for this story: Benedikt Kammel at bkammel@bloomberg.net; Kenneth Wong at kwong11@bloomberg.net