News Corp. Says Fox Networks' Vinciquerra to Step Down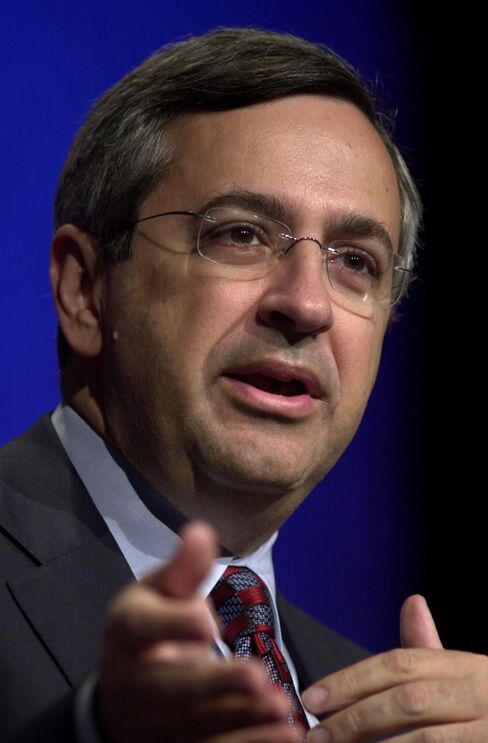 Jan. 6 (Bloomberg) -- News Corp. said Fox Networks Group head Tony Vinciquerra will leave the company on Feb. 11, and top programming executives will report directly to President and Chief Operating Officer Chase Carey.
David Haslingden, 49, CEO of Fox International Channels, will become president and chief operating officer of Fox Networks, also reporting to Carey, the New York-based company said today in a statement. Haslington will oversee business development, finance, legal, ad sales and corporate functions.
The change cuts a layer of management between Carey and divisional leaders including David Hill, CEO of Fox Sports; Peter Rice, 44, head of Fox entertainment; and Mike Hopkins, 42, president of affiliate sales and marketing. Vinciquerra had led the entire group since 2002. The Fox broadcast network has had the steepest loss of viewers among the major networks in the new TV season, according to data from Nielsen Co.
"We all know it's a critical time for the networks business, with digital technologies upending long-held business models," Carey, 57, said in a memo to employees. "We are facing these challenges from a position of great strength and now is the time for us to make some bets and take some risks."
News Corp., controlled by Chairman and Chief Executive Officer Rupert Murdoch, fell 4 cents to $14.81 at 5:20 p.m. New York time in Nasdaq Stock Market trading. The Class A shares gained 6.4 percent last year.
Time Off
"It was a surprise," David Joyce, an analyst at Miller Tabak & Co. in New York, said in an e-mail. "There was a reshuffling of the very talented senior executive suite roughly a year ago that gave Tony more power."
Vinciquerra, 55, chairman and CEO of the group, told employees in a memo he is looking to do something "more entrepreneurial in nature."
In an interview, Vinciquerra said he's looking forward to taking some time off because he's been working since he was 12 years old, when he began his first job as a newspaper delivery boy. He's on the board of Motorola Mobility Holdings Inc.
"I don't know what I'm going to do," he said. "I actually want to look at broadband -- the way people communicate and entertain themselves."
Vinciquerra said he's been planning to step down since July. He delayed the move to help News Corp. complete fee negotiations with pay-TV services including Cablevision Systems Corp. and Dish Network Corp., he said.
"It just didn't feel right to walk away with all those things hanging out there," Vinciquerra said. "There's a pretty smooth period coming up."
He said his departure isn't because of problems with Carey or Murdoch.
"Chase and I have a great relationship," Vinciquerra said. "Rupert and I have a great relationship."
Carey was unavailable to comment, according to Julie Henderson, a News Corp. spokeswoman in Los Angeles.
To contact the reporters on this story: Andy Fixmer in Los Angeles at afixmer@bloomberg.net; Sarah Rabil in New York at srabil@bloomberg.net
To contact the editor responsible for this story: Anthony Palazzo at apalazzo@bloomberg.net