Maybank Makes $1.4 Billion Bid for Singapore's Kim Eng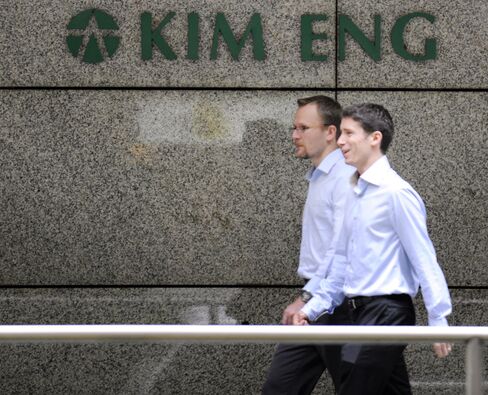 Malayan Banking Bhd., Malaysia's biggest lender by assets, offered to buy Singaporean brokerage Kim Eng Holdings Ltd. in a deal valued at S$1.79 billion ($1.4 billion), accelerating its expansion in Southeast Asia.
Maybank, as the Kuala Lumpur-based company is known, agreed to buy a 44.6 percent stake in Kim Eng from Taiwan's Yuanta Securities Asia Financial Services Ltd. and Kim Eng Chairman Ronald Anthony Ooi Thean Yat at S$3.10 a share, the companies said in separate statements today. That's a 36 percent premium to the stock's average price over the past 20 days.
"Maybank has been trying to create a stronger regional footprint, and this is a short-cut way to its ambitions," said Lye Thim Loong, who helps manage about $500 million at Avenue Invest Bhd. in Kuala Lumpur. "It's a good move."
A takeover would give Maybank stock-broking and investment banking operations in Singapore, Thailand, Indonesia, the Philippines and Vietnam. The deal would be the largest in the last 12 months in the Asian finance, broking and banking industry, according to data compiled by Bloomberg.
Maybank will be required to make an offer for the rest of Kim Eng, it said. The bank will also discuss with regulators whether it can make general offers for Kim Eng's listed units in Thailand and the Philippines, Chief Executive Officer Abdul Wahid Omar told reporters in Kuala Lumpur today.
Bond Offer
Funds for the acquisition may be raised through a Singapore dollar bond offer, Abdul Wahid said.
Mitsubishi UFJ Morgan Stanley Securities Co., which owns 29 percent of Kim Eng, hasn't decided whether to sell its stake, spokesman Susumu Taroura said in an interview.
The takeover is a "great leap forward for us so early in the new year," Maybank Chairman Megat Zaharuddin Megat Mohd Nor said in the statement. Kim Eng complements Maybank's existing investment-banking and equities operations, he said.
Kim Eng rose 2.7 percent to S$2.70 yesterday in Singapore trading, taking gains in the past month to 47 percent. At S$3.10, the price represents a multiple of 1.91 times Kim Eng's book value as of Sept. 30, Maybank said.
Maybank and Kim Eng shares were suspended today pending the announcement. Kim Eng said Dec. 17 that it had been approached about a takeover, causing its shares to surge.
'Not Cheap'
In the last 12 months, there have been 86 finance and brokerage acquisitions in Asia, according to data compiled by Bloomberg. The largest was the purchase of China Securities Co. in July 2010 for $1.08 billion by a Beijing state-owned asset management company, the data show.
The 36 percent premium offered for Kim Eng, compared with the average price over the previous 20 days, exceeds the 6.7 percent average at announcement for the Asian broking and banking acquisitions in the past year, according to the data.
"It's not a cheap buy, but it's the right decision from the point of view of growing your regional business," said Jason Chong, who helps manage the equivalent of $900 million of assets as chief investment officer at Manulife Asset Management (Malaysia) Sdn. in Kuala Lumpur. "They now have to build the franchise to enhance the long-term returns."
Brokerages Rally
The offer sent the shares of other brokerages rallying in Singapore. UOB-Kay Hian Holdings Ltd., a securities company partly owned by Singapore's United Overseas Bank Ltd., climbed 8.2 percent by the 5 p.m. close of trading today. G.K. Goh Holdings Ltd., a futures and foreign exchange brokerage that sold its securities business to Malaysia's CIMB Group Holdings Bhd. in 2005, jumped 16.9 percent.
Nomura Singapore Ltd. and Maybank Investment Bank are advising Maybank on the transaction.
Kim Eng, founded in 1972, has operations in 10 economies including Indonesia, Hong Kong, Thailand and the U.S. It is Singapore's second-biggest securities company in terms of trading volume, according to its website.
Maybank has 1,750 branches and offices in 14 countries with about 40,000 staff and 18 million customers, according to the company's website. The bank has an asset base of more than $100 billion, it said.
The Malaysian company bought bank stakes in Indonesia, Pakistan and Vietnam in 2008, seeking growth overseas amid increased local competition. Deals included the $2.2 billion takeover of PT Bank Internasional Indonesia, the country's sixth-largest bank at the time, in its biggest acquisition.
Fair Price
Kim Eng's 2009 net income increased 25 percent to S$89.3 million, with revenue growing 13 percent to S$419.5 million. In the first nine months of 2010, the company's profit slipped 31 percent, while sales were little changed.
In November, Kim Eng agreed to buy 70 percent of Interpac Securities Group, a brokerage unit of Malaysia's Berjaya Corp. The business was valued at 142 million ringgit ($42 million), Kim Eng said in a statement at the time, without saying how much it paid for the stake.
Maybank's offer for Kim Eng equates to an Ebitda multiple of about 16 times, in line with the median average of 15.5 times for similar deals in the industry in Asia over the past year, according to data compiled by Bloomberg.
"The price is fair given the robust stock market right now," Lim Sue Lin, an analyst at HwangDBS Vickers Research Sdn. in Kuala Lumpur, said by telephone. "Investment banking deals are getting more expensive after the financial crisis."
Local Rival
Yuanta decided to sell its Kim Eng stake as it increases focus on Greater China, said Chuang Yu-te, a spokesman for Yuanta Financial Holding Co., which controls Yuanta Securities. Maybank offered a good price, Chuang said.
CIMB Group, Maybank's biggest local rival, got a head start in Singapore after buying G.K. Goh's stock-broking business, which gave it operations in the city-state as well as Indonesia, Hong Kong, Thailand, the U.K. and the U.S.
A takeover of Kim Eng would reflect improving political relations between neighboring Malaysia and Singapore, once united in a federation from 1963 to 1965. Their leaders have taken steps in recent years to improve ties following bickering over issues including the price Malaysia charges for water and the replacement of a causeway linking the two countries.
Last July, Malaysian sovereign wealth fund Khazanah Nasional Bhd. made a successful S$3.5 billion bid for Singapore hospital operator Parkway Holdings Ltd.