Cadillac Said to Study New Models to Build on 35% Sales Gains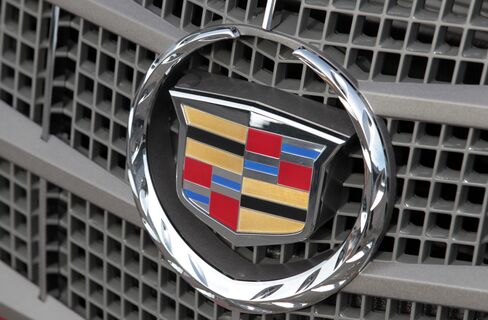 Cadillac, General Motors Co.'s luxury brand, is studying seven new model concepts to lure new buyers and build on the fastest sales growth among premium carmakers, two people familiar with the plans said.
The brand has looked at a small sport-utility vehicle, a large flagship sedan, a subcompact car to rival Bayerische Motoren Werke AG's Mini Cooper, and a Cadillac version of the Chevrolet Traverse and Buick Enclave SUVs, said the people, who didn't want to be named because the plans are private.
Cadillac is studying the models after sales rose 35 percent last year, topping all luxury automakers, led by the SRX sport-utility vehicle and the CTS coupe. The brand is seeking to ease reliance on those models, which accounted for 66 percent of its deliveries, and lower the age of its average buyer from 62.
"They understand Cadillac can't thrive as a one-car and one-SUV brand," said Jim Hall, principal of 2953 Analytics Inc., a consulting firm in Birmingham, Michigan. "They need more product to survive."
The brand is introducing two models next year, a larger XTS sedan and a compact car. Cadillac also sells the Escalade large SUV and the STS and DTS sedans, all of which have become a smaller portion of its sales. The STS and DTS may go out of production in June of this year, according to a forecast by Lexington, Massachusetts, research firm IHS Automotive.
Toyota Motor Corp.'s Lexus was the U.S. luxury sales leader last year, with 229,329 deliveries, compared with Cadillac's 146,925. Cadillac also trails Daimler AG's Mercedes-Benz and Volkswagen AG's Audi, which both sell eight models or more.
High-Volume Models
Cadillac will first look to add to high-volume luxury models, then move onto more specialized categories, said Don Butler, the brand's U.S. marketing vice president. Butler declined to comment on internal discussions about new vehicles.
"We have got to get the core covered with a compact, a mid-sized luxury car, a mid-sized crossover SUV and a large car," Butler said in an interview. "That's 85 percent to 90 percent of the luxury market right there. After that, we will look at opportunities for specialty vehicles."
At last year's Detroit auto show, then-Vice Chairman Bob Lutz said Cadillac would make a version of the Chevrolet Volt plug-in hybrid called the Converj. That plan was soon dropped, people familiar with the matter said.
Cadillac will gain sales volume with models that already are planned, Butler said. Cadillac should pick up buyers once the brand starts selling the small car that will take on the BMW 3-Series and the Audi A4, he said.
The company hasn't decided whether to make the small SUV or the subcompact, the people familiar with the matter said. The large SUV, which would use the Chevrolet Traverse's chassis and frame, is likely to built, one person said. The models would go on sale about the middle of the decade, the people said.
Revamped Marketing
Cadillac also is revamping its marketing to attract younger, more affluent consumers. The average Cadillac buyer makes $118,000 a year, about $60,000 less than Audi and BMW customers and $73,000 less than Mercedes owners, according to data compiled by Strategic Vision Inc., a market research firm in San Diego.
The average Cadillac buyer, at 62 years old, is younger only than the average customer of Ford Motor Co.'s Lincoln brand at 64, according to Strategic Vision. The typical Audi buyer is 48 years old, and the average for BMW is 50.
"The traditional Cadillac buyer is still comfortable with the products," Alexander Edwards, Strategic Vision's president, said in an interview. "With brands like Lexus getting negative press, there will be opportunities for people to reinvestigate what Cadillac has been up to. It could take two to three years for that process to take place."
Targeting Imports
GM Global Chief Marketing Officer Joel Ewanick, who joined the company from Nissan Motor Co. in May, is aiming Cadillac's advertising at consumers who typically choose imported luxury cars. One of his first moves was hiring the Minneapolis-based Fallon Worldwide ad agency for the $275 million account. The first new work debuted during the Rose Bowl football game broadcast on ESPN on New Year's Day.
Chief Executive Officer Dan Akerson has pushed the product team and marketers to get assertive and look for growth opportunities, Ewanick said.
Part of the strategy entails defining Detroit-based GM's Buick as a luxury brand that competes with Toyota's Lexus with stylish cars offering a quiet, comfortable ride, while Cadillac is portrayed as bolder and more aggressive, Ewanick said.
Buick traditionally has sat one step below Cadillac in the GM brand hierarchy that former Chairman Alfred P. Sloan defined as "a car for every purse and purpose."
Instead, Buick and Cadillac will target what Ewanick said are two kinds of luxury buyers -- those who want understated and comfortable cars and those seeking bold and sporty autos.
'More Extreme'
"We don't make luxury cars, we make Cadillacs," Ewanick said, quoting a new advertisement. "By using that kind of language, we're making the Cadillac brand more extreme on one end of the luxury market and letting Buick play on the other."
The ads created under Ewanick's direction highlight Cadillac's designs, powerful engines and individuality.
One commercial shows a dowdy, affluent couple celebrating an anniversary at the long dining room in their classically decorated mansion. Narrator Lawrence Fishburne calls it "blue-blooded" and "cold."
In a quick contrast, the ad then shows Cadillac's new CTS coupe making quick turns through a city landscape, and the camera narrows in on the vehicle's sharp lines. Fishburne says in the ad that Cadillac is "red-blooded."
Big Advertisements
Cadillac also will return to advertising at large sporting events and at high-traffic locations, Butler said. Billboards with video of the CTS coupe will be placed around the Nasdaq MarketSite Tower in New York's Times Square, Ewanick said.
Late last year, Cadillac started bringing back some of the sponsorships that the brand had before GM went into bankruptcy in June 2009. In November, Cadillac said it would sponsor the annual World Golf Championships PGA event in Miami in March.
Cadillac said in December it is re-entering the Sports Car Club of America, or SCCA, racing series. The brand's new race car will be on display at the Detroit show next week, said Nick Twork, a GM spokesman.
Before it's here, it's on the Bloomberg Terminal.
LEARN MORE