Slim's Mining Company Frisco Gains 26% After Spinoff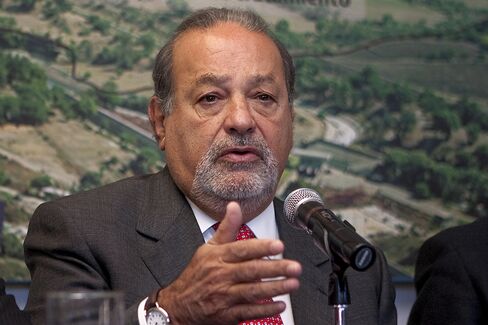 Billionaire Carlos Slim's gold and silver producer Minera Frisco SAB soared 26 percent in its first day of trading in Mexico City after being spun off from Grupo Carso SAB as investors bet precious metals prices will increase.
Frisco climbed to 38.07 pesos at 4 p.m. New York time, an increase based on its projected value yesterday prior to the spinoff, according to the Mexican stock exchange. Real-estate firm Inmuebles Carso SAB tumbled 16 percent from yesterday's adjusted price to 11.27 pesos. Investors got one share of each new company for each Grupo Carso share they owned.
Precious metals prices will climb 28 percent in the next year, giving investors the best returns among commodities in 2011, Goldman Sachs Group Inc. said Dec. 13. The bank raised its 12-month forecast for the S&P GSCI Enhanced Total Return Index's rally to 18 percent from 16 percent.
"It's good news for the Mexican mining sector that the world's richest man is very interested in the mining business," said Rodrigo Heredia, an analyst at Ixe Grupo Financiero SAB in Mexico City. "I don't think it would take the shine off from any of the other mining companies. It's good for investors to have an extra option in mining."
Mining is a good investment as demand grows for construction and manufacturing in developing nations such as China, Slim said in a June speech in New York.
'Clearer Manner'
Grupo Carso, which will retain retail, construction and industrial manufacturing units, created the new companies to give investors a way to measure their value separately. Carso shares had a 60 percent gain before today since the company announced the spinoffs Aug. 24.
"It's going to help the three businesses be viewed in a clearer manner," Luis Miranda, an analyst at Banco Santander SA in Mexico City, said in a phone interview yesterday. He projects Carso's stock price to reach 31 pesos by the end of the year and rates the stock, which he doesn't own, "underperform."
Carso shares closed at 34.16 pesos today, a 0.8 percent decline from yesterday's adjusted price, according to the Mexican stock exchange. Miranda estimated Frisco was worth 23.50 pesos a share, and Inmuebles Carso had a value of 12 pesos a share. The effects of the spinoff already had been built into Carso's stock price with last year's gains, Miranda said.
"The parts are always worth more than a complete company," said Jorge Lagunas, who manages about $200 million at Mexico City-based Grupo Financiero Interacciones SA. "I like the mining unit most. The commodities theme is the theme that has the most growth."
Lagunas said while he didn't hold Carso shares in his portfolio, he's looking into adding Frisco.
Stock-Index Dominance
Frisco's total value surpassed Carso's today in terms of market capitalization, reaching 88.1 billion pesos, compared to Carso's 78.7 billion pesos. Inmuebles Carso was worth 26.1 billion pesos.
Inmuebles, led by Chief Executive Officer Gerardo Kuri Kaufmann, had net assets of 22.8 billion pesos ($1.87 billion) and sales of 1.59 billion pesos through the first half of 2010, according to company filings. The company's properties include mixed-use retail developments, hotels and hospitals, almost all in Mexico.
Frisco, whose CEO is Justo Wong Salinas, had net assets of 3.77 billion pesos and sales of 3.4 billion pesos in the same period. It runs gold, silver, copper and zinc mines in Mexico.
Beating Gates, Buffett
Slim, 70, controls 79 percent of Carso and has the same stake in the new companies. Before today, Carso represented about 18 percent of Slim's $65 billion in public holdings, according to data compiled by Bloomberg. About two-thirds of that wealth comes from Slim's stake in America Movil SAB, Latin America's largest mobile-phone carrier.
Inmuebles and Frisco are the ninth and 10th companies controlled by Slim to be listed on Mexico's stock exchange. Slim's companies held a combined weight of 31 percent in Mexico's benchmark IPC index as of yesterday. Carso and its two spinoffs are included in the IPC today, according to the stock exchange.
America Movil's Mexican landline unit Telefonos de Mexico SAB and Grupo Carso unit Carso Infraestructura y Construccion SAB have their own publicly traded shares. America Movil is in the process of delisting two other units, holding company Carso Global Telecom SAB and South American landline carrier Telmex Internacional SAB.
Slim beat Bill Gates and Warren Buffett for the top spot in the latest Forbes wealth ranking, which was published in March. The magazine estimated Slim's net worth at $53.5 billion.