Best Emerging Market May Extend Rally in 2011: Argentina Credit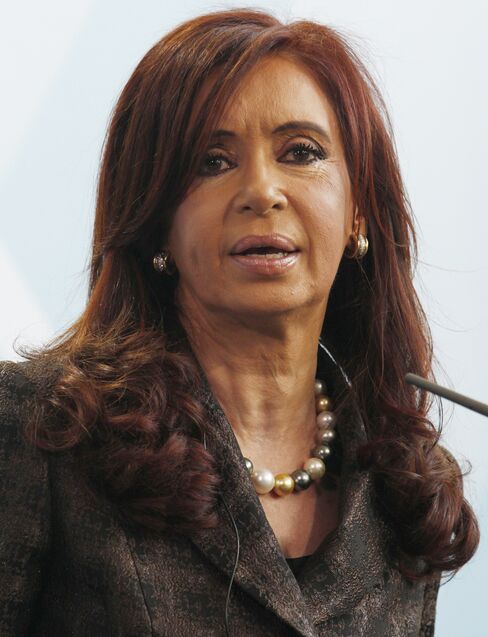 Argentina's move to restore ties with creditors and restructure $7 billion in defaulted debt will help its bonds beat most emerging markets for a third year, according to hedge fund Gramercy and Nomura Securities International Inc.
Argentine dollar bonds soared 35.8 percent last year, including reinvested interest, the best performance among developing nations in JPMorgan Chase & Co.'s EMBI+ Index, as President Cristina Fernandez de Kirchner tapped central bank reserves to make debt payments and swapped defaulted bonds. The broader EMBI+ index returned 11.8 percent last year.
Benchmark dollar bonds yields that fell to 9.07 percent last year will drop more in 2011 as the government negotiates with its Paris Club creditors, according to Gramercy. The fund is "overweight" Argentina and expects the debt to rally as record-low interest rates in the U.S. and Europe spur demand for emerging-market assets, said Gunter Heiland, who helps manage more than $2.6 billion at the Greenwich, Connecticut-based firm.
"We still see plenty of juice there," Heiland said. "When everyone is buying, the higher-yielding stuff gets a boost in performance."
The extra yield investors demand to own Argentine dollar bonds instead of U.S. Treasuries fell one basis point, or 0.01 percentage point, to 477 at 8:42 a.m. New York time, according to JPMorgan.
'Reopen Investment'
Argentine Economy Minister Amado Boudou said Dec. 27 that the government will prioritize reaching an accord by April with the Paris Club over selling bonds abroad for the first time in a decade. He said Dec. 13 the move will "reopen investment" in Argentina. The first stage of negotiations, in which the two sides discuss how much is owed, is slated to be completed during the third week of this month, he said.
Argentina will "easily" outperform the EMBI+ index, as long as "the risk environment remains supportive," said Boris Segura, a Latin America economist in New York with Nomura Securities, the U.S. unit of Tokyo-based brokerage Nomura Holdings Inc. "Long positions in Argentina are well justified," he said.
Foreign direct investment in Argentina is among the lowest in South America's major economies, totaling $2.2 billion in the first half of 2010 compared with $17.1 billion in Brazil, $8 billion in Chile, $4.1 billion in Colombia and $3.4 billion in Peru, according to the Santiago-based United Nations Economic Commission for Latin America.
The peso declined 4.5 percent last year to 3.9787 per U.S. dollar after falling to 3.9882 on Nov. 30, the weakest level since the currency's inception in 1992. The peso was little changed today at 3.9714 per dollar.
Spreads Narrow
The yield on benchmark dollar bonds due in December 2033 fell 219 basis points, or 2.19 percentage points, last year to 9.07 percent, according to Bloomberg prices. The yield climbed as high as 13.46 percent on May 25 amid concern about the European debt crisis.
The cost of insuring Argentine bonds against default for five years tumbled 314 basis points, or 34 percent, to 602 last year, the biggest decline among 19 emerging markets tracked by Bloomberg and lower than Ireland, according to CMA DataVision. Credit-default swaps pay the buyer face value in exchange for the underlying securities or the cash equivalent should a government or company fail to comply with debt agreements. Argentina's swaps fell 22 basis points to 560 yesterday.
Financing Needs
The Paris Club, whose members include Germany, Japan and the U.S., is an informal association created in 1956 to help resolve Argentina's debt problems, according to the organization's website. It has since reached agreements with 88 different debtor countries.
Fernandez plans to tap $7.5 billion from the central bank's record $52 billion in foreign reserves this year to cover debt obligations, according to her 2011 federal budget.
South America's second-biggest economy will likely expand 5 percent this year after growing 8.6 percent in 2010, according to Morgan Stanley. The government needs about $8 billion in financing in 2011 and will likely post a budget surplus equal to 0.8 percent of gross domestic product, compared with a 0.1 percent deficit last year, according to Morgan Stanley.
"If you look at Argentina's financing needs, its willingness to pay and its fiscal accounts, it's still positive," said Sabrina Corujo, an analyst at Buenos Aires-based online brokerage Portfolio Personal, which says it's the country's biggest trader of securitized trust funds. "The list of positives for Argentina is bigger than the negatives, and that will allow spreads to continue to fall."
Presidential Election
Debt prices may be more volatile during the second half of the year on concern a candidate who would hurt the business environment will win the presidential election in October, Corujo said. The bonds' advance will also be smaller this year after they surged the past two years, she said. Argentine dollar debt climbed 133 percent in 2009, compared with 26 percent for the EMBI+ index, according to JPMorgan.
Argentina's five-year swaps will likely fall another 100 basis points this year, said Igor Arsenin, a debt strategist with Credit Suisse Group AG in New York. Spreads may narrow further should the next government adopt more business-friendly policies and address inflation reporting problems, he said in a phone interview.
Fernandez invited officials from the International Monetary Fund to Buenos Aires last month to help the national statistics agency revamp its consumer price index. Annual inflation is running above 25 percent, according to estimates by Goldman Sachs Group Inc. and Credit Suisse, more than double the 11 percent the government reported last month. The IMF said Dec. 16 that it expects to make its final recommendations in April.
"There is a possibility for Argentine spreads to compress significantly more," Arsenin said, "but it's very conditional on the political outcome at this point."
Before it's here, it's on the Bloomberg Terminal.
LEARN MORE