Sumitomo to Double Water Business Staff to Boost Investments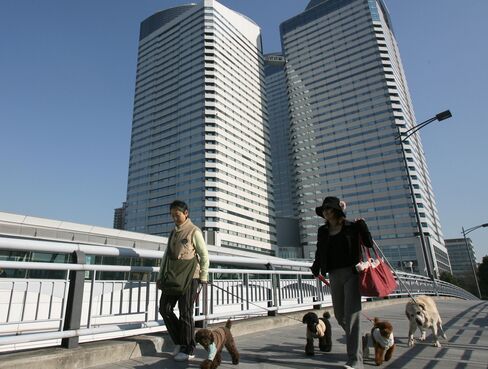 Sumitomo Corp., Japan's third-biggest trading house, will double the head count of its global water division within seven years in a bid to boost the size of its water assets eightfold through investment and acquisitions.
The Tokyo-based company plans to hire and transfer internally to expand the number of staff under the water utilities investment team to at least 30 from about 15 currently, Hideki Yamano, general manager of the wind power and water infrastructure department, said in an interview yesterday. Sumitomo plans to boost the number of people it provides water-supply services, including sewage treatment, to 20 million from 2.5 million.
Sumitomo, Mitsubishi Corp. and Marubeni Corp. are accelerating buyouts of water-services companies outside Japan in a race with larger global rivals led by Veolia Environnement SA and Suez Environnement Co. of France. China, India, Southeast Asia and the Middle East are being targeted by the Japanese and French companies for expansion.
"China and India are the two strategic points for our expansion of water services, mainly of sewage treatment, in Asia and the Middle East," Yamano, 50, said in the phone interview. "Making a cluster with good companies is the key for us to win a heated-up race with the global water majors."
Sumitomo signed an alliance deal with Chennai, India-based VA Tech Wabag Ltd. of India in a bid to tap growing demand for water supply and sewage treatment in the South Asian nation, the Japanese trading company said in December. VA Tech Wabag made its Mumbai trading debut in October, and has declined 9 percent since then to close yesterday at 1,554.85 rupees a share.
Joint Ventures
Sumitomo and VA Tech want to cooperate in development of start-up water projects in the Middle East, North Africa and Southeast Asia, and the acquisition of water treatment firms in the regions, Yamano said.
In China, Sumitomo agreed last year to set up a venture with Beijing Capital Co. to operate sewage treatment businesses in Zhejiang and Shandong provinces, the Japanese company said in September. The venture plans to invest 50 billion yen ($609 million) in three years to acquire water-service firms in China to capitalize on rising demand from the country's coastal area, Yamano said.
Sumitomo entered Mexico's sewage treatment market in 2004, and currently operates in three cities of the North American country, San Luis Potosi, Culiacan and Juarez. The venture that Sumitomo formed with Suez's Degremont unit signed a deal in 2009 to expand the processing capacity of a sewage treatment system in Juarez in the state of Chihuahua.
Funding Needs
Sumitomo may join forces with the Innovation Network Corporation of Japan, a government-backed investment fund, to finance its proposed investment in water-service companies, Yamano said. Tetsuro Toyoda, a managing director of the 900 billion yen fund, said last month it may spend about 135 billion yen to buy water-supply firms outside Japan in the next three years.
Japan's government is focusing on water treatment, nuclear reactors and rails as the primary technologies to boost exports and counter slowing economic growth at home.
"Water is the business that's closely attached to locals and needs close relations with them," Yamano said. "There's no such stylized, world-class business strategy in this water business world," he said.
Before it's here, it's on the Bloomberg Terminal.
LEARN MORE