Sabre to Drop American Air as Ticket Dispute Widens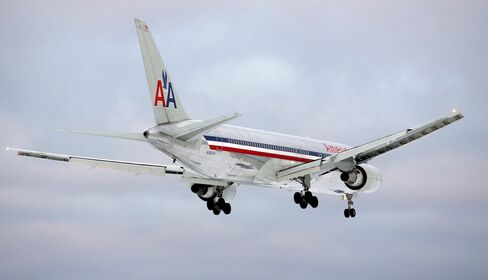 Sabre Holdings Corp., a provider of airfare data to travel agencies, will stop carrying American Airlines flight information in August as a dispute over online ticket sales escalates.
That's a month earlier than the termination date of Sabre's contract with American, said Chris Kroeger, senior vice president at Sabre Travel Network. Sabre, a former American unit, will end discounts for the airline and change the display of its listings until then.
American pulled fares from travel agent Orbitz.com on Dec. 21 as the carrier focuses on its "Direct Connect" system to share prices, bypassing data distributors such as Southlake, Texas-based Sabre and travel sites including Orbitz.com. Expedia Inc. blocked fare data for AMR Corp.'s American on Jan. 1.
"I have not seen a case where this has happened before," said Jim Corridore, a Standard & Poor's equity analyst in New York who has a "hold" rating on AMR. "If American won an easy battle, it would no doubt be followed by all the airlines."
American said in an e-mailed statement today that Sabre had taken "punitive" steps even as the Fort Worth, Texas-based airline meets "all its obligations and continues to work in good faith."
'Costly, Unproven'
Carriers usually pay a fee for each trip to fare distributors such as Sabre, and an additional incentive payment to the online travel agency used to book each flight. American's Direct Connect is an attempt to "impose a costly, unproven and unnecessary system," Sabre's Kroeger said in an interview. "It makes it harder and more costly to comparison shop."
Spun off by American in 2000, Sabre was acquired by units of buyout firms TPG Capital and Silver Lake in 2007. The company's holdings include travel website Travelocity.com.
Sabre declined to say how listings for American data would change for the rest of the contract, or how much revenue comes from the airline.
Credit-default swaps protecting Sabre's debt from losses jumped to the highest in more than 10 months, gaining 22.6 basis points to 559.2 at 4:05 p.m. in New York, according to data provider CMA. The swaps pay the buyer face value if a borrower fails to meet its obligations, less the value of the defaulted debt. A basis point equals $1,000 a year on a contract covering $10 million of debt.
AMR rose 47 cents, or 5.8 percent, to $8.57 in New York Stock Exchange composite trading. It was the biggest one-day advance since Nov. 24.
Distribution Channels
American, the third-largest U.S. airline, is the first major carrier to pull fare data from the large distribution channels. Delta Air Lines Inc. stopped selling tickets in December through CheapOAir.com, OneTravel.com and BookIt.com.
Delta Chief Executive Officer Richard Anderson told analysts in April 2009 that airlines eventually might match "the model of other industries," with outside parties paying for access to data such as fares instead of charging carriers to disseminate that information.
American is still in talks with Expedia to reach a "mutually beneficial agreement" that includes the Direct Connect system, an airline spokesman, Ryan Mikolasik, said yesterday. Expedia Chief Financial Officer Michael Adler told analysts today at a conference in Phoenix that discussions were continuing, with "no guarantee" on the outcome.
Orbitz.com parent Orbitz Worldwide Inc. has estimated that about 5 percent of its revenue for 2010's first nine months came from American tickets and associated products such as rental cars.
Before it's here, it's on the Bloomberg Terminal.
LEARN MORE