Mitsubishi Loan at Libor as $32 Billion Maturing: Japan Credit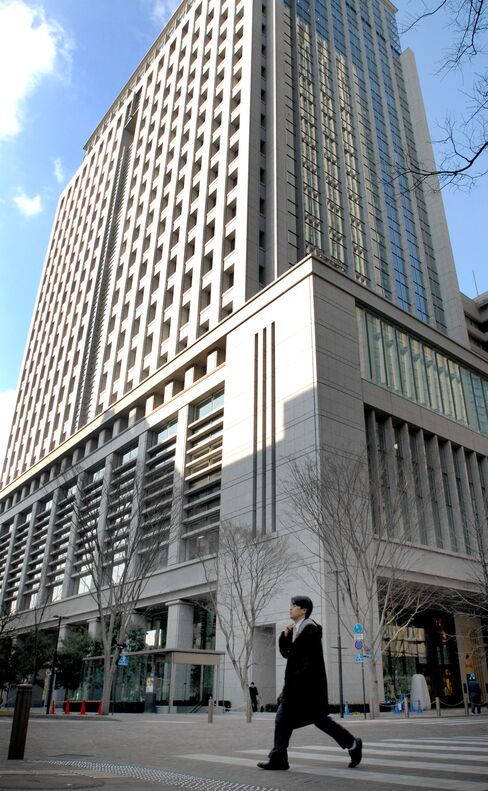 Japan's Mitsubishi Corp. agreed to pay a record-low interest rate for a loan last week, a sign there's no lack of demand for debt from an industry that has about $32 billion coming due within two years.
The nation's biggest trading company will pay one basis point, or 0.01 percentage point, more than the London interbank offered rate for yen loans for five years, according to data compiled by Bloomberg. The price on Itochu Corp.'s bond due in May 2014 shrank to seven basis points versus similar-maturity swap rates yesterday from 50 when Japan's fourth-largest trading firm sold the notes in May 2009.
The narrowing premiums reward the trading companies, whose investments range from resources to industry and retail, as they raise profit forecasts at a time when Prime Minister Naoto Kan sees Japan's economic growth slowing to 1.5 percent next fiscal year from 3.1 percent. While expanding into Australian coal and Chinese retail, the traders are benefiting from the lowest borrowing costs in the developed world.
"It's a great time for the commodity companies to issue bonds," said Yasuhiro Matsumoto, head of credit research at Shinsei Securities Co. in Tokyo. "The risk premium for commodity companies is at historic lows."
Sojitz Corp., the smallest of Japan's six main trading firms, sold 10 billion yen of five-year bonds at 0.91 percent in October, the firm's lowest coupon, versus 1.03 percent in May and 2 percent in July 2008. Mitsui & Co. sold 20-year bonds in October at 2.015 percent, the lowest Japan's second-largest trader has paid to borrow at that maturity since at least 1997.
Extra Yield
The premium on Marubeni Corp.'s five-year bonds due in June 2014 versus similar-maturity government notes shrank to 23 basis points in December, from 96 points in July 2009, a month after the firm sold the debt. The extra yield investors demand to hold A-rated industrial company debt dropped to 15 basis points yesterday from 25 at the start of 2010, after touching a 3 1/2-year low of 9 in November.
The Bank of Japan's October expansion of a 35 trillion yen asset-purchase plan to include corporate bonds helped reduce financing costs in a nation where the central bank's rate was already near zero. Japan's five-year rate to swap floating debt payments for fixed interest, a gauge of borrowing costs throughout the economy, fell to 0.59 percent yesterday from 0.72 percent a year ago, the least among 32 developed markets tracked by Bloomberg.
Most Indebted
Lower financing costs help the top trading firm, the nation's most-indebted group after banks, as they consider new borrowings. Trading companies average 2.2 trillion yen in net debt, more than their average market value of 1.8 trillion yen, according to data compiled by Bloomberg. In comparison, the 13 listed Japanese carmakers tracked by Bloomberg average 1.1 trillion yen of debt, half of their average market value.
Sumitomo Corp., the third-largest trader, has 41 percent of its $10.8 billion in bond and term loan repayments due within three years. In the same period, Marubeni has $2 billion of a total $5 billion due. Sojitz faces $1.6 billion in bond and loan payments this year, 28 percent more than its total obligations for the following three years.
The general trading companies, as the industry group is known, are boosting profit expectations as business from textiles in China, convenience stores in Japan, and chemicals manufacturing in Venezuela grows with the global economic recovery.
Strong Car Sales
Tokyo-based Sojitz raised its 2010 net income forecast 9.1 percent to 12 billion yen on Oct. 29, citing investment gains in affiliated companies. Mitsubishi raised its forecast for the year ending March 2011 by 8.1 percent to 400 billion yen on stronger-than-expected car sales in Asia and coking coal in Australia, Chief Executive Officer Ken Kobayashi said Nov. 4 in a conference call.
Cosmo Securities rated Mitsubishi, whose investments include liquefied natural gas assets in Brunei, Chile copper mines and solar energy in Portugal, an "outperform" last month. Marubeni was raised in August to "strong outperform" at Mitsubishi UFJ Morgan Stanley Securities Co.
"The sector has improved both in terms of business and finance," said Tetsuo Gunji, chief fund manager at T&D Asset Management Co. "What's important is whether they have enough capital. And the funding environment is getting better."
'Getting Better'
Company bonds outperformed government debt in 2010 for a second year after the BOJ said it would buy 500 billion yen of corporate debt rated BBB or higher. The yield premium domestic company notes offer over government debt narrowed to 28 basis points yesterday, the lowest in three years, from 30 before the BOJ announcement, according to Nomura Securities Co.'s Bond Performance Indexes.
Japanese corporate bonds returned of 2.48 percent in 2010, compared with 2.38 percent for government notes, according to indexes compiled by Bank of America Merrill Lynch. U.S. company debt climbed 9.52 percent, while Treasuries advanced 5.88 percent, the indexes show.
Japanese government bonds declined this week, extending last quarter's biggest drop since June 2008. The yield on the 1.2 percent 10-year bond due December 2020 rose to 1.155 percent yesterday from 1.11 percent Dec. 31.
The BOJ cut the key overnight lending rate to a range between zero and 0.1 percent Oct. 5 on concern the currency's advance toward a 15-year high would bring the economy's yearlong recovery to an end. The currency has since gained 0.1 percent to 83.27 per U.S. dollar, after touching 80.22 on Nov. 1, the strongest since April, 1995.
World's Lowest
Japanese borrowing costs have dropped to the lowest in the world due to deflation. The difference between yields on five-year Japanese government notes and inflation-linked debt, a gauge of investor expectations for price changes, was minus 0.57 percent. The comparable rate is 1.8 percent in the U.S. Deflation, an extended decline in prices, boosts demand for the fixed payments that bonds offer.
Mitsubishi is enjoying the current market conditions, said an official from the company's treasury department, declining to be named in line with corporate policy. Still, with its balance sheet cash-heavy, further bond sales will be hard to justify, the official said.
Marubeni and Sojitz said they are analyzing the potential to sell more bonds, including in foreign currencies such as in the dollar, to diversify fundraising sources and match foreign investment plans, they said in e-mailed answers to questions. They declined to provide further details.
Mitsui, Itochu and Sumitomo declined to comment on potential bond sales.
Before it's here, it's on the Bloomberg Terminal.
LEARN MORE