Obama Spokesman Gibbs to Depart as Press Secretary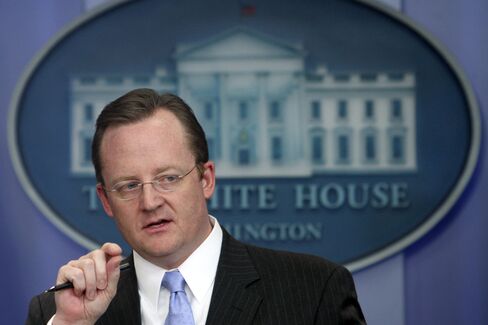 Jan. 5 (Bloomberg) -- White House press secretary Robert Gibbs said he is stepping down to become an outside political adviser to President Barack Obama and help with his re-election campaign.
Gibbs, 39, who has worked with Obama since 2004, said today he intends to leave sometime next month. The choice of a successor hasn't been made, he said.
"There's no doubt this is a tough place to work," Gibbs said. "It's time to take a little break."
Obama called Gibbs "a close friend, one of my closest advisers and an effective advocate" for the administration. In a statement, he said Gibbs will continue to play an important role as part of his team of advisers.
Among the candidates Obama is considering to be the next press secretary are Jay Carney, a spokesman for Vice President Joe Biden, as well as Bill Burton and Josh Earnest, who have served as deputies to Gibbs since the campaign, according to an administration official who spoke on condition of anonymity because no decision has been made.
Staff Changes
Today's announcement marks the latest in a series of staff changes at the White House that began in July and has accelerated as Obama enters the second half of his term.
While the president achieved major policy goals during his first two years -- including an overhaul of the health-care system and new rules for Wall Street -- his agenda for the next two years will be constrained by a newly empowered Republican Party, which won control of the House and narrowed the Democratic majority in the Senate.
James Carville, a Democratic campaign consultant who was a senior political adviser to former President Bill Clinton, said the changes at the White House are coming at a "natural" break for any administration.
"Two years is a standard tour of duty," he said in an interview.
Gibbs's departure was reported earlier by the New York Times.
While preparing to roll out an agenda for the next two years, Obama also is getting ready for a re-election campaign that will see some of his most trusted advisers and staff redeployed. In addition to Gibbs, senior adviser David Axelrod, the architect of Obama's 2008 election, is set to leave the administration in the coming weeks and return to Chicago before rejoining Obama's re-election effort.
Campaign Setup
Deputy Chief of Staff Jim Messina also is likely to leave the White House to begin setting up the re-election bid out of Chicago. Obama's 2008 campaign manager, David Plouffe, will join the White House staff as early as next week as an adviser to the president.
Gibbs, an Alabama native, has worked with the president since April 2004, when Obama was running to become a U.S. senator from Illinois. He has been the public face of the Obama administration, explaining and defending its foreign and domestic policies. He plans to stay in Washington and continue advocating for Obama in speeches and on television as well as social networking platforms.
"The presidential campaign is on," said Alan Schroeder, a journalism professor at Northeastern University in Boston and author of "Celebrity-in-Chief: How Show Business Took Over the White House." "I really don't see Obama losing these people -- Gibbs and Axelrod -- as much as re-purposing them into a campaign role."
Economic Team
The president also is preparing to announce his choice for director of the National Economic Council to replace Lawrence Summers, who left the post at the end of the year to return to Harvard University. Gene Sperling, a counselor to Treasury Secretary Timothy Geithner, has emerged as the leading candidate. Obama is likely to make the announcement about his economic team by the end of the week, Gibbs said.
In addition, Obama may replace interim Chief of Staff Pete Rouse, who was given the job after Rahm Emanuel resigned to run for mayor of Chicago. The president is considering naming William Daley, a JPMorgan Chase & Co. executive and brother of the current Chicago mayor, to be chief of staff or to another high-level administration post, according to people familiar with the matter, who spoke on condition of anonymity.
Defense Secretary Robert Gates, a holdover from President George W. Bush's administration, also has said he intends to leave his post this year.
To contact the reporter on this story: Julianna Goldman in Washington at jgoldman6@bloomberg.net
To contact the editor responsible for this story: Mark Silva at msilva4@bloomberg.net