EU Farm Policy Is 'Morally Wrong,' U.K. Cabinet Member Says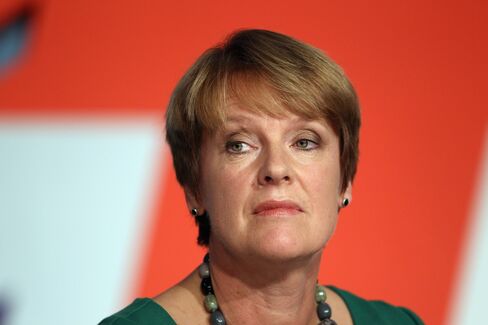 European Union farm policy is "morally wrong" because it undercuts agriculture in developing countries with import tariffs and export subsidies, said Caroline Spelman, the U.K. environment secretary.
The Common Agricultural Policy "continues to distort trade by maintaining high EU prices," Spelman said in an e-mailed speech to be delivered today at the Oxford Farming Conference. "This gives rise to high import tariffs and the use of export subsidies to clear market surpluses."
The EU should cut direct payments to farmers, and rising world food prices make it possible to plan for the end of such subsidies, Spelman said. Farmers should instead be paid for taking steps to protect the environment, she said.
The CAP is the biggest single spending area for the EU, which budgeted 56.7 billion euros ($75.4 billion) for agriculture and rural development in 2009, according to data from the bloc. The current rules end in 2013, and EU ministers are set to discuss changes to the regulations this year.
The U.K. plans to work with other Group of 20 countries to end export bans on agricultural commodities, such as Russia's halt to grain exports last year after drought reduced its cereal crop. France will head the G20 this year.
"As global demand for food rises and as international food markets open up, the risk increases of wrong-headed protectionism," said Spelman, one of the officials who make up the U.K. government cabinet. "I would like to work with France to seek an end to export bans, one of the most restrictive practices found in the world market."
Before it's here, it's on the Bloomberg Terminal.
LEARN MORE