Coal Contract Price May Rise 33% on Australian Floods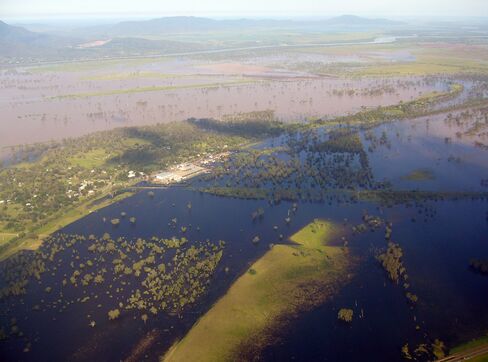 Jan. 6 (Bloomberg) -- Steelmakers in Asia may be forced to pay as much as 33 percent more for hard coking coal after the worst floods in 50 years in Australia's Queensland state disrupted output from the world's biggest shipper of the fuel.
Prices may increase to between $270 and $300 a metric ton, analysts from Macquarie Group Ltd., Morgan Stanley and Daiwa Capital Markets said. Steelmills agreed to pay $225 a ton for the three months starting Jan. 1, Bank of America Merrill Lynch analysts said last month.
"Queensland accounts for the majority of the premium hard coking coal supply on a global seaborne basis," Alex Tonks, a commodity strategist at Bank of America Merrill Lynch in Sydney, said by telephone. "A lot of operations have been impacted. It certainly looks pretty bad at this stage."
Rain in the Australian state has inundated an area the size of France and Germany, prompting BHP Billiton Ltd. and Rio Tinto Group to declare force majeure, a legal clause that allows mines to miss deliveries. About 37 percent of the world's traded coking coal is affected, according to Macquarie. Queensland floods in 2008 left steel producers, including Japan's Nippon Steel Corp. and JFE Holdings Inc., with a threefold increase in annual contract prices to about $300 a ton.
Australian free-on-board prices may climb to $270 a ton for three-month contracts starting April 1 as the floods threaten to take as much as 10 million tons of metallurgical coal out of the market, said Colin Hamilton, a London-based Macquarie analyst.
$300 a Ton
Morgan Stanley said coking coal prices may surge to $292.50, and Daiwa Capital analyst David Brennan said they may jump to $300. Free on board is a term indicating that delivery at the seller's expense is included in the invoice price.
Canadian producers rose yesterday as investors bet they will benefit from output disruptions and increased prices. Grande Cache Coal Corp. gained 3.2 percent to C$11.34, while Teck Resources Ltd. climbed as much as 0.6 percent before settling 0.2 percent higher at $63.06. Canada was the fourth-largest coking coal exporter in 2009, according to the World Coal Association.
In Sydney, Macarthur Coal Ltd., the world's biggest producer of pulverized coal for steelmakers, advanced 63 cents, or 5 percent, to A$13.28 today amid prospects for higher prices. Gloucester Coal Ltd. added 21 cents, or 1.7 percent, to A$12.27.
Flooding is also affecting thermal coal, used by power stations, driving the price of supplies at the port of Newcastle in Australia's New South Wales, the benchmark for Asia, to the most in 27 months. Prices jumped 3 percent to $126.10 a ton in the week ended Dec. 31, the most since Oct. 2008, according to IHS McCloskey, a Petersfield, U.K.-based provider of coal data.
'Price Spike'
Coking coal suppliers traditionally held annual talks with steelmakers to fix benchmark contracts for the 12 months from April 1, the start of the Japanese financial year. BHP has urged the industry to move to short-term deals to make prices more responsive to market changes. It agreed with JFE Holdings to the first three-month accord in March last year.
Steelmakers may agree to monthly pricing for coking coal, as proposed by BHP, in a "price spike environment" rather than locking in $300 a ton for a whole quarter, Macquarie said in an e-mailed research note Jan. 4.
"We're moving away from that quarterly contract pricing," Daiwa's Brennan said from Melbourne. "I can see that BHP wants to go to monthly. When I say $300 a ton that would be for one month in April for example, but not for the three months."
'Blue-Sky Scenario'
There will be a "material impact" on Australian exports of coking coal, even if no further rain falls, Morgan Stanley Melbourne-based analysts Peter Richardson and Joel Crane wrote in a report yesterday. The cumulative loss of production is expected to maintain upward pressure on spot prices for several weeks to come, they said.
Coal stockpiles at Gladstone harbor in Queensland are "very low" after flooding shut a rail network, said Craig Walker, acting chief executive officer of Gladstone Ports Corp. Eighteen ships are waiting to load and 12 more are expected at the harbor in the next 10 days, he said.
"The flooding will provide further upside to international coal prices and a floor to Chinese prices," Helen Lau, an analyst at UOB-Kay Hian Ltd., said by telephone from Hong Kong. "It'll easily take six to eight weeks, in a blue-sky scenario, before Australian supplies return to normal. Maybe it'll take three to four months."
Tata Steel Ltd. said it increased purchases in December in preparation for the adverse weather. The Mumbai-based company, India's biggest producer of steel, ensured it had sufficient supplies, Managing Director H.M. Nerurkar said Jan. 4 by phone.
Deadly Floods
JSW Steel Ltd., India's third-biggest producer, also imported a higher quantity of coking coal in December in anticipation of the rains in Australia, from where it gets the bulk of its supplies, Chief Executive Officer Vinod Nowal said in a Jan. 4 interview from Mumbai.
About 98 million tons of capacity to produce steelmaking coal is under force majeure, equivalent to 73 percent of Queensland exports, Macquarie said. The floods have resulted in 10 deaths and the displacement of about 200,000 people in Queensland, according to the state police.
Australia had its third-wettest year on record during 2010, according to the Bureau of Meteorology, which says showers and storms will continue across Queensland into next week.
China Steel Corp.'s costs for coal increased by $10 million because of the flooding, Executive Vice President Chung Le-min said Jan. 4 from Kaohsiung, Taiwan. Taiwan's biggest maker of the metal bought spot coal from Russia and Canada because some Australian suppliers were unable to make deliveries, he said.
Steel Demand
Global steel demand is forecast to reach a record 1.34 billion tons in 2011, the World Steel Association said in October. The biggest producers are in China, which account for about 45 percent of the world's production. Australia shipped 259 million tons of coal for steel and power in 2009, the World Coal Association said on its website.
Australia is the largest producer of coal used in steelmaking, contributing more than 40 percent of the global seaborne trade, according to Deutsche Bank AG. The country is the second-largest exporter of the commodity after Indonesia.
To contact the reporter on this story: Ben Sharples in Melbourne at bsharples@bloomberg.net
To contact the editor responsible for this story: Clyde Russell at crussell7@bloomberg.net