Hartnett Takes On Art-Gallery Restaurant After Quitting Ramsay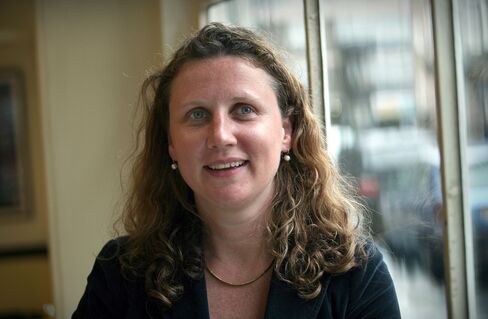 Angela Hartnett is to take over the Whitechapel Gallery Dining Room, her first new project after quitting Gordon Ramsay Holdings last month and acquiring Murano, the London restaurant that she created and ran for him.
While Hartnett and her head chef Diego Cardoso will consult on all areas of the food, staffing and service in the Whitechapel project with Smart Hospitality Ltd., they will cook full-time at Murano. Hartnett, who lives in Spitalfields, near the gallery, holds a Michelin star.
"I love the Whitechapel Gallery and want us to serve the sort of food people really want to eat," Hartnett said today in an e-mailed release. "I hope the Whitechapel Gallery Dining Room will become a firm favorite with gallery visitors and locals alike." The opening will be on Jan. 15.
There will be a daily changing menu with a focus on homey cooking with British ingredients. Small plates will cost between 5 pounds ($7.80) and 8 pounds, with larger dishes that are suitable for sharing priced between 10 pounds and 15 pounds.
Mains may include rabbit pie with tarragon; and cote de boeuf with caramelized chicory. Desserts will range from a warm Agen prune tart to a pomegranate blood orange salad with hand-made shortbread. Sandwiches, salads, snacks and a dish of the day will be served at the Cafe/Bar upstairs.
Angela Hartnett, 42, is a protege of chef Gordon Ramsay, for whom she worked at Aubergine before going on to open Angela Hartnett at the Connaught and later Murano and the York & Albany. She cut her final ties with Gordon Ramsay Holdings on Dec. 31. The split was amicable.
Smart Hospitality is a venture between Greg Lawson, who formed the parent company Quantum Leap Events in 1999, and Robin Bidgood, until recently chief executive of Tate Catering, part of the commercial arm of Tate Galleries.
Whitechapel Gallery was founded in 1901 to bring great art to the people of the East End of London and occupies an Arts and Crafts building designed by Charles Harrison Townsend. The East End -- traditionally a working-class area with a large immigrant population -- has changed in recent times, in part because of its proximity to the City of London financial district.
(Richard Vines is the chief food critic for Muse, the arts and leisure section of Bloomberg News. Opinions expressed are his own.)
Before it's here, it's on the Bloomberg Terminal.
LEARN MORE