Buy China Stocks on Inflation 'Noise,' JPMorgan Says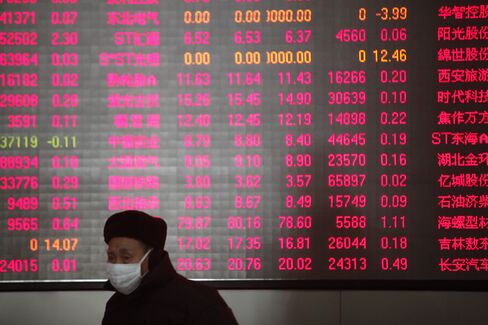 Jan. 6 (Bloomberg) -- China's stocks, the worst-performing among major global equity markets last year, will rise this year and investors should buy when faster inflation triggers rumors of further tightening measures, JPMorgan Asset Management said.
Valuations for some Chinese shares, such as those of developers, "look extremely cheap," said Howard Wang, head of the Greater China team at the JPMorgan unit, which oversees more than $1.3 trillion of global assets. Shares in the property industry group on the Shanghai Composite Index trade at an average 13 times estimated earnings, compared with 16.4 times on the Hang Seng Property Index and 21.5 times for companies on the MSCI World/Real Estate Index.
"The good news is that China was an absolute dog last year, so expectations are set particularly low," Wang said at a media briefing in Hong Kong yesterday. "We expect MSCI China and H shares to get positive returns this year."
The Shanghai Composite Index, which tracks the bigger of China's two stock exchanges, dropped 14 percent last year, the worst performer among the 14 biggest world benchmark indexes, as the government stepped up its fight against inflation. Banks' reserve ratio requirements were increased six times in 2010 and interest rates were raised twice as price gains accelerated to 5.1 percent in November, a 28-month high.
'Lousy Friday Selloffs'
"When noise is at its highest we'd want to invest on those days, those lousy Friday selloffs," Wang said, referring to speculation of policy measures that precedes official data releases. "We'll wait for that day when rumors go around about CPI reaching 6.5 percent, and we'll go buy that day. That's how we operate on a conceptual basis -- buy when there's bad news on inflation."
China's December home prices rose the most in at least six months, SouFun Holdings Ltd., the nation's biggest real estate-website owner, said Jan. 4.
"There are always big opportunities in China's property space," Wang said. "Overseas investors love buying Chinese properties. They always look for excuses to buy."
Wang said he expects to see "considerable" gains in inflation in the second quarter, with China's consumer price index increasing at a rate of about 5 percent to 6 percent.
Wang said he also favors China's consumer, alternative-energy and health-care industries.
Valuation of stocks traded on the Shanghai gauge was at 13.5 times estimated profit at the close of trade yesterday. Those of the MSCI China Index traded at 12.2 times while the Hang Seng China Enterprises Index of so-called H shares of Chinese companies traded at 11.2 times.
To contact the reporter on this story: Hanny Wan in Hong Kong at hwan3@bloomberg.net.
To contact the editor responsible for this story: Nick Gentle at ngentle2@bloomberg.net