Women-Prefer-Bond Investors Left With Lowest Yield: Japan Credit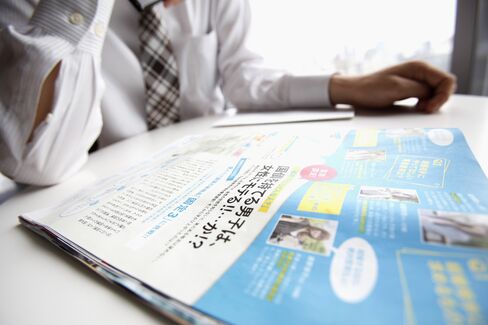 Advertisements for Japanese government bonds last year said buyers could woo marriage-minded women with their investment savvy. Those who heeded that call were rewarded with the world's lowest yields.
Now the Ministry of Finance is revising how it pays interest on so-called retail bonds amid concern households will cut holdings further as Prime Minister Naoto Kan's government prepares to sell an unprecedented amount of debt. Individuals who bought floating-rate Japanese debt last year earned yields as low as 0.25 percent, while overall ownership slid for a seventh quarter, the longest streak on record.
"Fewer and fewer people are willing to buy bonds because of the lower coupons," said Satoshi Yamada, Tokyo-based chief quantitative analyst at Nikko Cordial Securities Inc., part of Sumitomo Mitsui Financial Group Inc., Japan's third-largest publicly traded bank by assets. "They're thinking the yield may stay around the current level or go lower."
Japan will sell a record 144.9 trillion yen ($1.8 trillion) of debt in the fiscal year starting April 1, it said in a budget plan on Dec. 24 that also detailed the changes in its retail bonds. The Ministry of Finance tried to find new buyers for the debt last year with magazine advertisements saying, "Men who hold JGBs are popular with women!"
An investor who decided to buy floating-rate retail notes after reading the ads would have seen yields shrink to a range of 0.25 percent to 0.53 percent at the twice-yearly coupon payouts for the 10-year securities.
Japan's 10-year yield was little changed today at 1.165 percent as of 12:36 p.m. in Tokyo, having fallen to 0.82 percent in October, the least since July 2003.
Global Returns
Payments to individuals holding 15.3 trillion yen of the notes are calculated by taking 10-year auction rates and subtracting 0.8 percentage point. The formula delivered the smallest payouts since 2003 as yields fell.
Japan's government bond market returned 2.4 percent in 2010, versus 5.9 percent for Treasuries and 6.2 percent for German bunds, according to Bank of America Merrill Lynch indexes. Japanese debt was the sixth-worst performer among 20 developed markets, the indexes showed, as Europe's debt crisis sparked a sell-off in the government bonds of Belgium, Italy, Spain, Portugal and Ireland.
Households reduced ownership of Japanese government bonds by 0.9 percent in the third quarter to 34.1 trillion yen, according to Bank of Japan data. That is about 4 percent of the nation's $10.5 trillion debt. At almost twice the value of its annual gross domestic product, Japan has the world's largest public debt burden, according to data compiled by Bloomberg.
Households Selling
In contrast, U.S. households boosted Treasuries holdings by 42 percent in the first nine months of 2010, according to the Federal Reserve, with 10-year Treasury yields averaging 3.30 percent in the period. Households own a record $1.08 trillion of Treasuries, equivalent to about 12 percent of the nation's publicly traded debt.
To make its bonds for individuals more attractive, Japan will multiply the reference rate, based on 10-year auction yields, by 0.66 to determine payouts, the ministry said in its Dec. 24 budget statement. Using the 10-year rate of 1.165 percent as a model, the method would give individuals a 0.7689 percent yield, versus 0.365 percent under the previous method.
The bonds may be purchased for as little as 10,000 yen, or $121. The revised payouts will shield individuals if rates go lower, the statement said, while it will reduce their upside potential if yields move higher.
"We've been very conscious of the weak sales of bonds to individuals, and we're aiming to sell more," said Tomomi Umemura, deputy director of the Market Finance Division at the Finance Ministry. "If rates move a lot or easy monetary conditions change, we'd have to change the system again."
Upside Capped
Under the new plan, a 3 percent benchmark rate would turn into 1.98 percent for retail investors. It'd be 2.20 percent without the revision.
The 10-year yield must be below 2.36 percent for the plan to offer retail investors better yields than the existing method, a sign the ministry expects the rate to be less than that for the next 10 years, Nikko Cordial's Yamada said.
Japan's 10-year yields will be capped at 1.5 percent in 2011 as the central bank keeps interest rates near zero to combat deflation, a Bloomberg News survey of 16 Japan-based analysts showed last month. The rate will end 2011 at 1.325 percent, based on the median forecast, while nine of those surveyed said the yield will slip below 1 percent during the year. The nation's benchmark yields are the lowest in the world, according to data compiled by Bloomberg covering 32 markets.
Deflation, a general drop in prices, has supported demand for the fixed payments from bonds. Consumer prices excluding fresh food fell in November for a 21st-consecutive month, the statistics bureau said on Dec. 28.
Yen's Advance
As the yen's rise to a 15-year high threatened Japan's economic recovery, Bank of Japan Governor Masaaki Shirakawa and his board on Oct. 5 cut the key overnight lending rate to a range between zero and 0.1 percent. It also created a 5 trillion yen fund to buy stocks and other assets, which added to a 30 trillion yen lending program.
Inflation-linked bonds signal an annual 0.58 percent drop in Japanese prices in the next five years. The comparable rate is 1.78 percent in the U.S.
The yen surged more than 14 percent to close 2010 at 81.12 to the dollar. A stronger domestic currency makes imported goods cheaper, contributing to deflation.
Diversified Holders
Five-year credit-default swaps on Japanese government bonds were 70.35 basis points, reflecting $70,350 to protect $10 million of face value, compared with 39.76 basis points on U.S. debt, CMA prices in New York show. The contracts pay the buyer face value in exchange for the underlying securities or the cash equivalent should a government or company fail to adhere to debt agreements.
Investors shouldn't infer anything about the government's rate expectations from the new calculations on retail bonds, said Kenro Kawano, head of interest-rate strategy for Japan at Credit Suisse Group AG.
"They'd like to diversify the holders of JGBs," Kawano said. "Domestic banks are increasingly the biggest holders. If one bank tries to sell, then they all try to sell."
The ministry commissioned magazine advertisements for its bonds last year featuring pictures of young women alongside quotes that said, "I want my future husband to be diligent about money."
The campaign came after the ministry targeted retirees in 2009, featuring Junko Kubo, a former anchor on Japan's public broadcaster NHK, in ads placed in the backs of taxi cabs. Kubo followed Koyuki Kato, an actress and model who in 2003 appeared in "The Last Samurai" with Tom Cruise, who was pictured in posters for government bonds.
Investors from outside Japan owned 5.2 percent of the nation's debt at the end of 2009, down from 7.8 percent in 2008, according to the Ministry of Finance.
Before it's here, it's on the Bloomberg Terminal.
LEARN MORE