Rodriguez's Fate as Michigan Football Coach in Limbo, AP Says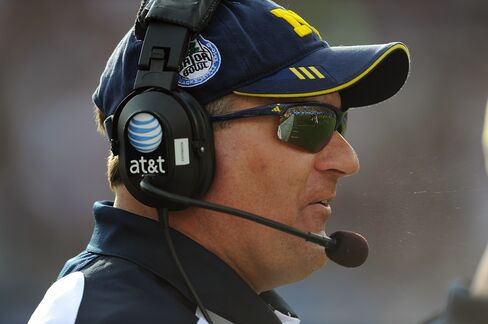 University of Michigan football coach Rich Rodriguez will meet again today with school Athletic Director Dave Brandon to discuss his fate, the Associated Press reported. A Detroit television station said yesterday that Rodriguez had been fired.
Rodriguez, 47, has led the Wolverines to a 15-22 record in three seasons. Michigan lost three days ago to Mississippi State 52-14 in the Gator Bowl, the biggest losing margin in a bowl game in school history.
David Ablauf, a Michigan athletic department spokesman, didn't return an e-mail or a voicemail seeking comment. The AP, which said the coach and athletic director met yesterday without reaching a conclusion on Rodriguez's future, quoted a person familiar with the situation who requested anonymity.
Fox 2 Television in Detroit reported yesterday that Rodriguez had been fired, citing unidentified sources.
Michigan owes Rodriguez $2.5 million to buy out the last three years of his contract, ESPN.com reported, without saying where it got the information.
Rodriguez became Michigan's 18th head coach on Dec. 17, 2007, after seven years at West Virginia University, where he had a 60-26 record that included four Big East Conference titles in five years and six bowl game bids.