Porsche Said to Premiere 918 Spyder Coupe in Detroit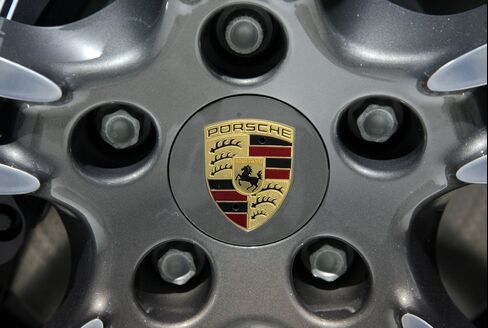 Porsche SE plans to present a racing version of the 918 Spyder sports car at the Detroit auto show next week as the manufacturer returns to the event after four-years, two people with knowledge of the matter said.
The two-seater concept coupe will have a V8 engine with about 600 horsepower, said the people, who asked not to be identified before a Jan. 10 presentation of the vehicle.
The car will be based on the platform for the 918 Spyder hybrid, a model that accelerates to 100 kilometers (62 miles) an hour in 3.2 seconds and costs about 500,000 euros ($670,000) in Germany, the people said. Porsche approved limited production of the 918 Spyder last July. The Jan. 10 premiere may not include pricing details as the coupe isn't a serial model, they said.
"The U.S. market is of vital importance for Porsche," said Frank Schwope, a NordLB analyst in Hanover who recommends selling the shares. "The U.S. is offering potential for further growth and Porsche's return to Detroit underlines their U.S. ambitions."
Stuttgart, Germany-based Porsche, which is merging with Volkswagen AG, will expand its four model lines to help double annual sales to as many as 150,000 vehicles by 2014. Porsche agreed in November to develop a compact sport-utility vehicle called the Cajun alongside its 911, Boxster, Cayenne and Panamera series.
The manufacturer plans to spend 150 million euros to beef up its research center near Stuttgart and is currently hiring more than 100 engineers to underpin its expansion.
U.S. Mainstay
Porsche declined to comment on its Detroit plans. In a Dec. 27 press release, the company said its Detroit premiere will be broadcast live on www.porsche.com/detroit. Another Porsche model to be shown in Detroit is the 408-horsepower 911 GTS which sells for 105,000 euros in Germany, one of the people said.
Detroit has been a mainstay of the North American auto industry for more than a century and is the largest annual U.S. auto show. Volkswagen will premiere a new mid-sized sedan on Jan. 9, its first car built exclusively for the U.S. market.
Bayerische Motoren Werke AG, the world's leading luxury-car maker, will debut the 6-Series convertible in Detroit and the M1, the first high-performance version of the 1-Series compact. The Munich-based manufacturer's Mini will present the Paceman concept car, a coupe based on the Countryman SUV. VW's Audi will show an updated version of the A6 sedan, which will also come as a hybrid.
Sales Advance
Porsche's U.S. sales increased 21 percent last month to 2,567 vehicles, powered by 1,109 deliveries of the Cayenne SUV, its best-selling U.S. model. Full-year sales gained 29 percent to 25,320 vehicles, the carmaker said yesterday. Porsche pulled out of Detroit after 2007 to focus its U.S. activities on Los Angeles where it showed the Cayman R sports car in November.
The Cayman R, which sells in Europe for 69,830 euros, surges to 100 kilometers per hour in 5 seconds and has a top speed of 282 kilometers per hour. It will reach showrooms in the spring, Porsche said last month.
Before it's here, it's on the Bloomberg Terminal.
LEARN MORE