Governor's Slaying, Rivals Hurt Pakistan's Zardari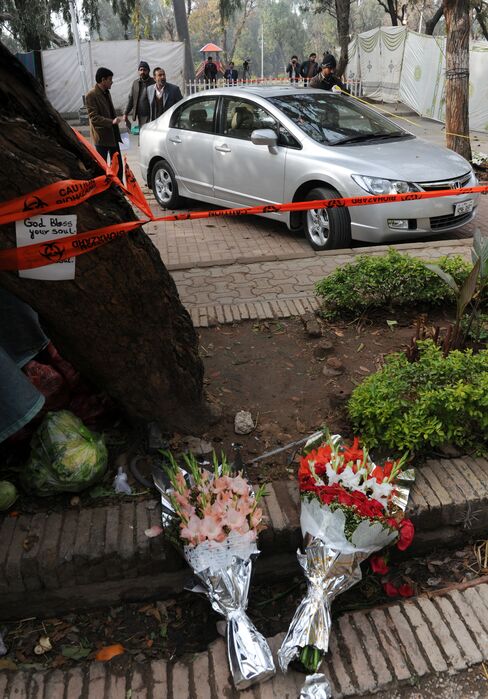 Pakistan's embattled President Asif Ali Zardari was weakened further by the assassination of a senior aide in the country's most prominent political killing since the 2007 death of former Prime Minister Benazir Bhutto.
The killing yesterday by a policeman of Punjab Governor Salman Taseer, 65, deprives Zardari of his top operative in the country's most populous province just as their Pakistan Peoples Party has been abandoned by two allied parties, robbing it of a majority in parliament.
Taseer's slaying is a "major setback for Pakistan, which is trying to get out of this vicious cycle of violence and worsening economy," said Talat Masood, an independent political consultant and retired lieutenant general based in Islamabad. The killing "will certainly weaken the party position in Punjab," Masood said in a telephone interview from the capital.
Punjab, which generates more than half of Pakistan's economy, became the center of a growing political challenge to Zardari yesterday, when the province's dominant politician, former Prime Minister Nawaz Sharif, demanded that the government accept his proposals to fight corruption and reduce annual inflation, Asia's highest at more than 15 percent.
Pakistan's benchmark stock index rose 0.3 percent to 12,140.84 at the close after falling as much as 0.7 percent earlier. The rupee fell 0.2 percent, the most in over a week, to 85.80 against the U.S. dollar.
Foreign Investment
"Foreigners will withdraw their investments in a knee-jerk reaction," said Asif Ali Qureshi, head of research at Invisor Securities Ltd. in Karachi. "They will see political instability as increasing and extremists getting stronger. There will be a negative impact on business and investment."
Taseer's funeral was held at the Governor's House in Lahore, the capital of Punjab and wreaths were laid on behalf of Prime Minister Yousuf Raza Gilani. Schools, businesses and government offices were closed in the province.
Law Minister Babar Awan said the assassination was a "political murder" and the "result of criminal negligence." It raises "many questions about security," Awan told reporters in Lahore. "The real conspiracy behind his murder needs to be unveiled."
Secretary of State Hillary Clinton strongly condemned Taseer's death, calling it a "great loss." In a statement, she said that the U.S. commitment to Pakistan remained unshaken. "I admired his work to promote tolerance and the education of Pakistan's future generations," Clinton said.
Floods, War
Taseer's murder and Zardari's eroded parliamentary base will narrow the government's hopes of passing laws to broaden the tax base and cut the government deficit -- steps that the International Monetary Fund says are needed to stabilize the economy.
"The government hasn't succeeded in meeting the demands of the IMF, which has resulted in it delaying aid payments," said Sayem Ali, an economist at Standard Chartered Pakistan Ltd. in Karachi. "Widespread violence in the country, amid high inflation, floods and war, will shift their focus away from the management of the economy," he said.
A police bodyguard of Taseer shot him in the back 27 times with an AK-47 rifle as he stepped into his car from a restaurant a mile from Zardari's office in Islamabad, The News newspaper reported today. The policeman surrendered to authorities, telling them that he killed the governor for his campaign to repeal Pakistan's blasphemy law, which is supported by Islamic religious conservatives and opposed by secular political groups and human rights organizations.
Blasphemy Laws
Zardari nominated Taseer as governor after their party's election victory in 2008, a win fueled partly by public sympathy over the killing of Bhutto, Zardari's wife. Taseer has been outspoken in his criticism of Islamic militancy and sparred with Zardari's main political foe, the Punjab-based Sharif.
Islamic religious parties and militants condemned Taseer after he intervened in the high-profile blasphemy case of Aasia Bibi, a Punjabi Catholic woman sentenced to death in November by a court that said she had insulted the prophet Muhammad, the founder of Islam. After Taseer visited Bibi in jail and persuaded Zardari to consider clemency for her, religious parties massed thousands of men who condemned him in protests in Karachi, Lahore and Multan on Dec. 31.
The governor's killing "is alarming in many ways, since it shows the narrowing level of tolerance in society," said Saeed Shafqat, director of the Center for Public Policy and Governance at Forman Christian College in Lahore.
Taseer's Influence
Taseer's influence was buttressed by his role as chief executive officer and owner of Media Times Ltd., which operates the Business Plus television network and the Daily Times, one of Pakistan's main English-language newspapers. He was minister of industries from 2007 to 2008 and also owned the Worldcall telecommunications group.
Human rights groups including London-based Amnesty International say the blasphemy law, introduced by the former military ruler, General Muhammad Zia ul-Haq, has been used to harass Pakistan's religious minorities and should be overturned.
Among top Pakistani leaders, Zardari has been the most vocal in criticizing Islamic militants and the most supportive of the U.S. campaign against Taliban guerrillas, which has included missile attacks in Pakistan's border zone with Afghanistan.
News of Taseer's killing came as Sharif gave the government three days to accept demands for a crackdown on corruption and take steps to reduce inflation that was accelerated by the country's most destructive monsoon floods in August. Otherwise, he said, his Pakistan Muslim League (Nawaz) will launch a campaign for parliament to vote out Gilani.
Gilani must sack officials accused of graft, withdraw a Jan. 1 increase in gasoline prices and cut government expenditure by 30 percent, Sharif said. A Sharif spokesman, Siddique-ul-Farooq, said later by telephone that his party had decided to postpone its ultimatum for "three days of mourning" for Taseer.
Before it's here, it's on the Bloomberg Terminal.
LEARN MORE