Orders to U.S. Factories Increase in Sign of Sustained Recovery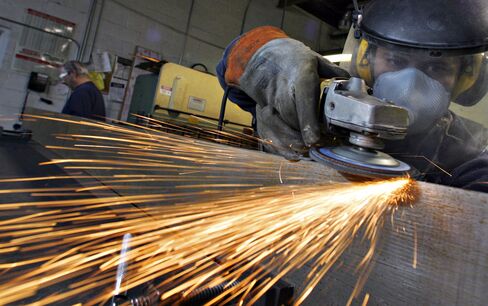 Jan. 4 (Bloomberg) -- American factories unexpectedly received more orders in November, signaling that gains in consumer spending, business investment and exports will sustain the manufacturing recovery.
The 0.7 percent increase in bookings topped the median forecast of economists surveyed by Bloomberg News which called for a 0.1 percent drop, figures from the Commerce Department showed today in Washington. Orders for capital goods like computers rebounded after falling in October.
Auto industry data today showed sales at General Motors Co., Ford Motor Co. and Chrysler Group LLC last month beat analysts' estimates, indicating consumers ended the year on a strong note. Manufacturing has been resilient throughout the recovery as factories are seeing demand improve, pointing to further growth in 2011.
"The manufacturing sector has maintained its strong momentum," said Zach Pandl, an economist at Nomura Securities International Inc. in New York. "It continues to be one of the brighter spots in the economy."
At their last meeting of the year, Federal Reserve policy makers said improvements in the economy didn't meet the threshold for modifying their plans to purchase $600 billion in Treasury securities to help bring down the unemployment rate and stop inflation from falling too low, minutes of the Dec. 14 gathering showed today.
Dollar, Commodities
Stocks fluctuated between gains and losses as a stronger dollar weighed on commodity prices and shares of the companies that produce them. The Standard and Poor's 500 Index fell 0.3 percent to 1,267.8 at 2:10 p.m. in New York. The yield on the benchmark 10-year Treasury note was little changed from late yesterday at 3.32 percent.
The median forecast for factory orders was based on a survey of 53 economists. Estimates ranged from a drop of 0.7 percent to a 1.1 percent increase.
Manufacturing, which accounts for 11 percent of the economy, expanded in December at the fastest pace in seven months, a report from the Institute for Supply Management showed yesterday.
Orders for durable goods, which make up over half of total factory demand, fell 0.3 percent, less than the 1.3 percent drop estimated by the government Dec. 23, today's report showed.
Bookings for capital goods excluding aircraft and military equipment, a measure of future business investment, rose 2.6 percent after a 3.2 percent drop in October that was smaller than previously estimated. Demand for computers and electronics climbed 6.3 percent, the most since February 2009.
Business Investment
Shipments of such equipment, which are used in calculating gross domestic product, increased 1.1 percent, better than the 1 percent gain estimated in last month's durable goods report.
Demand for new models gave automakers a boost last month, industry figures showed today. Deliveries of GM's Chevrolet Cruze small car rose 35 percent from November, and Ford's sales of the new Fiesta subcompact increased 50 percent from a month earlier. Deliveries of Chrysler's redesigned Jeep Grand Cherokee more than tripled from a year earlier.
Bookings for non-durable goods, including food, petroleum and chemicals, climbed 1.7 percent, today's report showed, which may reflect rising costs of commodities such as petroleum and food.
Rebuilding Inventories
Factory inventories climbed 0.8 percent in November, and manufacturers had enough goods on hand to last 1.28 months at the current sales pace, the same as in the prior month.
Rising exports, which reached a two-year high in October, and improving consumer spending has prompted some companies to boost production to meet demand and also increase their own orders to replace aging equipment.
Micron Technology Inc., the largest U.S. maker of computer-memory chips, last month reported its fifth-straight quarterly profit. Chief Executive Officer Steve Appleton said on Dec. 22 that the Boise, Idaho-based company benefited from demand for electronics such as Apple Inc.'s iPhone and iPad.
Jabil Circuit Inc., which provides manufacturing services, is one company benefiting from stronger emerging economies such as China and India. St. Petersburg, Florida-based Jabil said Dec. 20 that its revenue rose $4.1 billion in the three months ended Nov. 30, up from $3.1 billion a year earlier.
"At this point, in terms of U.S. spending, enterprise spending looks stable," Timothy Main, chief executive officer of Jabil, said on a teleconference with analysts on Dec. 20. "International spending looks very strong and other areas of enterprise infrastructure are pretty robust."
To contact the reporter on this story: Timothy Homan in Washington at thoman1@bloomberg.net
To contact the editor responsible for this story: Christopher Wellisz at cwellisz@bloomberg.net