Molycorp Considers Doubling Planned Rare-Earth Metals Output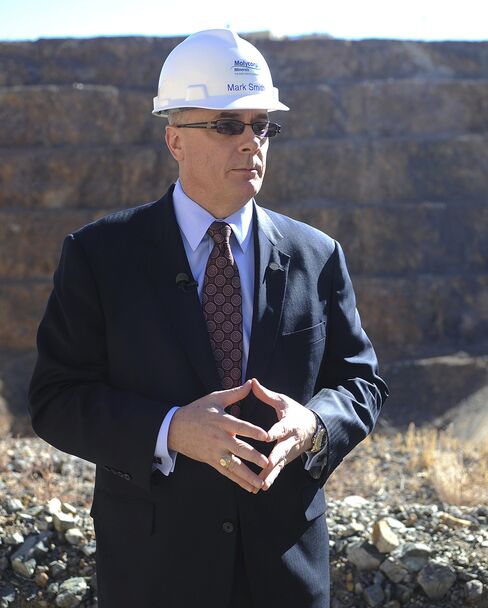 Molycorp Inc., owner of the world's largest rare-earth deposit outside of China, may double its planned production to help meet global demand after China cut export quotas.
The Greenwood Village, Colorado-based company's board asked its management to take a "very hard" look at raising 2012 output to 40,000 tons from 20,000 tons, Chief Executive Officer Mark Smith said yesterday in an interview on Bloomberg Radio. Production will be 3,000 to 5,000 tons this year, he said.
"We will be making some presentations in the first quarter to our board of directors on the economics involved of doubling production," Smith said.
The world excluding China will require 55,000 to 60,000 tons of rare-earth metals this year and China will export 23,000 to 24,000 tons, Smith said. China, which accounts for more than 90 percent of global supplies, cut first-half rare-earth export quotas by 35 percent last month after a 72 percent in the second half of 2010.
Rare earths are a group of 17 metal elements used in batteries, turbines, cell phones and auto catalysts.
Molycorp climbed 15 percent to $57.50 as of 4:15 p.m. in New York Stock Exchange composite trading, leading gains in the Bloomberg Rare Earth Mineral Resources Index of 13 rare earth companies that have a mineral resource definition compliant with international standards.
The stock has gained more than fourfold since the company raised $394 million in an initial public offering in July to help fund the restart of its Mountain Pass mine in California.
Lynas Corp., developing the A$550 million ($555 million) Mt. Weld project in Australia, climbed 12 percent to A$2.29 at 12:05 p.m. in Sydney trading, the highest since Oct. 31, 1986. Arafura Resources Ltd., which is seeking funding for its Nolans rare earth project, rose 12 percent to A$1.655.
Before it's here, it's on the Bloomberg Terminal.
LEARN MORE