Manhattan Apartment Sales Fall From Two-Decade High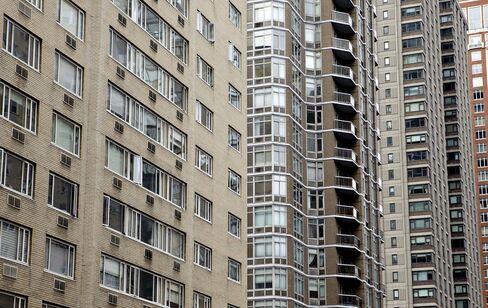 Manhattan apartment sales dropped 7.2 percent in the fourth quarter, returning to historically normal levels after government tax credits helped push transactions to a two-decade high for the period a year earlier.
The number of completed sales fell to 2,295 from 2,473 in the fourth quarter of 2009, New York appraiser Miller Samuel Inc. and broker Prudential Douglas Elliman Real Estate said today. They declined from 2,661 in the previous three months.
The city's property market is "flat" after homebuyer tax credits and pent-up demand following the financial crisis skewed sales in the past year, according to Miller Samuel President Jonathan Miller. Transactions in the final three months of 2010 were close to the 10-year average of 2,323 per quarter, he said.
"Flat is the new black," Miller said. "Recovery used to mean 'getting better.' Now it means it's not getting worse."
The median price of co-ops and condos that changed hands in the quarter increased 4.3 percent from a year earlier to $845,000 as people bought larger apartments. Properties stayed on the market an average of 125 days, in line with the 10-year average of 133 days, Miller said. Apartments spent 204 days on the market in the fourth quarter of 2009.
"A lot of the metrics are falling into some sort of level that we're more accustomed to," Miller said.
Improving Jobs
New York City's jobless rate dropped to 9.1 percent in November, the lowest level since April 2009, the state Department of Labor said Dec. 16. The city's financial industry added 5,900 jobs in the 12 months through November, the department reported.
"We're getting far enough removed from the shock of Lehman Brothers now, and people realize, at least locally, that there doesn't seem to be a smoking gun out there," said Gregory Heym, chief economist at Terra Holdings LLC, which owns brokerages Halstead Property LLC and Brown Harris Stevens. Both firms also published market reports today.
"We only knew extremes for the prior two years," Heym said. "Now we're seeing a stable rate of growth and getting back on a seasonal pattern."
Five reports issued today showed declines in sales volume in the fourth quarter. They all reported increases in median price, fueled by larger apartments after last year's tax credits for first-time homebuyers spurred demand for studios and one-bedrooms. Buyers had to complete deals by Sept. 30 to qualify for the benefits of as much as $8,000.
Brown Harris, Corcoran
Brown Harris and Halstead reported a 25 percent decline in recorded transactions, and a median price increase of 5 percent to $840,000. The Corcoran Group said transactions fell 17 percent, and median prices gained 3 percent to $825,000.
StreetEasy.com said sales decreased 20 percent. The median price rose 8.8 percent, according to the property listings website.
"The story was not at all about price this year," said Pamela Liebman, chief executive officer of the Corcoran Group. "If you were showing a property in January and you were showing that same property in August, there's not going to be that much of a difference in pricing."
"The talk was more about trying to find the right apartment," she said. "And if they found it, they bought it."
Buying Over Renting
It was that sentiment that led Jerome Jacalone to sign a contract last month on a one-bedroom apartment after initially searching for a rental. Jacalone, an art dealer and researcher of 17th and 18th-century European paintings, was looking for a "home office" away from his actual home. His broker, William Costigan of Prudential Douglas Elliman, suggested he look at both the rental and sales market, he said.
The two-month search brought Jacalone to several rentals near the galleries of Madison Avenue, and units for sale on the Upper East Side -- all of which were "unsuitable," he said. In October, a ground-floor apartment in his current building at 51st Street and Beekman Place came up for sale at $595,000. The previous owners bought it a year earlier for $555,000, according to StreetEasy.
Jacalone, liking that he could "go to work in a bathrobe if I need to" made an offer for the pre-war, one bedroom apartment with black granite counters and stainless steel appliances. He reached a deal for $601,500 after a bidding war with another would-be buyer, and is scheduled to close Jan. 6.
Confidence Return
"Business was good enough and I just felt confident now to invest in more space and made the leap," Jacalone said. "It was the confidence factor. People are tired of not spending money."
Harris Chatwal, 37, had been following the Manhattan market for several years online from his home in Palm Beach, Florida, where his knitwear company, Rani Arabella Cashmere Inc., is based. When he decided to move his firm's headquarters to Manhattan this year and spend more in the city, he opted to buy a place rather than rent.
"I would always come and rent something and stay in a hotel for a month or rent an apartment for a month," he said. "I was ready to buy now."
Working with an agent at Brown Harris, his criteria were specific: a new development with high ceilings and within walking distance to the garment district -- but not too close to Times Square. After a two-week search, he closed on a two-bedroom apartment at the Alexander on East 49th Street for $1.3 million, he said.
"I think I got a great deal," he said.
Two-Bedroom Jump
Buyer interest in two-bedroom apartments surged in the fourth quarter, with those units accounting for 37 percent of all sales, up from 25 percent a year earlier, according to Miller Samuel. One-bedrooms comprised 34 percent of sales, down from 40 percent in the final three months of 2009.
Studio apartment prices were almost flat with a year earlier, selling at a median of $375,180. One-bedrooms slid 7 percent to $615,000. Prices for two-bedrooms fell 1.4 percent to $1.23 million and three-bedrooms rose 11 percent $2.6 million.
Sales of luxury apartments, defined as the top 10 percent by price, fell 6.9 percent to 230, even as the median price jumped by 15 percent to $4.35 million. That's because buyers of luxury units bought apartments that were about 12 percent bigger this year, Miller said.
Luxury buyers in the fourth quarter purchased units with an average of 2,923 square feet (272 square meters) compared with an average of 2,606 square feet a year ago.
"It isn't because there's appreciation," Miller said. "It's because there's simply more larger units moving."