Jamie Oliver Still Finding His Way at Barbecoa: Richard Vines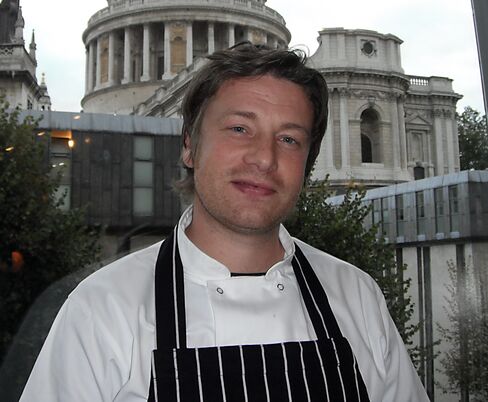 In "This Is Spinal Tap," the guitarist played by Christopher Guest proudly shows off his amplifier with a volume dial that goes to 11.
Barbecoa, the new City of London barbecue restaurant of chefs Jamie Oliver and Adam Perry Lang, was like that in its opening days. You felt only so many things could go wrong, then Barbecoa turned it up a notch. Booking was almost impossible and I'd never heard of a cloakroom without enough room for coats.
Fair enough that it was hard to get through on the phone: Oliver is the Mother Theresa of U.K. cooking, beloved, admired and respected to a degree that criticizing him would be like kicking a puppy at Christmastime. Once it appeared that there was no one answering the phone, it became irritating.
The slow service, cold food and confused orders all came together for me when I saw a chicken dish surrounded by chefs and by waiters busily checking their electronic order pads and a screen that hangs by the kitchen.
After a discussion that went on for a couple of minutes, a waitress walked off with the dish, only to return shortly after and for the debate to resume.
And yet on a tour of the restaurant shortly before it opened, I'd sampled some smoked lamb that Perry Lang sliced off for me and it was sublime: so deep and rich you'd need to turn the hyperbole knob to 11 to describe the shock of such flavor.
It's a quality achieved by someone whose waking hours -- and, I suspect, dreams too -- are devoted to finding the perfect piece of meat and maximizing the epicurean bang for the buck.
Barbeque Butchers
So I've bitten my tongue, as it were, and given Barbecoa time to find its feet and to show what it can do with the fancy equipment in the kitchen -- and the excellent butcher's shop at ground level -- in bringing a range of barbecue techniques to England.
Perry Lang trained under Guy Savoy in Paris, worked with Daniel Boulud in New York and is a business partner of chef Mario Batali. His New York restaurant is Daisy May's BBQ and he has also won fiercely fought barbecue contests.
Now is the time to try and grab yourself a table in Barbecoa -- it seats almost 200, so this shouldn't be too difficult -- and enjoy some fine cooking of meat that Perry Lang has scoured the U.K. to find.
Starters such as scallop ceviche, crispy calamari and oysters are also fine -- and I order two servings of the chicken-liver toast with crispy shallots. The focus is on dishes such as the bone-in strip steak (30 pounds/$46 for 400 grams), short rib (20 pounds) and the pulled pork shoulder (16 pounds).
Chocolate Nemesis
The desserts look more like Oliver's territory, including Chocolate Nemesis, a favorite from the River Cafe. One of my guests described that as epic and the baked cheesecakes -- chocolate & gingersnap crust, Swiss lime meringue -- as life-changing. Well, we had also been sampling the wines.
The sommelier, Paul Green, consistently provided the best service over several visits and I tend to leave the choice up to him. (So long as he includes the Moko Black Pinot Noir 2009, from Central Otago, at 32 pounds.) Having said that, there's a shortage of U.S. wines on the list, which could also use a few more quirky options and a bunch of fine wines for big spenders.
If meat is your thing -- and if you're in the City, there's a fair chance it is -- it's worth setting aside the negativity that surrounded Barbecoa when it opened and recognizing it is a serious project of respected chefs.
Perry Lang moved his young family from the U.S. to set up Barbecoa, and Oliver has put in his time behind the stove, too: not bad for someone who has also sold a million copies of his book in three months. Talk about pumping up the volume.
Barbecoa, 20 New Change Passage, One New Change, London, EC4M 9AG. Tel. +44-20-3005-8555 or click on http://www.barbecoa.com/.
The Bloomberg Questions
Cost? Most mains are 15 pounds to 30 pounds.
Sound level? Gets noisy: 80 decibels plus.
Inside tip? Ask for a table facing the kitchen.
Special feature? View of St. Paul's.
Will I be back? Yes.
Date place? Yes.
Rating? ***
What the Stars Mean:
****         Incomparable food, service, ambience
***          First-class of its kind.
**           Good, reliable.
*            Fair.
(No stars)   Poor.
Sound-Level Chart (in decibels): 65-70: Office noise. 75-80: London street. 80-85: Alarm clock at closest range. 85-90: Passing bus. 90-95: Back of a taxi.
(Richard Vines is the chief food critic for Muse, the arts and leisure section of Bloomberg News. Opinions expressed are his own.)
Before it's here, it's on the Bloomberg Terminal.
LEARN MORE