Toyota Still Under 'Clouds,' Falls Behind Ford in U.S. Sales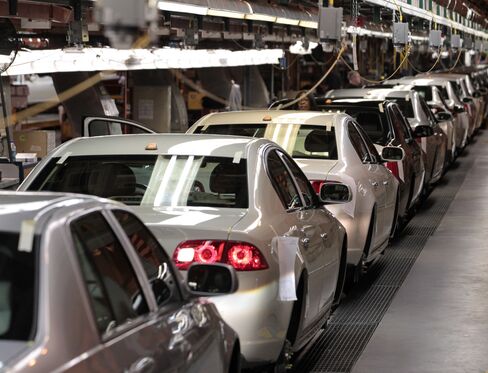 Toyota Motor Corp.'s U.S. vehicle sales fell in 2010 while industrywide sales rose 11 percent and every other major automaker reported gains. Ford Motor Co. moved up to second place behind only General Motors Co.
Ford displaced Toyota as No. 2 in the U.S. with 1.97 million vehicles sold in the year, up 17 percent from 2009, compared with Toyota's sales of 1.76 million cars and trucks. GM retained the top spot with U.S. sales of 2.22 million vehicles, an increase of 7 percent. Deliveries in December accelerated to the fastest pace of the year.
Toyota recalled more than 8 million vehicles worldwide last year, mostly for flaws related to unintended acceleration, with the majority occurring in the U.S. The company temporarily halted U.S. production and sales of eight models, including its top-selling Camry and Corolla cars in January to fix the flaws. Meanwhile, GM, Ford, Nissan Motor Co. and Hyundai Motor Co. lured buyers away with new models.
"The black clouds from Toyota's recalls just don't seem to go away," said Jesse Toprak, vice president of industry trends for Santa Monica, California-based auto pricing website Truecar.com. "We saw Ford, GM and Hyundai-Kia come on strong. Brand loyalty isn't what it used to be."
Industrywide sales in 2010 totaled 11.6 million, according to Autodata Corp., based in Woodcliff Lake, New Jersey. That's up from 10.4 million the previous year for the first gain since 2005 and the largest percentage increase since 1984.
Toyota's incentive spending rose in December to $2,253 a vehicle, up 37 percent from last year, Toprak said. Toyota's incentives were below the industry average of $2,721 a vehicle. The rising deals are a sign that Toyota will fight to hold market share, Toprak said.
GM's Increase
GM's deliveries in the month rose 7.5 percent from December 2009 to 224,185, the Detroit-based automaker said today in a statement. The largest U.S. automaker was expected to post a 4.3 percent sales increase, the average of four analysts' estimates compiled by Bloomberg. Ford's sales gained 3.5 percent, topping the 3.3 percent average estimate of five analysts.
"This is a market that's coming back significantly," said Rebecca Lindland, an analyst with IHS Automotive, a researcher in Lexington, Massachusetts. "And with really strong products coming from GM, Ford and Chrysler, there's a lot of opportunity for change in the marketplace."
Deliveries of GM's Chevrolet Cruze small car rose 35 percent from November to 10,865 in December, and Ford's sales of the new Fiesta subcompact increased to 5,212, a 50 percent gain from a month earlier. Deliveries of Chrysler's redesigned Jeep Grand Cherokee more than tripled from a year earlier.
Topping Estimates
Industrywide light-vehicle sales rose to a seasonally adjusted annual rate of 12.6 million, according to Autodata. That exceeded the 12.3 million average of eight analysts' estimates that would have matched the October and November paces that were the fastest since the U.S. government's "cash for clunkers" program in 2009.
Ford was the best-selling make in the U.S. in 2010, displacing Toyota's namesake brand, which fell to third behind GM's Chevrolet. Ford sold 1.76 million Ford-brand vehicles last year, while GM sold 1.57 million Chevrolets and Toyota sold 1.49 million Toyota cars and trucks.
Chevrolet deliveries gained 9.1 percent to 147,960 vehicles in December, GM said today. Buick sales climbed 40 percent to 17,095, led by the Enclave sport-utility vehicle. GMC sales gained 35 percent to 42,159. Cadillac deliveries rose 13 percent to 16,718.
Sales of the Chevy Equinox SUV gained 79 percent, while the Cadillac SRX climbed 18 percent, GM said.
'On A Roll'
Since filing for bankruptcy in 2009, GM has closed Hummer, Pontiac and Saturn and sold Saab to focus on Buick, Cadillac, Chevrolet and GMC. Sales of GM's four remaining brands rose 16 percent compared with December 2009, the company said.
"GM is on a bit of a roll," said Jeremy Anwyl, chief executive officer of auto researcher Edmunds.com. "Incentive spending was down, market share should be up. They're doing it with nice products. The Cruze is doing pretty well."
For the year, GM sales rose 6.3 percent from the 2009 performance for the company's eight brands. Full-year sales of GM's four remaining brands rose 21 percent, the company said.
GM gained 84 cents, or 2.3 percent, to $37.90 at 4:15 p.m. in New York Stock Exchange composite trading. The shares gained 15 percent from their $33 sale price in an initial public offering in November. Dearborn, Michigan-based Ford added 13 cents to $17.38. The shares gained 68 percent in 2010.
Rising consumer confidence and retail spending bode well for car sales and may help boost 2011 industrywide sales, including heavy-duty trucks, to 13 million to 13.5 million vehicles, Don Johnson, GM's vice president of U.S. sales operations, said today on a conference call.
Credit Eases
Banks are starting to lend more freely, giving buyers with weaker credit an opportunity to purchase new cars, he said. Subprime borrowers account for about 5 percent of GM's sales right now, he said.
Ford sold 190,976 vehicles in December, and deliveries of its namesake brand gained 9.6 percent to 174,523, the company said today in a statement. Lincoln sales fell 23 percent to 8,060, and the discontinued Mercury marque dropped 11 percent to 8,393.
Deliveries of the Fusion sedan gained 20 percent in December and reached a record 219,219 for the year, the first Ford car to top 200,000 since 2004. Sales of the redesigned Explorer, introduced last month, rose 53 percent.
Ford's light-vehicle sales in 2010 rose 17 percent to 1,968,500, including sales of Volvo, which the automaker sold last year.
Chrysler Up
Chrysler, based in Auburn Hills, Michigan, boosted sales 16 percent last month, topping the 9.3 percent average estimate of four analysts. Deliveries of the Grand Cherokee climbed to 12,753 from 4,097 a year earlier.
Sales of Chrysler's namesake brand dropped 28 percent, and Dodge deliveries fell 6.4 percent, while Jeep deliveries gained 49 percent and Ram brand truck sales increased 87 percent, the company said in a statement.
Toyota's U.S. deliveries fell 5.5 percent to 177,488, according to a statement on the company's website. The average estimate of three analysts was for the Toyota City, Japan-based company to report a decline of 10 percent. Its full-year U.S. sales fell 0.4 percent to 1.76 million, the sole annual decline among major carmakers.
Nissan, Honda
Nissan Motor Co.'s U.S. sales in December increased 28 percent, Al Castignetti, the company's U.S. vice president, said in an interview. The average estimate of analysts surveyed by Bloomberg was for a gain of 20 percent. Deliveries for all of 2010 gained 18 percent, he said.
Honda Motor Co.'s sales rose 21 percent, according to a tally of 2010 sales the Tokyo-based company released. The average estimate of analysts surveyed by Bloomberg was for an increase of 7.2 percent.
Hyundai Motor Co., based Seoul, boosted deliveries 33 percent to 44,802 in December, the company said in a statement. South Korea's largest automaker sold a record 538,228 vehicles in the U.S. last year, a 24 percent gain.
Before it's here, it's on the Bloomberg Terminal.
LEARN MORE