Facebook Backer Digital Sky Lures Wall Street to Silicon Valley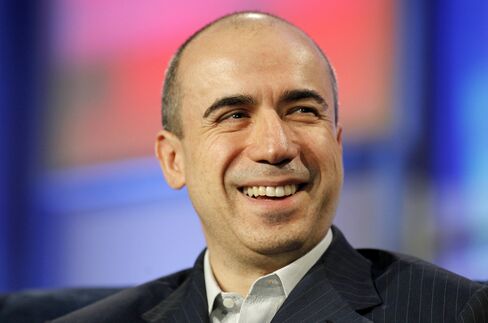 Jan. 4 (Bloomberg) -- Digital Sky Technologies co-Founder Yuri Milner recruited analysts from Goldman Sachs Group Inc. and Morgan Stanley to help him pick investments in startups such as Facebook Inc. and Zynga Game Network Inc.
Milner now is working with those securities firms to line up added funding for the Silicon Valley social-media companies backed by the 49-year-old Russian.
Digital Sky, which counts Goldman Sachs among its investors, paired with the New York-based securities firm to buy a $500 million stake that values Facebook at $50 billion, three people familiar with the matter said yesterday. Groupon Inc., another Digital Sky-backed company, plans to take as much as $950 million in funding from a group that includes Digital Sky and Morgan Stanley, also based in New York.
"DST's investments in Facebook, Groupon and Zynga have done very well and I think Goldman and others are trying to take advantage of that," said Nick Beim, general partner at Matrix Partners, a venture capital firm based in New York.
Flush with more than $2 billion for social-media startups, Digital Sky has been at the forefront of backing some of Silicon Valley's fastest growing businesses. While banks make their own inroads to potential investments, support from Digital Sky has helped boost startup valuations and lure other would-be backers.
"They've been super-aggressive in getting in some of these hyper-growth Internet companies," said Peter Falvey, a managing director at Morgan Keegan & Co. in Boston. "So far, they've proven to be very savvy. If DST is putting money in a company now, later more people may want to put money into it as well."
Goldman Sachs Ties
Goldman Sachs was one of the earliest investors in Moscow-based Digital Sky. Many of the analysts hired by Digital Sky formerly worked at Goldman Sachs, Morgan Stanley and Citigroup Inc., Milner said in an interview last year. Leonid Solovyev, a spokesman for Digital Sky, didn't respond to a request for comment.
Goldman Sachs, which invested $450 million in Facebook, also made an arrangement that lets its clients buy Facebook equity worth as much as $1.5 billion, said two of the people, who asked not to be identified because the deal is private. Digital Sky invested $50 million, boosting an earlier stake.
The plan by Goldman Sachs to offer Facebook equity to clients may prompt U.S. regulators to inquire whether the social networking site is circumventing disclosure rules, securities lawyers said.
Securities and Exchange Commission rules require companies with more than 499 investors to make certain financial information public. Some companies avoid crossing that threshold when investors' funds are channeled through a single entity.
IPO Prospects
The backing also leaves Goldman Sachs in a prime position to handle an eventual initial public offering for Palo Alto, California-based Facebook, said Beim at Matrix.
"Investment banks are seeking to cement relationships with promising growth companies in hopes of doing their IPO and being a longer term adviser," Beim said.
Larry Yu, a spokesman for Facebook, and David Wells, a spokesman at Goldman Sachs, declined to comment. Erica Platt, a Morgan Stanley spokeswoman, also declined to comment.
Any public share sale may not happen soon. Facebook Chief Executive Officer Mark Zuckerberg may put off an IPO until 2012 so he can focus on expansion, three people familiar with the matter said last year. The company had about $2 billion in sales last year, up from $700 million to $800 million in 2009, other people familiar with the matter said last month.
Digital Sky invested $200 million in Facebook in May 2009 at a valuation of $10 billion. It has since increased its stake by purchasing common shares, including employee shares in a $100 million offer, according to two people familiar with the matter.
Risks 'Paying Off'
At $50 billion, Facebook would exceed the valuation of Web portal Yahoo! Inc. and online commerce site EBay Inc. The valuation is 25 times Facebook's 2010 revenue, compared with 7 times sales for Google and 4.7 times for Netflix Inc.
Digital Sky's investments extend to other Web properties. The firm led a $135 million investment in daily-deals site Groupon last year and was part of a group that bought a $180 million stake in Zynga, a social-gaming service, in 2009.
"A year ago, people thought these guys were nuts, investing at a crazy valuation," said Tom Taulli, an independent researcher on IPOs. "They took some risks, and they are paying off."
To contact the reporters on this story: Douglas MacMillan in San Francisco at dmacmillan3@bloomberg.net; Olga Kharif in Portland, Oregon at okharif@bloomberg.net.
To contact the editors responsible for this story: Tom Giles at tgiles5@bloomberg.net.