Ex-Primary Global Insider Suspects Maintain Bail After Hearing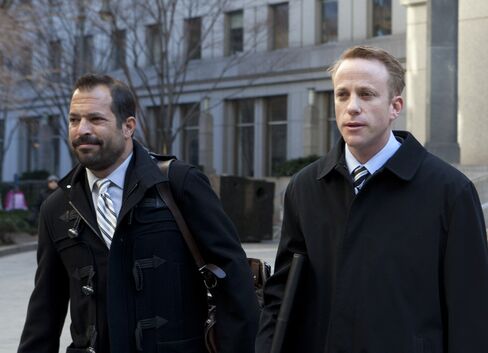 Jan. 4 (Bloomberg) -- A former sales manager and two ex-consultants for expert-networking firm Primary Global Research LLC were released on bail after a hearing before a New York federal judge as part of their prosecution in a nationwide probe of hedge fund insider trading.
James Fleishman, 41, a salesman at Primary Global, consultants Walter Shimoon, 39, formerly of Flextronics International Ltd., a Singapore-based maker of electronic components, and Mark Anthony Longoria, 44, formerly with chipmaker Advanced Micro Devices Inc., made their initial appearances today in Manhattan after having their cases transferred from California and Texas, said Ellen Davis, a spokeswoman for the Justice Department.
Prosecutors alleged that the defendants, who haven't entered formal pleas, were part of a "corrupt network of insiders" at leading technology companies who also served as consultants at expert-networking firms and are accused of peddling inside information to hedge funds.
The three men were charged Dec. 16 along with another man in complaints filed by Manhattan U.S. Attorney Preet Bharara. Magistrate Judge James Francis, who is presiding over today's hearing, agreed to continue all the defendants on the same bond conditions directed by judges last month.
Bond Amounts
Shimoon was released on $150,000 bond secured by $15,000 in cash, Longoria was continued free on a $50,000 bond and Fleishman had his $700,000 bond secured by $50,000 in cash and his home in Santa Clara, California.
Lawyers for all three men declined comment after court. Henry Mazurek, a lawyer for Shimoon, Fleishman's lawyer, Ethan Balogh, and Jonathan Marks, a lawyer for Longoria, all declined comment.
FBI agents from New York and Boston in November executed search warrants at the offices of New York-based Level Global Investors LP and Diamondback Capital Management LLC, hedge funds founded by alumni of SAC Capital Advisors LP. Agents also executed a search warrant at the offices of Loch Capital Management in Boston. None of the firms or their employees has been accused of wrongdoing.
The four defendants were charged with fraud and conspiracy and face as long as 20 years in prison on the most serious count, said Edeli Rivera, a spokeswoman for Bharara's office. A fifth man, Daniel DeVore, a former supply manager at Dell Inc., pleaded guilty Dec. 10 to conspiracy to commit securities fraud and wire fraud.
Criminal Complaint
Expert-networking companies such as Mountain View, California-based Primary Global match investors with specialists who provide insight into specific markets. The criminal complaint unsealed last month described the links among Primary Global, the technology experts it employed and unidentified hedge funds willing to pay for inside information.
Shimoon, of San Diego, is accused of providing Primary Global clients with inside information he learned in connection with Flextronics's role as a supplier of components to Apple Inc., including sales forecasts and new product features for Apple's iPhone. The U.S. said Shimoon was paid more than $22,000 for the information.
Fleishman, of Santa Clara, California, was charged with promoting Primary Global's consultation services and arranging for clients, including hedge funds, to speak with consultants at technology firms knowing they were providing inside information to clients.
Bharara's office also charged Longoria and Manosha Karunatilaka, who was employed at chipmaker Taiwan Semiconductor Manufacturing Co.
San Francisco Custody
On Dec. 29, federal prosecutors charged Winifred Jiau, another former Primary Global consultant, with selling inside information to portfolio managers at three unidentified hedge funds. She is in custody in San Francisco.
Jiau, 43, was accused of selling data on Nvidia Corp. and Marvell Technology Group Ltd., makers of computer components, through Primary Global.
The U.S. insider trading probe became public in 2009 with the arrest of Galleon Group LLC hedge fund co-founder Raj Rajaratnam. The FBI recorded thousands of conversations during its investigation of the firm, lawyers said at an October hearing. Rajaratnam, who denies the charges, is scheduled to go on trial in Manhattan on Feb. 28.
The expert-network arm of the Galleon probe was revealed with the execution of search warrants at the three hedge funds in New York and Boston on Nov. 22, and the Nov. 24 arrest of Don Ching Trang Chu, another Primary Global employee.
The case is U.S. v. Shimoon, 10-mj-2823, U.S. District Court, Southern District of New York (Manhattan).
To contact the reporter on this story: Patricia Hurtado in New York federal court at pathurtado@bloomberg.net.
To contact the editor responsible for this story: David E. Rovella at drovella@bloomberg.net.