Dollar Rallies Most Versus Yen in Three Months on Jobs, Services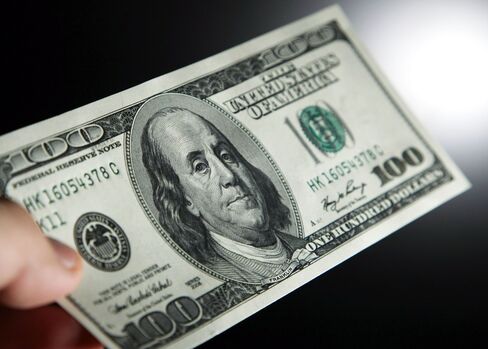 Jan. 5 (Bloomberg) -- The dollar gained the most in three months against the yen as reports showed U.S. companies almost tripled the forecast of jobs added in December and services industries grew at the fastest pace since May 2006.
The euro fell against most of its major counterparts as the Swiss National Bank said it won't accept bonds from some Irish banks as collateral. The Canadian dollar and Mexican peso were the best performers versus the yen on signs of a North American economic recovery before the U.S. government's payrolls figures due later this week. Government bonds fell, and stocks rose.
"The economic data came in stronger than expected, which bodes well for Friday's data and has supported the dollar," said Lane Newman, director of foreign exchange at ING Groep NV in New York. "The U.S. fixed-income market is also taking a hit, and when rates start to sell off, we have seen broader dollar buying."
The dollar advanced 1.5 percent to 83.25 yen at 5 p.m. in New York, from 82.04 yen yesterday. It rose as much as 1.6 percent in the biggest intraday gain since Sept. 15 and touched 83.38 yen, the highest level since Dec. 23. The euro fell 1.2 2 percent to $1.3149, from $1.3308.
Company employment increased by 297,000 in December after a revised gain of 92,000 in the previous month, ADP Employer Services reported. The median forecast of 33 economists in a Bloomberg News survey was for a gain of 100,000.
'Positive Shocker'
"That was a positive shocker if there ever was one," said Boris Schlossberg, director of research at the online currency trader GFT Forex in New York, referring to the hiring report. "The North American bloc is going to trade positively off U.S. data."
A drop in the 30-year Treasury bond pushed the yield to 4.56 percent, the highest level since Dec. 16. The Standard & Poor's 500 Index increased 0.5 percent.
The Canadian dollar gained 1.7 percent to 83.55 yen, while the Mexican peso advanced 1.8 percent to 6.83 yen. The U.S. is the biggest trading partner of Canada and Mexico.
Investors should sell the Australian dollar against the loonie, betting that it will weaken to 97.50 Canadian cents, wrote Steve Barrow, Standard Bank Plc's head of research for Group of 10 currencies in London, in an e-mailed note. The Aussie declined 0.7 percent to 99.66 Canadian cents.
The Australian dollar slumped for a third day against the greenback, falling 0.5 percent to 99.99 U.S. cents on concern flooding in Queensland will slow the South Pacific nation's economy. The Aussie touched $1.0256 on Dec. 31, the highest level since the currency began freely trading in 1983.
Dollar Index
IntercontinentalExchange Inc.'s Dollar Index, which tracks the greenback against the currencies of six major U.S. trading partners including the euro and yen, rose as much as 1.1 percent to 80.353, the highest level since Dec. 29.
The Institute for Supply Management's non-manufacturing index, which covers about 90 percent of the economy, rose in December to 57.1, the highest level since May 2006, from 55 in the prior month, the Tempe, Arizona-based purchasing managers' group reported. A reading greater than 50 signals growth.
A December gain of 150,000 in U.S. nonfarm payrolls is the median forecast of 76 economists in a Bloomberg News survey before the Jan. 7 payrolls report from the Labor Department. The jobless rate may have eased to 9.7 percent from 9.8 percent.
The euro fell 0.7 percent to 84.80 pence versus the pound after Switzerland's Zurich-based central bank excluded securities issued by the Irish government as well as Allied Irish Banks Plc, Anglo Irish Bank Corp., Irish Life & Permanent Plc and Bank of Ireland Plc from the list of assets it accepts as collateral for its repurchase operations.
Moody's on Ireland
Moody's Investors Service cut Ireland's credit rating on Dec. 17 to Baa1, three levels above non-investment grade, after the country in November agreed to an aid package of 85 billion euros ($112 billion) to help stabilize its banks. A country must have a minimum rating of Aa3 under SNB requirements.
Portugal sold 500 million euros of bills due in July today at an average yield of 3.686 percent. That compares with a yield of 2.045 percent at a previous auction Sept. 1. The auction attracted bids for 2.6 times the amount offered, compared with a bid-to-cover ratio of 2.4 in September.
"The debt concerns are something that will come back repeatedly and periodically through the course of the year," said Adam Cole, head of global currency strategy at Royal Bank of Canada in London. "It will be a recurring theme for the euro. The market does still show some sensitivity to supply and the appetite for supply."
South Korea's won fell 0.4 percent to 1,125.96 per dollar, matching a Dec. 21 drop, as overseas investors sold more local shares than they bought for the first time in three days and signs of a recovery in the U.S. economy eroded the yield advantage of the nation's assets.
The difference in yields between South Korea's five-year bonds and U.S. notes has shrunk to 2.07 percentage points from 3.02 percentage points in November.
To contact the reporters on this story: Allison Bennett in New York at abennett23@bloomberg.net; Cordell Eddings in New York at ceddings@bloomberg.net
To contact the editor responsible for this story: Dave Liedtka at dliedtka@bloomberg.net